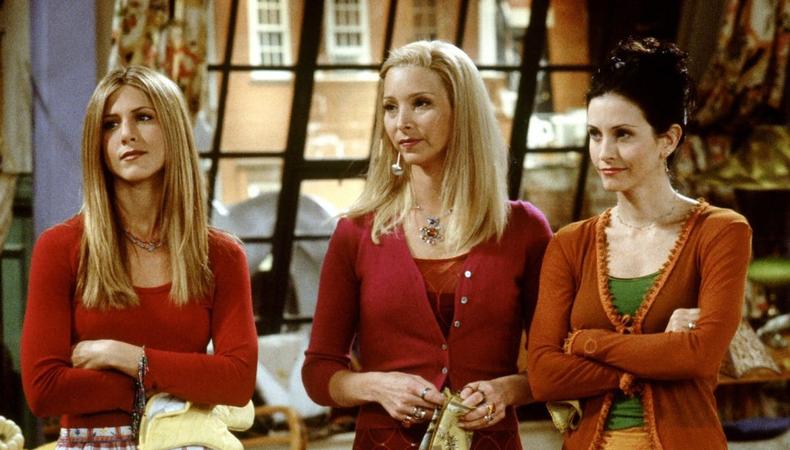 As one of the most popular primetime sitcoms ever, "Friends" has made a huge impact on pop culture. In celebration of the beloved show, we decided to look back on the iconic series and its impressive roster of guest stars.
Christina Applegate
As one of Rachel's (Jennifer Aniston's) spoiled sisters, Christina Applegate plays Amy Green in two episodes on Seasons 9 and 10—"The One with Rachel's Other Sister" and "The One Where Rachel's Sister Babysits," respectively. Applegate's character very irresponsibly takes her neice Emma (whom she refers to as Ella) to get her ears pierced without the consent of her parents. Though, in her defense, she thought she was doing something nice. "Doesn't it make her nose look smaller!" she exclaims. (For the role, Applegate won an Emmy for outstanding guest actress in a comedy.)
Reese Witherspoon
Before she was an Oscar winner, Reese Witherspoon gave two compelling (though far less serious) performances on "Friends" as Rachel's other sister Jill Green in two consecutive Season 6 episodes. Witherspoon's character attempts to date Ross (David Schwimmer), which, if you know know anything about "Friends," you know is a major no-no and infraction of the sister code.
George Clooney and Noah Wyle
Post "E.R.," George Clooney guest-starred as a dreamy doctor on "Friends" alongside fellow "E.R." (though much later) cast member Noah Wyle. In the Season 1 two-parter, Monica (Courteney Cox) and Rachel switch identities so Rachel can use Monica's insurance. It's there they meet the doctors and then attempt to keep the identity swap going on a double date.
Adam Goldberg
Though he can now be seen on ABC's hit show "The Goldbergs," Adam Goldberg spent some time on "Friends" as Eddie Menuek in the second season. The actor plays Chandler's (Matthew Perry's) new roommate after a falling out between Chandler and Joey (Matt LeBlanc) causes Joey to move out on his own.
Billy Crystal and Robin Williams
The two make a quick cameo in the Season 3 episode "The One with the Ultimate Fighting Champion." A crowded Central Perk sets the scene for the funny duo's appearance.
Winona Ryder
The two-time Oscar nominee makes an appearance in the Season 7 episode "The One with Rachel's Big Kiss." When Rachel bumps into Ryder's character, Melissa Warburton, a friend from college who she kissed after drinking too much one night, she's disappointed to hear Melissa doesn't remember it. To prove to Phoebe (Lisa Kudrow) that they kissed, Rachel kisses Melissa again. Melissa confesses she remembers the whole thing and admits to being in love with Rachel.
Gabrielle Union
The "LA's Finest" star appears in a Season 7 episode as a new neighbor, Rachel Leigh, whom Joey and Ross date independently. However, when the two find out they're both dating her, they agree to let her choose who she likes better. Of course, they both get carried away and she ditches them both.
Brad Pitt
In one of the most memorable "Friends" episodes, Brad Pitt plays Will Colbert, and old pal who went to high school with Ross, Monica, and Rachel. As the night goes on and tension doesn't die down, Will reveals he was a member of the "I Hate Rachel Green Club" in high school, where he and its only other member, Ross, spread a rumor that Rachel has both male and female reproductive parts. This is a next-level Pitt performance, totally on par with his "Burn After Reading" role.
Dakota Fanning
Even Dakota Fanning had a small part on the hit series. The then child star connects with Joey in one of the last episodes, when Joey tries to find something wrong with the house Monica and Chandler bought in hopes that it will make them stay in the city.
Gary Oldman
In the Season 7 episodes about Monica and Chandler's wedding, Gary Oldman plays a famous actor working alongside Joey in a movie about soldiers in WWI. Oldman's characters suffers from a pronunciation problem, which Joey learns to reciprocate.
Alec Baldwin
In a two-episode role, Alec Baldwin plays Parker, Phoebe's extremely enthusiastic friend who makes a huge fuss of everything anyone does.
Freddie Prinze Jr.
In the Season 9 episode "The One with the Male Nanny," Freddie Prinze Jr. plays Sandy, the male nanny Ross and Rachel hire to care for Emma.
Christine Taylor
Known most recently for playing Sally Sitwell on Netflix's revival of "Arrested Development" and never forgotten for playing Marcia Brady in 1995's "The Brady Bunch Movie," Christine Taylor appeared in three Season 3 episodes as Ross' girlfriend Bonnie. The two later break up when Rachel tells Ross she wants to get back together.
Dermot Mulroney
Towards the end of the series, Dermot Mulroney ("Shameless," "My Best Friend's Wedding") plays Rachel's boss Gavin Mitchell. Gavin helps fuel the romantic conflict between Ross and Rachel when Ross sees the two kiss.
Morgan Fairchild and Kathleen Turner
On several occasions Morgan Fairchild and Kathleen Turner play Chandler's parents Nora Tyler Bing and Charles Bing/Helena Handbasket, respectively. The two are divorced, and as Chandler's shameless drag queen father, Turner's deep voice fits perfectly.
Susan Sarandon
When Joey is given an opportunity to get back on "Days of Our Lives" in Season 7, it's because his soap opera character is implanted with the brain of Jessica Lockhart, played by Susan Sarandon, when she's killed off the show.
Bob Balaban
After hearing about the father that abandoned Phoebe's family for five seasons, Frank Buffay Sr. is finally personified through Bob Babalon ("The Politician") when Phoebe's grandmother dies in the episode "The One with Joey's Bag."
John Stamos
Desperate to get pregnant in the Season 9 episode "The One with the Donor," Chandler (Matthew Perry) invites over his co-worker, played by John Stamos, to see if he would make a good sperm donor. Without his knowing the reason why, Stamos is asked personal questions about health and family history by Monica and Chandler over an awkward dinner.
Helen Hunt
The award-winning "Mad About You" star plays her character, Jamie Buchman, on a Season 1 episode of "Friends," where she mistakes Phoebe for her twin sister Ursula when she sees her in Central Perk after randomly stopping in.
Jeff Goldblum
In the Season 9 episode, "The One with the Mugging," Jeff Goldblum plays a legendary director by the name of Leonard Hayes. Joey nails his audition for Leonard's project due to his tortured disposition (caused by Joey's full bladder). See what happens below!
Jennifer Coolidge
Jennifer Coolidge plays Phoebe and Monica's old roommate, Amanda Buffamonteezi, who annoys the two with her fake British accent and attempt to be someone she's not. They attempt to dodge her in the Season 10 episode "The One with Ross's Tan."
Jim Rash
Oscar winner Jim Rash ("The Descendants") plays a key role in the final episodes of "Friends" as a nervous male passenger aboard Rachel's flight to Paris. Rash provides some comedic relief in the moments when all fans could do is speculate the fate of Ross and Rachel.
Danny DeVito
In one of the best "Friends" cameos of all time, Danny DeVito plays a defeated stripper in "The One Where the Stripper Cries." He's hired for Pheobe's bachelorette party but isn't quite what the girls expect, and delivers anything but a good time.
Aisha Tyler and Paul Rudd
Not exactly guest stars (but we couldn't leave them out), Aisha Tyler and Paul Rudd both spent time on the show playing Charlie Wheeler and Mike Hannigan, respectively. Tyler played a love interest for both Ross and Joey, and Rudd played Phoebe's boyfriend and later husband.
Debi Mazar
The "Goodfellas" actor serves some much-needed comic relief in "The One Where Rachel Has a Baby: Part 1." Of the many couples that have their baby before Ross and Rachel, Debi Mazar plays one half of a fighting couple in the conjoined hospital room.
Jon Favreau
For six episodes during Season 3, Jon Favreau plays Pete Becker, a love interest of Monica's who is richer than rich. However their relationship dissipates after Pete chooses to become a martial arts champion, despite his lack of skills.
Charlie Sheen
In the Season 2 episode "The One with the Chicken Pox," Charlie Sheen plays Phoebe's long-lost lover. As a member of the U.S. Navy, Sheen's characters returns to NYC for a two week stay with Pheobe. Excited to see her, he's not even phased by her chicken pox, and the pair spend two magical—and calamine-lotioned—weeks together.
Jon Lovitz
Jon Lovitz appears on "Friends" twice in both Seasons 1 and 9. In Season 1, he plays Steve, a man who's opening a new restaurant. When Monica invites him over to impress him with her cooking skills, he comes high and with no respect or patience for her cooking. In Season 9, Lovitz also plays Steve, who's set up on a blind date with Rachel, and is so unattractive, he makes himself cry.
Ellen Pompeo
Even Dr. Meredith Grey has appeared on one of TV's greatest sitcoms! During Season 10, Ellen Pompeo makes an appearance as Missy Goldberg, a girl that Ross and Chandler both liked in high school. At their high school reunion, Ross confesses to her that he didn't ask her out because he and Chandler had a pact not to. Of course she tells him, "Me and Chandler used to make out…a lot."
Julia Roberts and Jean Claude Van Damme
In one epic cameo, Julia Roberts plays Susie Moss in Season 2's "The One After the Superbowl: Part 2." When Chandler runs into Susie, a former classmate he used to tease, the two go on a date. Chandler assumes it's just a kink when she asks him to put on her panties, but he later finds out it's just revenge. In the same episode, Jean Claude Van Damme stars as himself and causes a fight between Rachel and Monica when he asks Rachel out on a date—while she was asking him if he'd like to go out with Monica.
Selma Blair
The "Hellboy" and "Cruel Intentions" actor appears on "Friends" in the Season 9 episode, "The One with Christmas in Tulsa." When Chandler is forced to work on Christmas, he sends everyone home, but Wendy (Selma Blair), the second in the hierarchy, stays. Spending the holidays without Monica causes Chandler to make an extreme decision about his job.
Bruce Willis
Winning an Emmy for the role, Bruce Willis played Paul Stevens in three Season 6 episodes. As the father to Ross's young girlfriend, he begins dating Rachel, creating situtations that were all different levels of awkward.
Hugh Laurie
Hugh Laurie (Dr. Gregory House!) has a quick cameo on the Season 4 episode "The One with Ross's Wedding: Part 2" as a disgruntled passenger sitting next to Rachel on her flight to London.
Leah Remini
As Ross's son Ben is about to be born and everyone gathers in the hospital during Season 1, Joey finds himself helping a single pregnant woman (Leah Remini) when he realizes she has no one there with her while she's in labor.
Michael Vartan
Playing Richard Burke (Tom Selleck's) young and attractive doctor son Tim, Michael Vartan and Monica attempt something romantic, but having dated his father, Monica feels the relationship is almost incestuous.
Isabella Rossellini
Isabella Rossellini guest-stars as herself on "Friends." Ross regrets taking the "Blue Velvet" star off his list (of celebrities he's allowed to sleep with) when she comes into Central Perk, but Rachel—wanting to see him hit on the movie star—says she can be an alternate. Hilarity ensues as Ross humiliates himself.
Anna Faris and Jim O'Heir
Throughout Season 10, Anna Faris plays Erica, the woman who's giving up her baby (later to be discovered as twins) to Monica and Chandler. Jim O'Heir (Larry/Gary/Jerry Gergich on "Parks and Recreation) plays an adoption agency worker in "The One with the Birth Mother."
Soleil Moon Frye
In "The One with the Girl Who Hits Joey," Soleil Moon Frye ("Punky Brewster") plays, well…the girl who hits Joey. Despite the friendly nature behind her punches, they still really hurt.
Sean Penn
Two-time Oscar winner Sean Penn plays Ursula Buffay's fiancé during Season 8 of "Friends." When Pheobe learns her sister told her soon-to-be husband lies about herself, Phoebe decides to tell him the truth. The two even try dating, but Penn's character can't look at Phoebe without seeing Ursula (probably because they're both Lisa Kudrow).
Steve Zahn
During Season 2, the friends find out that Phoebe once married a gay Canadian ice dancer (Steve Zahn) to help him get U.S. citizenship. However, when Phoebe goes to visit him she learns he isn't actually gay and needs a divorce so he can get married again.
Dan Bucatinsky
In the Season 9 episode "The One with Phoebe's Birthday Dinner," Dan Bucatinsky plays an annoyed waiter at the restaurant where Phoebe attempts to hold the table for her party of six. Bucatinsky later went on to create the hit show "Web Therapy" with Lisa Kudrow.
Ben Stiller
In the Season 3 episode "The One with the Screamer," Ben Stiller plays Rachel's date who irrationally screams at anyone who bothers him.