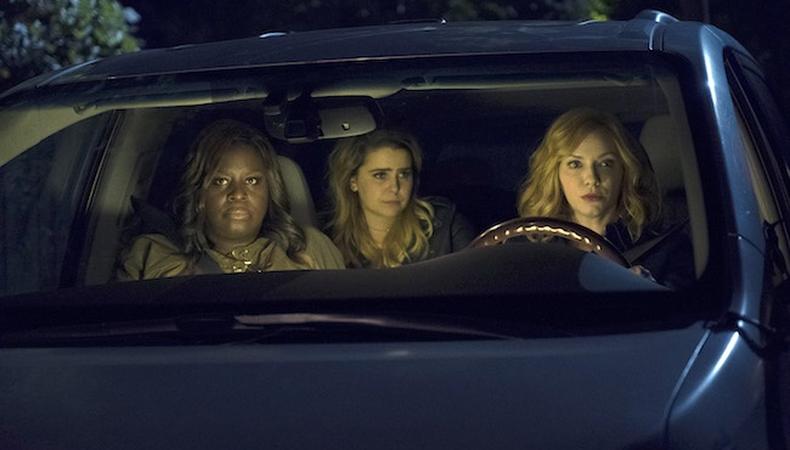 Writer and producer Jenna Bans' big idea came to her while on the phone with her mother. Pacing across her living room, Bans was picking up her daughter's toys and complaining about the current state of the world. It was the height of the 2016 election season, and the notorious "Access Hollywood" tape of Donald Trump's remarks about women had just been released. Rallies in support of each candidate were being held across the country. "I can't believe it's 2016 and sexism is this overt," Bans recalls saying. She also recalls a long pause; her mother, who had been one of the first female students at her law school in Minnesota, responded, "Where have you been?"
That moment was the spark that would evolve into the creator's new show on NBC, "Good Girls," a crime dramedy starring television vets Mae Whitman ("Parenthood"), six-time Emmy nominee Christina Hendricks ("Mad Men"), and Retta ("Parks and Recreation"). The story follows three suburban mothers who, down on their financial luck, decide to rob their local grocery store—and how they deal with the ensuing fallout, one twist at a time. In overtly politicized times and the era of the annual international Women's March, "Good Girls" taps into the climate of anger and #TimesUp in ways both surprising and comedic. Its tongue-in-cheek title gives a middle finger to society's idea of a "good girl," explains Bans, who also serves as the series' showrunner. Previously, she worked in the writers' room for "Scandal," "Grey's Anatomy," "Off the Map," and "Desperate Housewives."
Bans, who herself has "never shoplifted so much as a ChapStick," built the storyline by imagining what would make someone like her decide to go on a crime spree. The concept made her laugh, and the next step was pitching the show to NBC. She described her idea to the network heads and a largely female group of executives. Bans recalls the conversation spurring herself and the other women in the room to humorously recount all the "badass things they did growing up."
When bringing the series to life, Bans took a lot of inspiration from casting. So after Hendricks, Retta, and Whitman signed on to play the series' leads, she began writing to highlight their comedic strengths and talents. Retta was the inspiration for her character, Ruby, from the beginning, and Bans and Whitman are always on the same wavelength and often finish each other's sentences. "It's really a collaboration between the writers and the actresses in terms of how the characters evolve by the time you see it on the screen," Bans says.
Indeed, the creator's favorite part of working on "Good Girls" is seeing the tangible chemistry among the three stars firsthand. As for the biggest challenge? Simply the nuts and bolts of producing a network television show.
"You never really have enough time," Bans laments. Cable shows are written first and then shot, but on network shows, it's all done simultaneously. Work-life balance is just that: a balance. But some days, Bans says she can still leave work by 6:00 p.m. and make it home to see her kids for dinner.
Now that it will soon hit the small screen on Monday nights, Bans thinks of "Good Girls" as a love letter to her mom. "Now, more than ever, we're at a point in history where gender isn't going to hold us back and isn't going to push us into one role over another," she says. As for the advice she'd give anyone entering the entertainment industry? It's important to stay grounded, remember who you are, and "never place any limits" on yourself—in both gender and career.
Want a gig with NBC? Check out Backstage's TV audition listings!