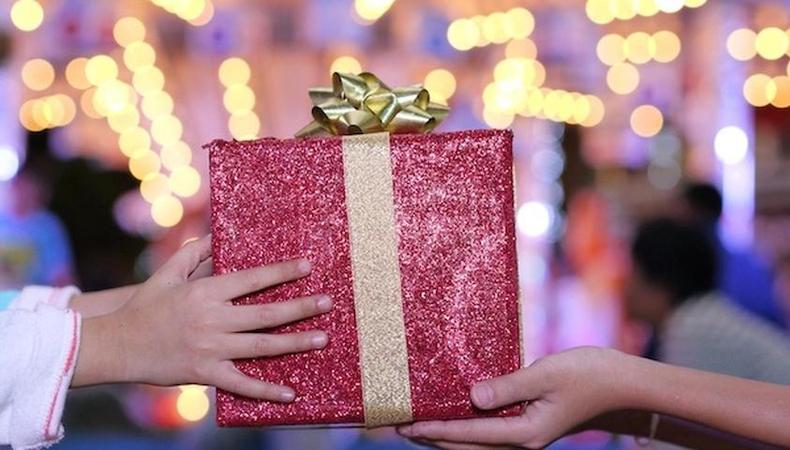 Whether you're shopping for friends, making a wish list, or playing "Secret Santa" with the cast of your winter show, holiday gifting can be a daunting venture. From stocking stuffers to splurges, here are 10 great gifts for actors that will make their holiday season.
The Belt Box
The amazing (and amazingly named) Belt Box is "the first portable vocal dampener for singers." The adorable red velvet tool resembles a medical face mask, and is used to muffle the voice when warming up, rehearsing backstage, or working that wail in a tiny non-soundproof apartment—sound familiar, New Yorkers?
An Apple Gift Card
It may not be the most creative choice, but with access to millions of songs, TV shows, movies, and apps, an Apple gift card is an awesome gift. Steer the recipient towards Broadway Albums, actor apps like Rehearsal and Scene Partner, and Apple TV+.
Books
Words are the professional actor's currency, and thespians can never have too many scripts, anthologies, and books about acting. Books from great acting teachers like Stanislavski and Stella Adler are always welcome, as are collections of plays from hot new playwrights. Looking for something inspiring? Actor memoirs are also fantastic gifts; Check out Anjelica Huston's "Watch Me: A Memoir" or Steve Martin's "Born Standing Up: A Comic's Life."
A Museum Membership
Actors embody a multitude of experiences, backgrounds, and emotions, and there's nothing like a great museum to get the creative juices flowing. Museum memberships often include free or discounted admission as well as plenty of extra "members only" events and perks. Check out mind-expanding museums like The Met in New York or the Getty in Los Angeles, or keep it entertainment-oriented at Astoria's Museum of the Moving Image or L.A.'s Paley Center for Media.
Office Supplies
As CEOs of their own businesses, professional actors can always use some extra supplies. From paper cutters for those 8x10 acting résumés to audition logging notebooks and fun highlighters. (Seriously, you can never have enough!) Stuff a stocking with cool office supplies and you'll be remembered every time that actor goes to work doing what they love.
A Super-Functional (and Super-Enormous) Bag
Busy actors know that an awesome bag can save a performer's sanity during a full day of classes and auditions. Look for bags or backpacks with lots of pockets, sturdy straps, and room for more pairs of shoes than anyone should ever have to carry. Bonus points if there's a separate compartment (or a separate bag) for stinky gym and dance call clothes!
A Lunchbox
It's a fact: Actors love food. Performers burn a ton of calories, work odd hours, and need to keep up their energy—all while maintaining their health (and their wallets). We all love a $7 juice from time to time, but the best way to keep fueled up on the go is to pack some snacks from home. This holiday season, get a grown up-looking bento box and fill it with non-perishables like almonds and dried fruit, or seek out slightly less practical (but way cooler) vintage lunchboxes featuring your favorite Saturday morning cartoon characters.
Season Tickets
Theater tickets are always a fantastic gift, but season tickets can truly make an actor's year. Returning to a theater show after show builds a sense of community, and season ticket holders often get tons of extra perks—think free events, discounts, and top priority when it comes to seat choice and scheduling. Spoil a New Yorker with a subscription to Manhattan Theatre Club or Lincoln Center, or head to L.A. for a membership at Center Theatre Group.
Workout Gear
For actors, "dress to move" and "dress to impress" are often one in the same. Professional performers live in workout clothes, and not just at the gym. Acting class, dance calls, rehearsals, even long stints on the tour bus offer up many reasons to invest in quality gear at stores like lululemon. Look for comfortable and sleek duds that can go from the studio to the street without turning (too many) heads. Bonus if there are plenty of pockets and layers!
Video Equipment
Looking to really splurge? Help an actor keep up with the latest technology by gifting them top-notch video recording equipment. As self-taping becomes more and more ubiquitous, personal tripods, lighting kits, and camcorders are equally so. While an at-home green screen might be excessive, companies like B&H Photo-Video offer affordable lighting and sound setups that will make even last-minute smartphone footage look great.
Inspired by this post? Check out our audition listings!