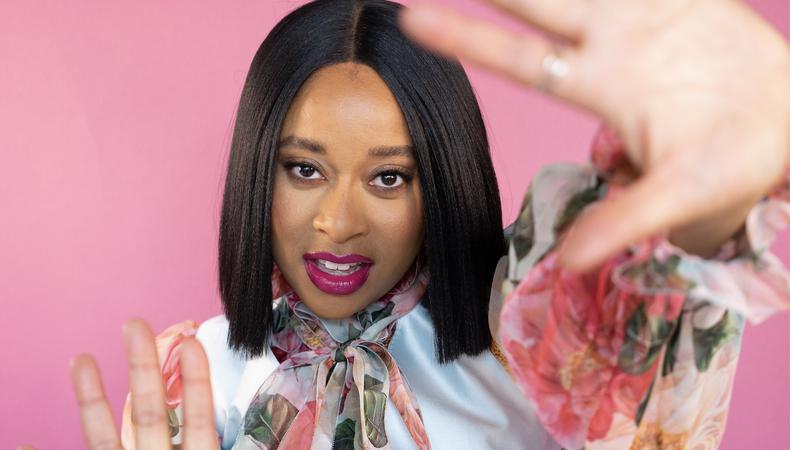 Phoebe Robinson is on fire. Her latest and third book of essays, "Please Don't Sit on My Bed in Your Outside Clothes," just hit shelves last week, on Sept. 28. It's her first release on her own publishing imprint, Tiny Reparations Books. Two days later, Freeform announced a full series pickup for her half-hour pilot, "Everything's Trash," adapted from her second book, "Everything's Trash, but It's Okay." And that's on the heels of hosting Comedy Central's reality series "Doing the Most With Phoebe Robinson," which had her tackling new hobbies and careers with celebrity guests like Kevin Bacon.
She's now planning to tour new stand-up material (her first time onstage since February 2020), and has a new HBO Max special waiting in the wings. Still, even if Robinson is unwittingly one of the busiest women in media today, she's the first to admit it's all a bit of a pandemic-induced fluke.
"A lot of that stuff was supposed to happen last year!" she says by phone, chatting the day after wrapping her Freeform pilot. "I was supposed to tape my special last summer, but everything got backed up to come out at once this year, which is nice and exciting. I do like to stay busy, but maybe not quite this busy. But I'm comfortable."
"Doing improv in college, that helped me do stand-up onstage, and writing my blogs back in the day helped me write my comedy script or books. Everything informs the other thing."
Over the last 10 years, Robinson has become a New York Times bestselling author, an acclaimed stand-up comedian, a multimedia mainstay with hit podcasts "2 Dope Queens" and "Sooo Many White Guys" (the former was picked up with co-creator Jessica Williams as a fan-favorite HBO series), and an actor in her own right, popping up on TV series like "Broad City," "I Love Dick," and "Search Party," and in films like "Ibiza" and "What Men Want."
"It was definitely brick-by-brick," Robinson says of how she came to have her hand in so many pots. She first fell into stand-up comedy at age 23. While using her screenwriting degree from Pratt Institute in more traditional, entry-level ways in New York City, she signed up for an eight-week comedy class at the behest of a friend, thinking it may be a fun outlet separate from her day job. But she "completely fell in love with it." She credits finding success in that medium and beyond to simply being open to opportunities she didn't see coming.
"I like to have a plan, of course, but so much happens that you can't predict," she says. "I always just look at it as sort of developing my skill set in the moment so that if something comes along, I'll be prepared for it. Doing improv in college, that helped me do stand-up onstage, and writing my blogs back in the day helped me write my comedy script or books. Everything informs the other thing.
"This industry is just not kind to people who are not multi-hyphenates," she continues. "It's great when there's the Viola Davises and Meryl Streeps, but that's not everyone's journey. So if you can, really develop other skill sets that allow you to be able to eat. And I like food! I like having an apartment."
Considering her work on projects like "Sooo Many White Guys" (which responds to comedy's favoring of straight white men by spotlighting women, people of color, and queer performers) or Tiny Reparations (which is dedicated to making publishing "less white"), it's also clear that her passions often grapple with the disparate access points to opportunities that different groups of people have. It's as much that as anything else that led her to creating her own work and steering her own ship.
"Nobody was trying to hire me, that is the real tea," she deadpans. "I remember I submitted a writing packet, like, three times at 'SNL,' Seth Meyers, Jimmy Kimmel, Fallon. Getting that level of rejection, I was like, 'Why do I keep waiting for this when I could just do my own thing?' Whether it's something like '2 Dope Queens' or 'Everything's Trash,' I really just bet on myself because, essentially, it's not like, 'You know what we're in the mood for? Black women.' That's never the case, even though it should be! It's always like, 'We want all white guys named Scott.' "
Looking ahead to her Freeform series, comedy tour, and whatever else may come, Robinson cites the likes of Mindy Kaling, Issa Rae, and Shonda Rhimes for paving the way of what her roadmap could look like. They've figured out "how to create their own lanes where they can really perform with their voice front and center—and then also create other opportunities and bring other people with them."
"That's something that I am really passionate about, too," Robinson concludes. "So it's great to see those people who are several steps ahead of me being able to do that."
Looking for remote work? Backstage has got you covered! Click here for auditions you can do from home!