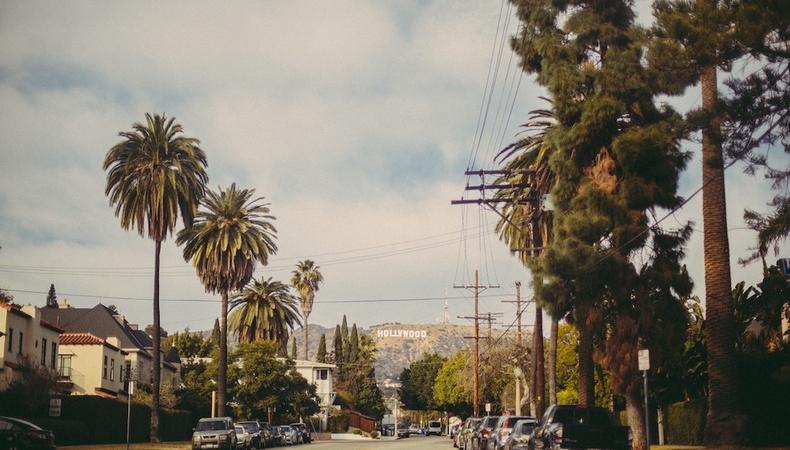 This week, Backstage is focusing on post-college actor life. For some, this will mean continuing their education with an MFA program, but for many more, it will entail making the move out west to Los Angeles. You should be excited to make your way to the City of Angels, but also be prepared that it isn't all palm trees and, well, more palm trees. Don't let that awakening be a rude one: here are eight ways to ready your mind, career, and wallet for the feat.
Prepare your finances.
"Unless you want your first few months here to be a living nightmare, you should move out with at least $5,000 in your pocket. That should be enough to cover you during those early days of unemployment and down payments...Naturally, that dollar amount goes up if you need to buy a car. And that's one area you don't want to skimp on. Actors live in their cars here, sometimes literally, and a reliable set of wheels is a must." —Secret Agent Man
Arrive ready to learn.
"One important point is to realize exactly how inexperienced and naïve you really are. Regardless of the amount of training or success you may have had in the Midwest or elsewhere, Hollywood is not the same. Each production I've been on, I've learned something new about how they operate and what they expect from each player, whether actor or crew. You've got to be open and go with the flow. If you watch and listen, you'll learn what gets on whose nerves and then you'll be able to avoid the mistakes of others." —Gregory David Danler
Know that public transportation exists—and is good!
"The Metro in L.A. is awesome and can take you to many auditions if you live in an area where it's accessible to you. I barely even knew this town had a public transportation system, so I assumed it would be sketchy. It's actually very nice." —Laura Hunter
Hatch a game plan.
"Make your move when you've got momentum from a few high-profile bookings, film festival accolades, or a gajillion hits on your web series. Generate buzz before you go, then know your plan when you hit the ground. Don't think you can wing it and get discovered at the Coffee Bean and Tea Leaf. You need a plan for your housing, training, representation and day job." —Lana Veenker
Do your neighborhood due-diligence.
"Anywhere in L.A. county is fine. Find a neighborhood that fits you. I live by the beach and am often asked by actors how I'm able to live somewhat away from studios. To them I say A) Are you getting a dozen auditions a day? If you're lucky, you'll have one or two a week, and during hiatus, you'll go weeks without them, so why do you need to live five minutes from Warner Bros.? And B) Not every audition is going to be in Hollywood or Studio City. Many casting directors (and especially commercial casting directors) are moving to the west side. Overall—and this is just my personal opinion—the Valley is 30 degrees hotter than anywhere south of the Valley. There's a reason why I absolutely love Los Angeles, and actors who live in the Valley tend not to. By the beach, we don't have AC units in our homes because we never need them. I live in a vacation." —Sean J. Miller
Go for it in full or don't go for it at all.
"If you decide to move to L.A. like, 'I'm just gonna see if it works, and if nothing works I'm gonna go back in a year, two years'—very, very few people with that attitude are successful. You need to make a commitment to this and say, 'This is who I am and this is what I do.' Obviously, you reassess if you're working for years and years and don't get a callback. But for this life, you've got to commit. Work as much as possible, even if it's for free. Seek out people who are similar creative types, whose work you admire, and you can grow together as artists; I don't mean network with people who can help you in your career but find people who by virtue of being in their community, you help one another. A third thing... I hate to say this, but if you're thinking about relocating, take a look at Atlanta these days. The business down there is growing in so many different ways. No matter where you go, commit to it, and work and meet people. Stay busy." —Sean Gunn
Prepare to meet many, many, many actors.
"Most of us grew up in places where acting is kind of a weird thing to do. It's certainly not a career choice because we have no idea who would pay us to do it. If we do decide to become actors, we are singled out, mocked, and completely misunderstood because, to the masses, acting is weird. Move to L.A. and you can't swing a cat without hitting an actor. It's a really great feeling to be surrounded by people who understand you and your struggle. The temptation can be to surround yourself with actor friends. Resist that temptation. Too many actors is like too much ice cream. (Is that even possible?) You are not in the acting industry. You're in the entertainment industry, so to be politically correct, diversify. No, I'm not talking about the Rainbow Coalition. I'm talking about finding friends who do other things like producers, editors, etc. and you will be far more likely to eventually get paid for your acting." —David Patrick Green
Use Backstage!
"Congratulations! If you're reading this, then you're already one step ahead. This publication is full of great articles, valuable advice, and audition insight that will help you make a plan. This is part of your research. Learn about casting directors, read about TV and film, become well-versed in independent film and audition technique. Los Angeles is different and getting acclimated is important." —Tracy Byrd
Now that you're ready to make the big move, book yourself a big gig, too! Browse our L.A. castings!