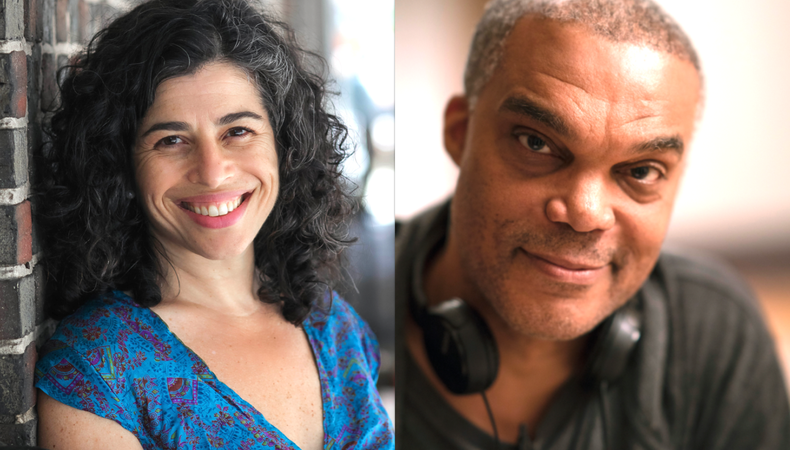 "In the Envelope: The Actor's Podcast" features in-depth conversations with today's most noteworthy actors and creators. Join host and Awards Editor Jack Smart for this guide on how to live the creative life from those who are doing it every day.
How can actors master dialects? How important is it for a performer, in an audition or after booking a job, to have specific regional accents in their skill set?
Among the many resources available to actors looking to expand their craft, dialect coaching is a growing field of study. Most successful stage and screen stars who have played a variety of roles have received coaching in accent work; many even continue collaborating with their coach throughout their careers. This week's "In the Envelope" episode, featuring two expert dialect coaches, serves as an introduction to the topic.
Barbara Rubin hails from South Africa and works as a dialect coach and theater director in New York City. She's recently coached actors in the Williamstown Theatre Festival on Audible, is the associate director of Broadway's "Girl From the North Country," and has been helping stars (including Julia Garner, Daniel Radcliffe, Samira Wiley, and Jennifer Hudson) add accents to their repertoires for years.
"It's a layer of storytelling and it's character," says Rubin of dialects. "Sometimes you're really creating a whole world for the project." Every coaching session she holds with an actor or production must be "totally bespoke," she adds. "There isn't a cookie cutter approach."
Jerome Butler is based in New York City, where he trained as an actor at the Juilliard School. He echoes Rubin's point: "We are designing the dialect to fit into the contextual elements of the story that's being told. That differs if it's a madcap comedy or a romcom or a heavy drama with a lot of explosions." Butler uses accent modification to support the artistic processes of working actors (including private clients Jonathan Pryce, Robert Downey Jr., Chiwetel Ejiofor, Ellen Burstyn, and more) and is the founder of Dialect Coaches Corner, a website providing online tools for performers, executives, and fellow educators.
To hear more about crafting accents,
listen to Patrick Stewart or Gary Oldman
on "In the Envelope"!
Both Rubin and Butler often work with actors on auditions recommending or requesting a regional inflection. Their advice: don't overthink it! "I've noticed a lot of people get incredibly anxious when there is a dialect requirement for an audition," says Rubin. Infuse the "flavor" or "texture" of a sound rather than making it your audition's entire focus, she recommends. "Your openness to try it, your willingness to go in there and do the best you can, is sometimes really valuable and impactful...because the chances are it's not the dialect that's going to get you the job."
"When you're prepping somebody for an audition, what you're really trying to do is just get to the next level, to the next stage," says Butler of his coaching. But for the actor, there's plenty of nitty gritty details they must work out themselves in preparing a performance, all depending on their individual creative strengths and routines. "You need to be the best expert on what your process is," Butler points out. "I'm following the path that that actor is on because that actor is going to know way more than me about who the character is, why they're saying things, how it wants to be. Because they're the one exploring it."
Are there innate characteristics that might make someone more inclined to pick up various accents? "You gotta have a good ear, and I think that that's something that a lot of actors have," says Butler. For aspiring dialect coaches, he adds, helpful qualities include "curiosity and a dogged determination to look at things as they are...as opposed to what your idea of them may be."
For Rubin, dialect coaching is about "empowering the actor to get to a place where this feels effortless. What tools does that actor need to get to a place of feeling they can be free in the dialect?" Practicing speech patterns should also include homework outside of coaching sessions—listening to local radio, or researching history and geography, that might inform character background.
Ultimately, dialect work should be a piece of the actor's overall puzzle, one of the many skills they must continue—and enjoy—developing. "I wish that I could just wave my magic wand and it would be there," admits Rubin. "There generally is a lot of really focused, concentrated, intense work to be able to reach that point of not thinking about it."
Stay tuned also for this week's Backstage listings in keeping with this deep dive on dialects, courtesy of casting insider Christine McKenna-Tirella: Liz Lewis Casting is seeking voiceover talent for an animated series, a branded content commercial needs British- and American-inflected narrations, and a video project for the educational market is looking for an array of voices.
Listen now on:
Looking for remote work? Backstage has got you covered! Click here for auditions you can do from home!