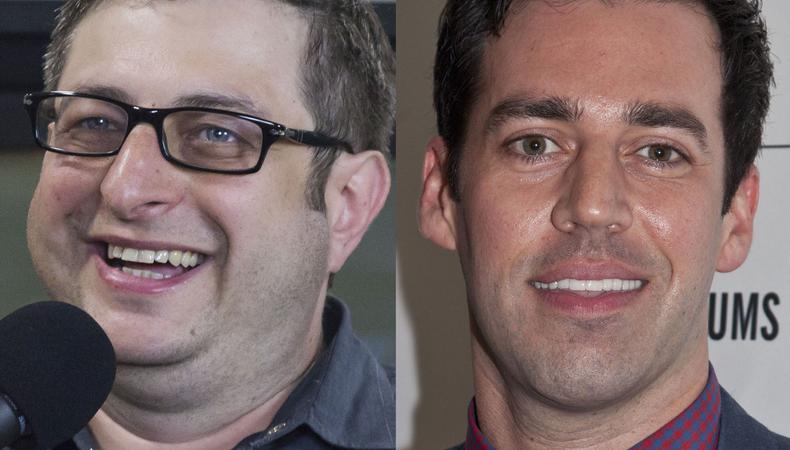 "In the Envelope: The Actor's Podcast" features intimate, in-depth conversations with today's most noteworthy film, television, and theater actors and creators. Full of both know-how and inspiration, "In the Envelope" airs weekly to cover everything from practical advice on navigating the industry, to how your favorite projects are made, to personal stories of success and failure alike. Join host and Awards Editor Jack Smart for this guide on how to live the creative life from those who are doing it every day.
Ask 100 successful comedians how they got their start and you'll get 100 different answers. "It definitely takes trial and error," says Eugene Mirman, who designed a college major in comedy before producing and performing in a myriad of standup shows. John Roberts echoes the sentiment, remembering how he made a name for himself in viral web sketches before developing a pilot with Bob Odenkirk and Michael Showalter. "It's always the thing you don't see coming," says the writer-actor-musician.
That both Mirman and Roberts ended up as part of the main cast of Fox's Emmy-winning animated sitcom "Bob's Burgers" proves that comedy can take you anywhere—including the growing voiceover biz. If voicing a character on a long-running animated hit is your idea of a dream job, Mirman and Roberts' "In the Envelope" interviews provide key insights on how comedy and voiceover can overlap and book you such a gig.
The advice the two stars give to aspiring comedians and voice artists alike is to create and test out the material that best showcases your talent. "If you would like to be a voice actor, either write something or find a friend that's a writer, and try to make a three-minute demo of some sort," says Mirman. Born in Russia and continuing his Hampshire College comedy studies in New York City open-mic nights, Mirman eventually launched several successful variety shows and even opened for rock groups and other musicians. "Think of what your goal is," he advises, "and then try to think of a few things you could do to get closer to it, and maybe closer to it in five months. Then in five months, try to think of something to get a little closer.
"I would try to think of what I could do," he remembers of his early days writing, producing, and performing standup. "I sent out press releases. There were some reviews, and then I printed those reviews and made little fliers and then would hand those things out. It would get 20 people, 10 people, 40 people. You grow with things slowly over the years." Mirman's growing community included such friends as Kumail Nanjiani, Reggie Watts, and Jim Gaffigan. His recent documentary feature, "It Started as a Joke," chronicles the comedy festival Mirman created to showcase his distinctly alternative standup style.
Roberts had a completely different, yet similarly eclectic, path toward breaking into the biz. "You carry around these thoughts and these ideas that you're this person and then at some point, you have to prove it to yourself—and, actually, make the rest of the world see it," says the New Jersey native, recalling the sometimes painful memories following his graduation from the American Academy of Dramatic Arts. Along with using Backstage to book the occasional commercial ("I always had such low self-esteem after leaving commercial auditions," he deadpans), Roberts dabbled in theater, writing music, and performing standup in queer venues, eventually becoming famous on the web for filming highly specific, exaggerated impressions of his mother—a character whose voice would eventually become that of lovable mom Linda Belcher on "Bob's Burgers."
For Roberts, honing his hilarious voice work was a process of learning what audiences responded to, both live and in scripted sketch comedy. "It's the adrenaline and the thinking on your feet that are going to make you advance and become better," he says of standup. In general, "when people can know you for something and they could say, 'Oh, this guy, he does his mom, the Christmas tree [video],' it's a way to advance your career."
When Loren Bouchard first began creating the family and workplace sitcom that would become "Bob's Burgers" in 2009, he reversed the casting process, selecting the actor-comedians he wanted to collaborate with and developing the animated Belchers around them through improvising and rewriting. Mirman and Roberts, as well as H. Jon Benjamin, Dan Mintz, and Kristen Schaal, had been on Bouchard's radar within the comedy community; their funny voices in particular provided the inspiration for the animated characters that, 10 seasons in, audiences are still calling family.
As Roberts points out, the outcomes for creating great work and finding like-minded collaborators in entertainment are practically limitless. "You just never know when there's some very talented other person out there that's admiring you and going to include you in something," he says.
For more, including an update from producer Jamie Muffett on the upcoming eVocation Conference for voiceover professionals, tune in at any of the podcast platforms below. Mirman and Roberts' interviews begin at 9:23 and 43:14, respectively.
Listen now on:
Looking for remote work? Backstage has got you covered! Click here for auditions you can do from home!