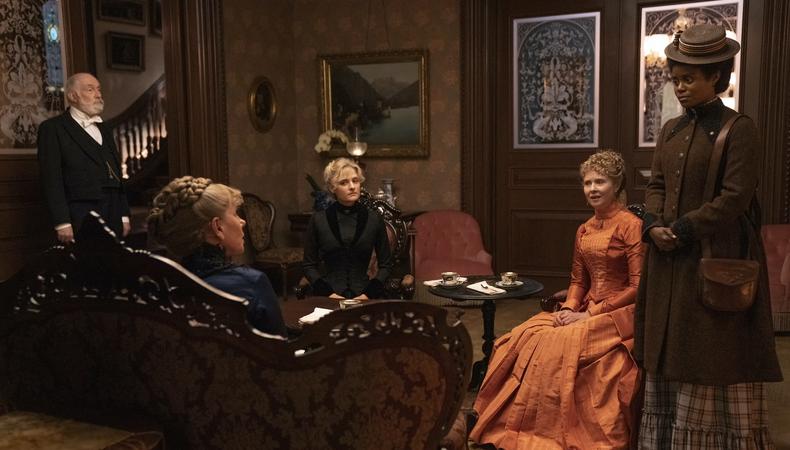 While palatial ballrooms and French chefs may seem like relics of days long past, Julian Fellowes believes we're not so far away from the extravagances of the Gilded Age. On his new series, the creator of ITV and PBS Masterpiece hit "Downton Abbey" continues to explore the trappings of high society.
This time, he heads to the other side of the pond for HBO period drama "The Gilded Age," which he created, co-writes, and executive produces. Set in 1882, the show depicts a period of American history that was marked by extreme wealth, industrious growth, and corruption—an era that eerily echoes contemporary society.
"We live in an age of high consumerism and showing off and enormous fortunes being made," Fellowes says. "In fact, while we were shooting the show, we had Bezos and that other billionaire racing each other to the moon in their own rockets. This is a very Gilded Age thing to do, whether they were aware of that or not."
"We live in an age of high consumerism and enormous fortunes being made. In fact, while we were shooting the show, we had Bezos and that other billionaire racing each other to the moon."
In development since 2012 (originally for NBC), "The Gilded Age" sees old money New Yorkers clashing with uber-rich social climbers. When the newly orphaned Marian Brook (Louisa Jacobson) moves into the Fifth Avenue brownstone of her wealthy establishment aunts Agnes Van Rhijn (Christine Baranski) and Ada Brook (Cynthia Nixon), she and her new friend Peggy Scott (Denée Benton) receive a crash course in New York high society.
Enemy No. 1 are the Brooks' neighbors, the Russell family, led by ambitious matriarch Bertha (Carrie Coon) and her husband, railroad tycoon George (Morgan Spector). From the perspective of the old guard, the Russells need more than just money to break into the upper echelons of society.
To create the luxe and haughty lives of the New York elite, the British Fellowes needed to work with a distinctly American voice. For the duration of "Downton," Fellowes served as sole writer; this time around, he's working side-by-side with "The Gilded Age" co-writer and co-executive producer Sonja Warfield ("Will & Grace," "The Game").
"Because the show is set in America, Julian wanted an American voice to make it very authentic," Warfield says. "It's been so much fun for me, because I just love characters and character dramas, and I love these characters and this time period. So it's a win-win for me."
Fellowes and Warfield collaborated on the series' scripts from start to finish. The two would trade drafts back and forth, offering rewrites and notes, before Fellowes would provide a final polish. They worked with historian Dr. Erica Armstrong Dunbar and a research team to ensure that the language and details were authentic to the period.
"I once said a character had 'passed away,' " Warfield recalls, "and Julian said, 'They didn't say that back then. They died. They're dead.' "
To tap into the language of the era, with its outward politeness and camouflaged insults, Fellowes and Warfield took inspiration from Gilded Age novelist Edith Wharton. A wealthy New Yorker herself, Wharton's perspective as a privileged insider proved crucial to fleshing out characters like Agnes.
As the characters came to life on the page, the cast—which draws heavily from the New York theater world, with actors like Audra McDonald, Donna Murphy, and Michael Cerveris—helped inform Fellowes and Warfield's writing. They played to the actors' talents, creating scenes and storylines that would allow each player to shine.
"You create opportunities to display their talent," Fellowes says, "rather like in old Hollywood when they would create a starring vehicle specifically for a star who could do this, but she couldn't do that; so the story would be constructed around that."
But for those who are expecting an American "Downton," Fellowes says he finds little overlap between the two series.
"I didn't really, if I'm honest, spend much time thinking about: Is this like 'Downton,' or is this not like 'Downton'? " Fellowes says. "There's a limit to what happens to human beings. You're, all the time, trying to think of new stories. But I think 'Downton' was great and I think it did well, and I'm very grateful. And now I'm on to something else."
Looking for remote work? Backstage has got you covered! Click here for auditions you can do from home!