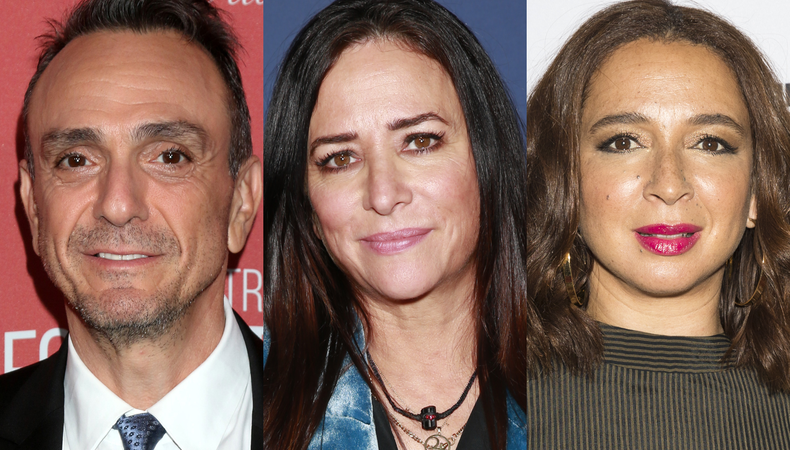 "In the Envelope: The Actor's Podcast" features intimate, in-depth conversations with today's most noteworthy film, television, and theater actors and creators. Full of both know-how and inspiration, "In the Envelope" airs weekly to cover everything from practical advice on navigating the industry, to how your favorite projects are made, to personal stories of success and failure alike. Join host and Awards Editor Jack Smart for this guide on how to live the creative life from those who are doing it every day.
This week's podcast episode is throwing it back! Continuing our commitment to spotlighting the voiceover industry and to getting you working today, we're including advice-filled excerpts from the "In the Envelope" archive.
Legendary voice artists of animation Hank Azaria, Pamela Adlon, and Maya Rudolph—all winners of the voiceover performance Emmy Award—return to the podcast to inspire listeners to get involved in the voiceover industry. Azaria, star of "Brockmire" and "The Simpsons," explains how he channeled his instincts for creating characters into a thriving voiceover career. Adlon, previously of "King of the Hill" and current writer-director-star of "Better Things," recommends signing up for voiceover classes led by working professionals. And Rudolph, the reigning voiceover Emmy winner for "Big Mouth," takes us inside her creative process behind the microphone.
In addition, voiceover expert Jamie Muffett and Backstage casting insider Christine McKenna-Tirella have updates on recent trends in the biz and how listeners can take action. Whether you're brand new or an experienced voice artist looking for work amid the pandemic, Backstage has the resources you need; check out the 101 guide to all things voiceover here, browse new voiceover casting listings here, and remember that a Backstage subscription today allows users to build an alternate voiceover profile!
Best of all, check out Backstage's Sound Stories. Our new competition—challenging you to write, cast, record, edit, and submit a story fully told through sound—is accepting submissions through Oct. 25. Several submitted projects are even looking for voice talent now!
Listen now on:
Looking for remote work? Backstage has got you covered! Click here for auditions you can do from home!