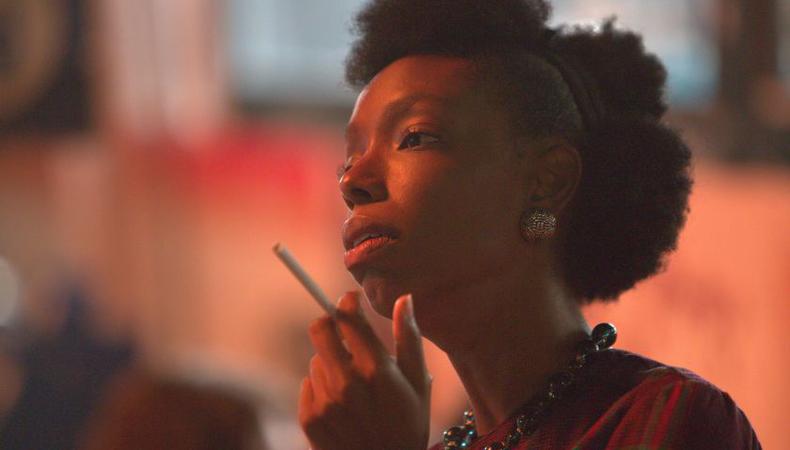 Park City may be icy cold, but the film acquisitions are piping hot at the 2020 Sundance Film Festival.
Playwright Radha Blank's ("The 40-Year-Old Version") directorial debut is one of the festival's most acclaimed films to play the fest this year.
Loosely inspired by events in Blank's life, a down-on-her-luck writer is grappling with the stigma of being a struggling artist at the age of 40. Blank stars alongside Peter Y. Kim, Oswin Benjamin, Reed Birney, Imani Lewis and TJ Atoms.
Eliza Hittman's third feature, "Never, Rarely, Sometimes, Always" follows two teenage girls who leave their home of rural Pennsylvania to embark on a fraught journey to New York City.
Hulu, in conjunction with Neon, shelled out over $17 million for the Max Barbakow directed flick "Palm Springs," edging out the previous acquisitions record "The Birth of a Nation" by mere pennies. Hulu scooped up "Dear White People" filmmaker Justin Simien's horror-comedy "Bad Hair" for $8 million. Amazon picked up Alan Ball's drama, "Uncle Frank" starring Sophia Lillis, Margo Martindale, Paul Bettany, Judy Greer and Steve Zahn, and Phyllida Lloyd's British-Irish drama "Herself." Meanwhile Searchlight Pictures, fresh from a Disney merger, acquired the "The Night House" with Rebecca Hall, Vondie Curtis-Hall and Evan Jonigkeit, among others.
Such successes are not new out of Sundance. Looking to year's past, here are eight other films that broke out at the festival and went onto further acclaim.
"Blood Simple" (1985)
Joel and Ethan Coen started their illustrious careers at Sundance with the premiere of their debut film "Blood Simple." The film starring Dan Hedaya, Frances McDormand, M. Emmet Walsh, and John Getz won the fest's second ever Grand Jury Prize. The Coen's have gone onto massive success ever since, each winning four Oscars throughout their careers.
"Sex, Lies, and Videotape" (1989)
Sundance also launched the career of Oscar winner Steven Soderbergh. His scintillating drama "Sex, Lies, and Videotape" won Sundance's Audience Award and eventually earned the writer-director his first Oscar nomination for original screenplay. James Spader, Andie Macdowell, and Laura San Giacomo also earned several kudos along the way for their performances in the film.
"Reservoir Dogs" (1992)
"The Hateful Eight" director Quentin Tarantino found much success when he premiered his second film "Reservoir Dogs" at Sundance. Harvey Keitel, Tim Roth, Michael Madsen, Chris Penn, and Steve Buscemi star in the feature. "Reservoir Dogs" may have lost Sundance's Grand Jury Prize, but Tarantino followed up the film with the Oscar-winning "Pulp Fiction" two years later.
"Little Miss Sunshine" (2006)
"Little Miss Sunshine" set Park City ablaze when the film premiered 10 years ago. Fox Searchlight acquired the film for a then-unprecedented $10.5 million. Jonathan Dayton and Valerie Faris direct the ensemble cast including Greg Kinnear, Toni Collette, Steve Carell, Alan Arkin, Paul Dano, and Abigail Breslin. The film eventually won two Oscars for both Arkin's performance and Michael Arndt's original screenplay.
"Precious: Based on the Novel Push By Sapphire" (2009)
Gabourey Sidibe ("Empire") and Mo'Nique star in this Lee Daniels–directed drama, which won the Grand Jury Prize, Audience Award, and a Special Jury Prize for Mo'Nique at Sundance seven years ago. The film earned six Oscar nominations winning two for Mo'Nique's towering supporting performance and Geoffrey Fletcher's adapted screenplay. Fletcher became the first African American to win a screenplay Oscar.
"Winter's Bone" (2010)
Before "The Hunger Games" and David O. Russell films, Jennifer Lawrence was a relative unknown when she appeared in Debra Granik's feature "Winter's Bone," which won the Grand Jury Prize and launched the career of one of today's most preeminent movie stars. The pic eventually earned four Oscar nominations, including Lawrence's first at age 20.
"Beasts of the Southern Wild" (2012)
Director Benh Zeitlin won the Grand Jury Prize for this Sundance sensation. "Beasts of the Southern Wild" also earned a prize for cinematographer Ben Richardson at the fest. The film's breakout star Quvenzhané Wallis became the youngest Oscar nominee ever for best actress, while Zeitlin earned two nominations himself for writing and directing.
"Whiplash" (2014)
Damien Chazelle is one of Hollywood's most exciting new talents. He won both the Grand Jury Prize and the Audience Award for his debut feature, "Whiplash," starring Miles Teller. Chazelle previously received Sundance's Short Film Jury Prize a year earlier for the film before he turned it into the spellbinding feature-length drama it is known as today. Veteran actor J.K. Simmons went on to win an Oscar for his performance in the film.