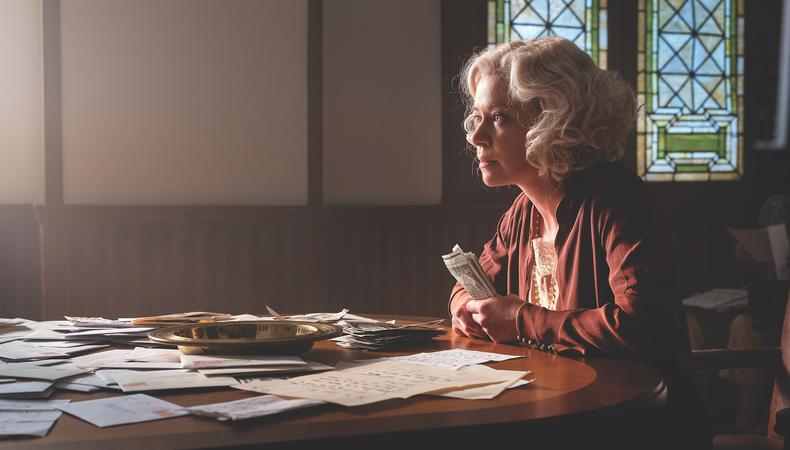 The challenges presented by the COVID-19 pandemic, including its effects on the entertainment industry, have helped us further appreciate one of this year's rare constants: an abundance of fantastic television. As Hollywood prepares for an unusual awards season and Screen Actors Guild Award nominators consider the best projects of 2020, we're rounding up the small screen's worthiest individual performances. Ahead of the SAG Award nominations announcement on Feb. 4, brush up on the top TV contenders for your consideration!
OUTSTANDING PERFORMANCE BY A FEMALE ACTOR IN A DRAMA SERIES
Gillian Anderson, "The Crown"
Anderson is virtually unrecognizable in her turn as Margaret Thatcher, which isn't just remarkable for its contrast to any of her prior performances (including a steely sex therapist on "Sex Education"). As England's first female prime minister and this season's foil to Olivia Colman's Queen Elizabeth II, she introduces the most captivating politician-sovereign dynamic on "The Crown" to date. In all its restrained fury, their face-off over the Commonwealth is a master class in quiet intensity.
Caitriona Balfe, "Outlander"
Jumping back and forth in time from Scotland to France to America, Balfe's Claire Randall remains one of TV's most fascinating figures. There's a reason the fan base of this Starz series remains so devotedly obsessed with her various romances and machinations—no one else can express yearning quite so exquisitely. We need more shows incorporating the female gaze and more leading actors like Balfe, who know instinctively how to level it.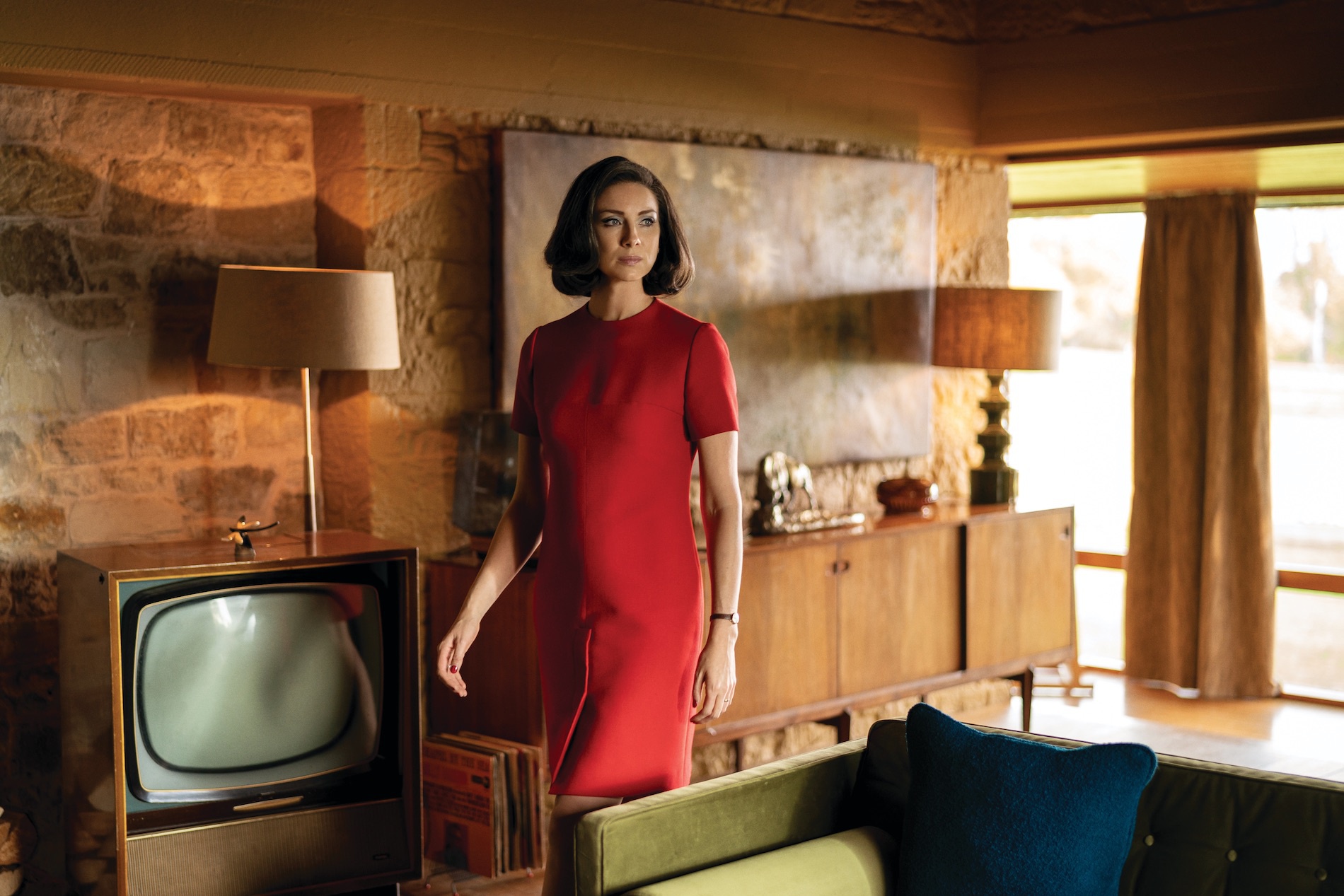 Christine Baranski, "The Good Fight"
Diane Lockhart, everyone's favorite chunky necklace–wearing power attorney, continues to slay in and out of the courtroom; and the diva playing her proves increasingly unafraid of pushing the character's flaws to the forefront. For kick-ass feminist inspiration or tips on how to deliver a speech that will flatten any scene partner, visit literally any moment of Baranski's fabulous performance on the CBS All Access hit.
Helena Bonham Carter, "The Crown"
As Princess Margaret, Bonham Carter reminds us of her preternatural charm while also letting us see her sense of neglect, as she stands forever in the shadow of the monarchy's power. Her immense love for her sister always shines through, with Bonham Carter maintaining her humanity (and humor) throughout, avoiding melodrama and unveiling layers of compassion.
Aya Cash, "The Boys"
Superhero may be a novel role in Cash's oeuvre, but a firm grasp on character is one of her trademarks. Joining the robust ensemble of Eric Kripke's hit drama on Season 2, she gives an unforgettable performance as the straight-talking Stormfront, stepping into the suit of the "super" without altering her appearance—yet still making you wonder how she disappears into every role.
Olivia Colman, "The Crown"
Colman excels at capturing Queen Elizabeth II's stillness and composure down to the smallest gesture on Season 4 of Peter Morgan's royal drama, set in the Buckingham Palace of the 1980s. Case in point: her vividly rendered conversation with Tom Brooke's Michael Fagan, the working-class man who broke into the queen's bedroom to list his grievances. Colman's silences express as much as a monologue.
Jodie Comer, "Killing Eve"
Villanelle kills people. She's good at it. She's gorgeous. She's completely heartless. (Or is she?) This jet-setting assassin challenges our every preconception of psychopaths; she's a character who both inflicts her deeply buried suffering on others and yearns for the unexpected. As portrayed by Comer in one of today's gutsiest small-screen performances, Villanelle subverts our expectations at every twist and turn.
Emma Corrin, "The Crown"
Stepping into an onscreen character who would receive almost as much scrutiny as her real-life counterpart, Corrin successfully captures something essential about Diana Spencer, Princess of Wales: her way of drawing you in and demanding you watch her. Between the spot-on makeup, hair, and wardrobe work and those eyes, conveying sorrow and shyness, Corrin pulls off the difficult task of stealing this show.
Claire Danes, "Homeland"
Still finding ways to keep audiences on the edge of their seats in its final season, "Homeland" provided a fittingly explosive end to the story of Danes' Carrie Mathison, Mandy Patinkin's Saul Berenson, and their world of international espionage and thrills. By finding ways to credibly illustrate the extremes of Carrie's bipolar disorder across eight seasons, Danes deserves every acting trophy there is.
Viola Davis, "How to Get Away With Murder"
Right up to the series finale, Davis sank her teeth into the role of treacherous defense attorney Annalise Keating, carrying a show full of murderous twists cheesy enough to make you swear off lactose. In her Emmy- and SAG-winning performance, Davis portrayed a diva for the ages, as brash and ballsy an antihero as any of her white, male counterparts on TV. We wish there were more characters—and performances—like hers.
Cynthia Erivo, "The Outsider"
Erivo does the best work of her career (which, given her recent rise to superstardom, is saying something) as the meticulously odd Holly Gibney on this chilling Stephen King mystery series. Combining a clipped, clear delivery with an efficient sense of movement, Erivo's physical embodiment of the investigator transcends a simple diagnosis of obsessive-compulsive disorder or savant syndrome; Erivo also gives the character an all-too-breakable heart.
Julia Garner, "Ozark"
Season 3 of Netflix's "Ozark" finds ample opportunity to explore its morally bankrupt core cast of characters, giving an actor of Garner's wondrous skill level the juicy material she deserves. Her twice Emmy-winning Ruth Langmore is a survivor who's prone to making dangerously criminal decisions, but there are always rational reasons behind them—even if Garner makes us guess what they are.
Laura Linney, "Ozark"
Linney's Wendy Byrde has gone from dissatisfied suburban housewife to money-laundering mastermind, and that sinister smile of hers proves she's in her element at last. On Season 3 of this increasingly dark Netflix drama, the Emmy- and SAG Award–winning Linney excels at guiding us through everything on Wendy's map: messiness, vulnerability, shrewdness, and, ultimately, devastating guilt.
Tatiana Maslany, "Perry Mason"
As Sister Alice McKeegan on this hit HBO reboot, Maslany proves utterly captivating. Whether she's sermonizing to the Radiant Assembly of God with terrifying grandiosity or discussing loneliness quietly on a beach, it's impossible to look away. The Emmy winner makes it easy to see why such a preacher would amass a cult following; who wouldn't follow Maslany anywhere after this performance?
Simone Missick, "All Rise"
What makes Judge Lola Carmichael such a wonderful presence on network TV is her relatability; thanks to the versatile Missick, the character can both be taken seriously and appreciated as a bit of a goofball. Leading the (COVID-19 safety–compliant!) courtroom workplace drama as a likable, flawed, modern-day woman, Missick shines, particularly whenever Lola's progressive ideals are at odds with the all-too-real American justice system.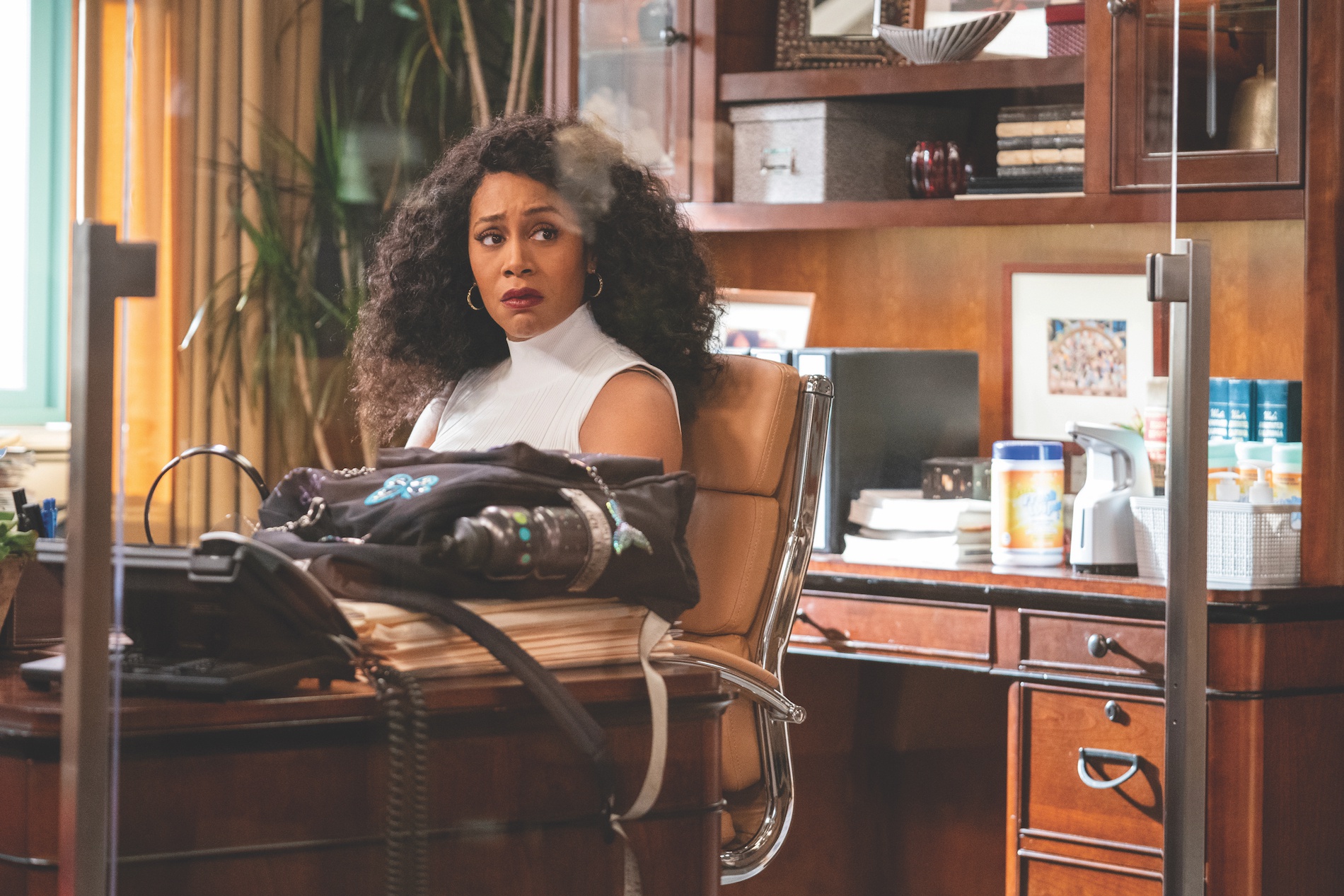 Mandy Moore, "This Is Us"
So effortlessly charming and natural is Moore as matriarch Rebecca Pearson, it has become one of those long-running TV performances whose subtlety could be taken for granted. The actor's awards recognition is overdue partly because of the ease with which she plays multiple ages—more than any actor on the show must—and her finding where "loving" and "overbearing" overlap in motherhood.
Thandie Newton, "Westworld"
Newton has long showcased killer acting chops across film and TV, but she brilliantly bests herself again and again as fabulous super-host Maeve Millay on "Westworld." Her progression from controlled to controller over the course of three tumultuous seasons, armed with a scornful smirk and a katana, makes for one of the sci-fi series' most consistently satisfying arcs.
Sandra Oh, "Killing Eve"
The four-time SAG Award–winning Oh's critically hailed turn as the titular Eve Polastri reminds us why she's so compelling to watch. We follow Eve's ascent from disillusioned government employee to insatiable MI6 agent on the hunt, but her complicated relationship with Jodie Comer's Villanelle is what makes this cat-and-mouse story anything but predictable. Oh's Season 3 performance made us want to savor each and every suspenseful moment.
Sarah Paulson, "Ratched"
Paulson instantly makes the iconic "One Flew Over the Cuckoo's Nest" character Nurse Mildred Ratched her own, and then develops her with incredible care. A highlight of the season is Mildred's relationship with Cynthia Nixon's Gwendolyn Briggs, thanks to the heart and vulnerability Paulson brings to the (oyster) table. Only a star with her level of nuance and commitment could give a classic cinematic villain such humanity.
Jurnee Smollett, "Lovecraft Country"
Smollett's Letitia "Leti" Lewis suffers no fools, moving into a white Chicago neighborhood and fighting both supernatural forces and all-too-real racists without once wrinkling her fabulous frocks. Throughout Misha Green's ambitious reframing of H. P. Lovecraft's horror narratives within Black American stories, Smollett is both having a blast and showcasing Leti's vulnerability, reminding us of the story's emotional stakes.
Hilary Swank, "Away"
"Away" juggles two compelling focal points: the science behind the first crewed expedition to Mars and the very human struggles of both the crew and those they've left behind on Earth. Playing the commander of this NASA mission, Swank handles both as only a star of her caliber can, taking us into the dazzling stratosphere while never failing to ground the storytelling emotionally.
Susan Kelechi Watson, "This Is Us"
Beth Pearson has become the glue that often holds this beloved, multigenerational family together. Her growing nuance, five seasons in, surely has everything to do with Watson's work on the hit network drama. She is funny, warm, fierce, and restrained in her every scene, especially opposite Sterling K. Brown; the duo may be TV's most realistic and relatable couple.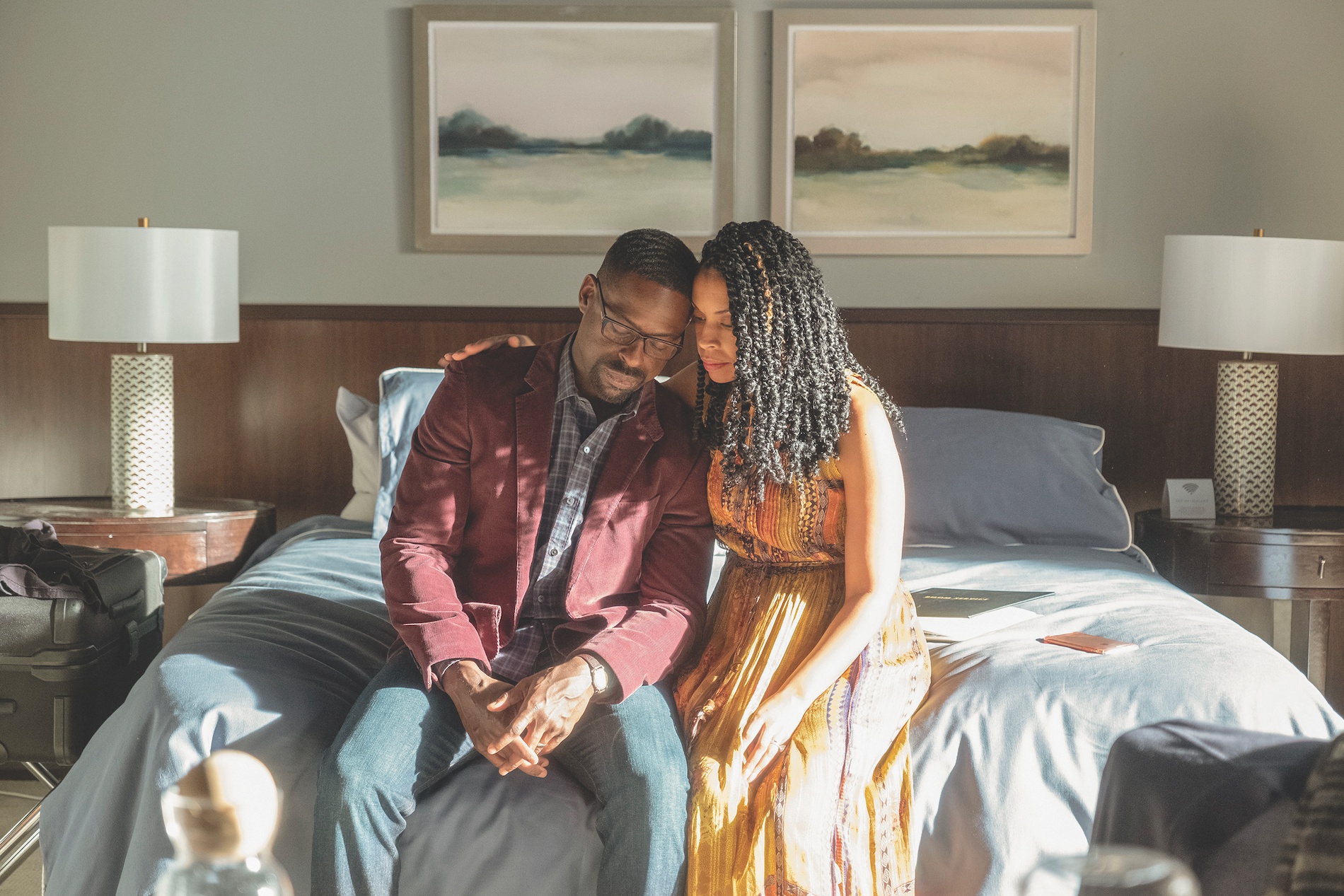 Ruth Wilson, "His Dark Materials"
The visual feast and high-flying thrills on this TV adaptation of Philip Pullman's beloved novels wouldn't dazzle as effectively without a cast dedicated to showcasing true humanity amid the fantasy. Young star Dafne Keen, James McAvoy, and Lin-Manuel Miranda shine; but it's Wilson who impresses the most as the glamorous, nefarious Mrs. Coulter. Underneath the character's wicked impulses lies, as we see in glimpses, true masochism.
Evan Rachel Wood, "Westworld"
Wood has referred to this drama as the "acting Olympics," and after watching her as the fierce Dolores Abernathy, her awards recognition is especially merited. Keeping track of the mind-boggling layers to her character is enough to make you short-circuit. Bent on revenge—possibly on all of humanity—on Season 3, Wood balances cool rage with an alluring sense of mystery.
OUTSTANDING PERFORMANCE BY A MALE ACTOR IN A DRAMA SERIES
Jason Bateman, "Ozark"
It may have taken Bateman most of his acting career to prove he can play (and direct) drama as well as he can comedy, but his performance as Marty Byrde, a financial adviser whose idyllic family life becomes a money-laundering nightmare, was worth the wait. That classic Bateman dryness provides the perfect foil for the unsettling world of "Ozark," where middle-class banality becomes menacing.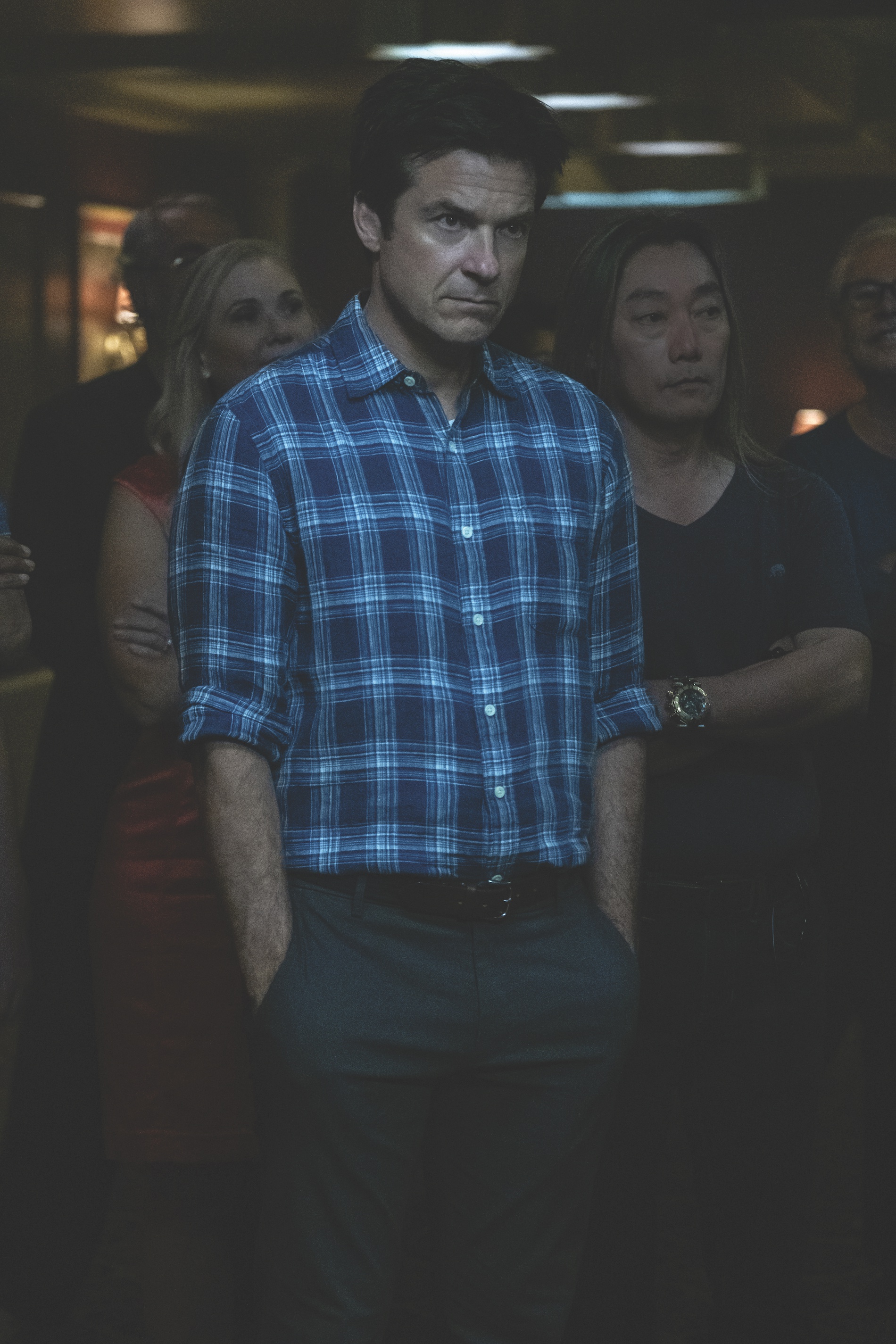 Sterling K. Brown, "This Is Us"
Playing the multifaceted Randall Pearson means that four-time SAG Award winner Brown gets to preach the truth, have mental breakdowns, and occasionally throw out solid one-liners that reveal his superb comedic timing. He's created one of the most enthralling characters in TV drama. Throw in his comedy chops on "The Marvelous Mrs. Maisel," and his domination of the small screen is complete.
Kevin Costner, "Yellowstone"
The character of Yellowstone Dutton Ranch owner John Dutton manages to encompass everything we love about Costner: He can play tough yet kindhearted, bringing nuanced depth and sheer entertainment to the screen in equal measure. As John, the actor straddles the genres of twisty family drama and old-fashioned Western perfectly, fighting for his way of life with a righteousness that always feels earned.
John Cusack, "Utopia"
Cusack playing the supervillain at the center of a global conspiracy theory-turned-reality isn't exactly familiar territory, considering his onscreen reputation for lovable everyman roles. But on Gillian Flynn's Amazon sci-fi venture "Utopia," it's precisely this dichotomy that makes the big reveal so damn surprising—and satisfying. In Cusack's hands, pharmaceutical mogul Kevin Christie vacillates between tortured genius facing an impossible choice and supremely chilling sociopath.
Daveed Diggs, "Snowpiercer"
Diggs is masterful at conveying righteous indignation. As Andre Layton, the detective and budding revolutionary aboard this series' titular train that circles the frozen wasteland that Earth has become in the (not-so-distant) future, Diggs hints at a growing rebellion while maintaining a cool, curious exterior. And there's something so compelling about his voice, as if every word he utters has a hidden meaning.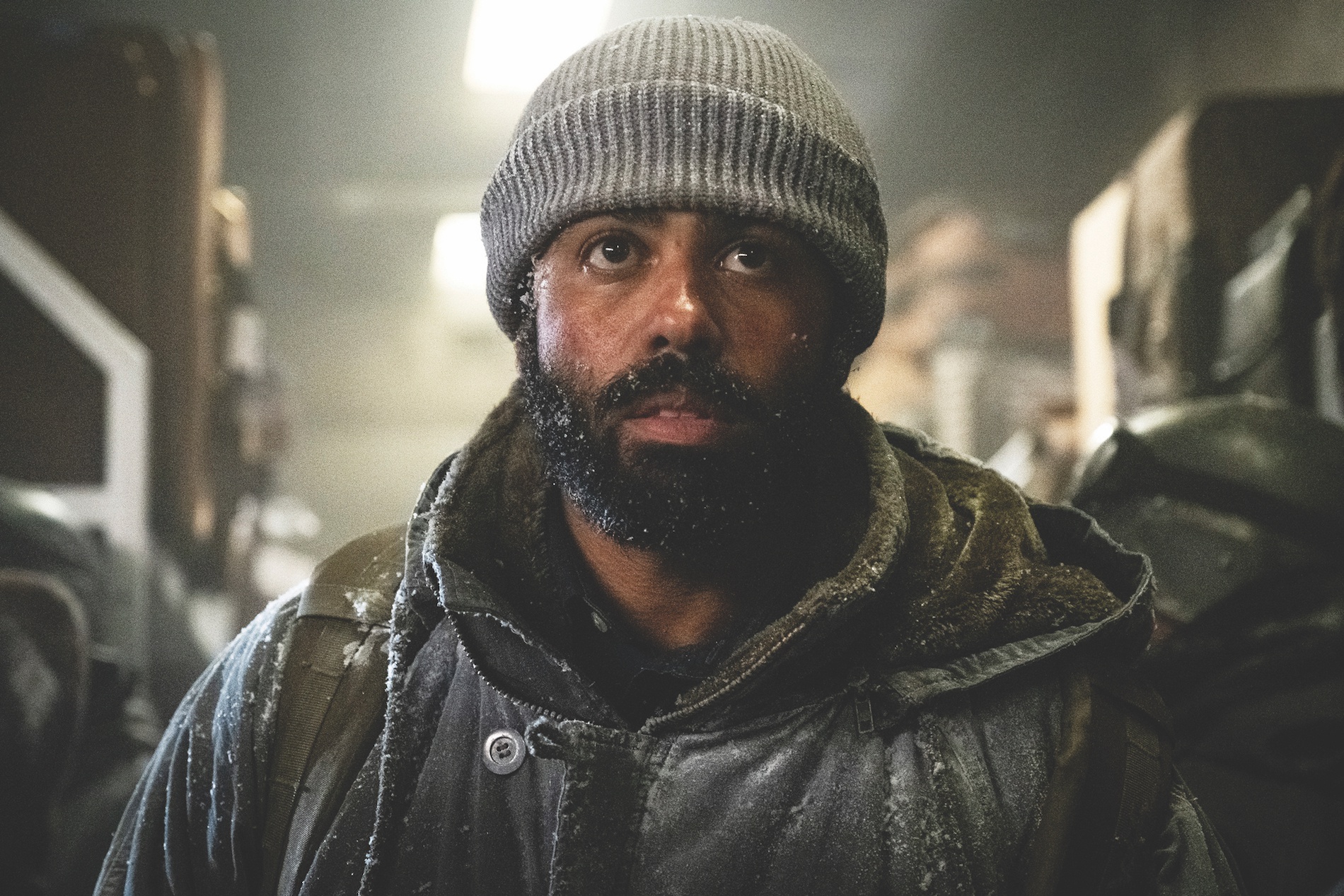 Giancarlo Esposito, "Better Call Saul"
Esposito brings such delicious menace to the camera frame that it often feels like it can't contain his power (see also this year: "The Boys" and "The Mandalorian"). Part of what makes drug lord Gus Fring on AMC's "Breaking Bad" prequel so complex—and so terrifying—is that he's unafraid to get his hands dirty and commit effortlessly violent acts. In fact, it seems like he's not afraid, period.
Paul Giamatti, "Billions"
A four-time SAG Award–winning powerhouse, only Giamatti could have tackled the role of Chuck Rhoades, the viciously sharp New York attorney embroiled in a battle of wills opposite Damian Lewis' scheming hedge fund manager. As he skirts the limits of the law for what he calls "the greater good," we can't help but root for Chuck, even as his tenuous claims to heroism start to crumble beneath his feet.
Omari Hardwick, "Power"
Great stories speak to character evolution; in turn, great acting pulls every emotion to the fore, and Hardwick has carried that torch as the centerpiece of Starz's ratings powerhouse. As James "Ghost" St. Patrick, Hardwick stays soft-bellied enough to keep us in his pocket; yet on the show's final season, he remains a genuinely terrifying crime lord.
Freddie Highmore, "The Good Doctor"
What makes "The Good Doctor" stand out isn't just its refreshingly character-focused approach to the medical drama genre, it's the sheer power of Highmore's portrayal of autism and savant syndrome. He leads one of ABC's most fascinating procedurals like the doctor he plays: reliably, with a sure hand. We're betting this rising Hollywood star will only continue to ascend.
Diego Luna, "Narcos: Mexico"
Amid the edge-of-your-seat action on Netflix's companion series to "Narcos," which shifts from Colombia to the all-too-real drug wars of Mexico, Luna emerges as the most intensely menacing, yet least ruffled, cast member. As cartel founder Miguel Ángel Félix Gallardo, he's suave and businesslike, a demeanor at odds with the surrounding chaos that the actor never lets us forget he's orchestrating.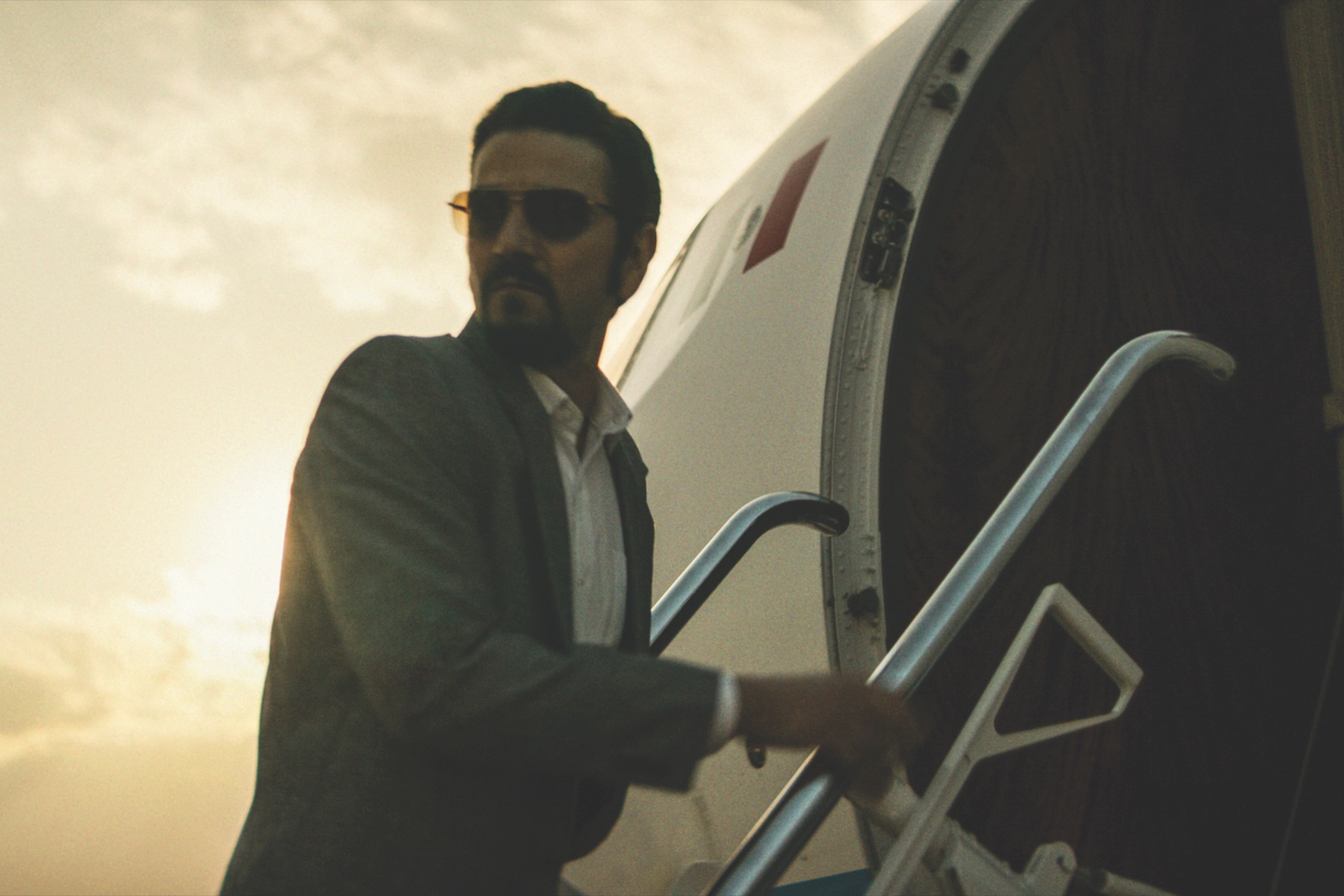 Jonathan Majors, "Lovecraft Country"
Majors immediately establishes Atticus "Tic" Freeman as this horror extravaganza's hero with a good heart, determined to protect his family from sinister occult forces and racist 1950s policemen alike. In addition to a sense of swashbuckling adventure, Majors brings dramatic heft to episode after episode, handling extreme scenarios (he's constantly fighting back tears, covered in blood, or both) with ease.
Ben Mendelsohn, "The Outsider"
From this series' first stomach-turning revelation, there's a palpable sense that something is rotten in the state of Stephen King's Cherokee City. Portraying first a staunch denial of the supernatural, then a dawning realization that he must overcome inner and outer demons, Mendelsohn's Detective Ralph Anderson is his most magnetic character to date. He proves that refusing to give in to emotion can be more effective than showing it.
Tobias Menzies, "The Crown"
Menzies' role on "The Crown" somewhat parallels that of his real-life counterpart, Prince Philip. As he states matter-of-factly in the season finale, all Elizabeth II's family members must do is define themselves in relation to her. The same could be said of supporting cast members like Menzies, who must elicit sympathy for a character who never seems content with the privilege he possesses.
Josh O'Connor, "The Crown"
Alongside a cast of actors who feel more like magicians thanks to their flesh-and-blood portrayals of public figures from increasingly recent history, O'Connor excels at both rendering a convincing impression of Prince Charles and putting his own spin on it. His tormented love triangle with Emma Corrin's Diana and Emerald Fennell's Camilla Parker Bowles feels, somehow, like an authentic recreation of actual events rather than scripted moments.
Bob Odenkirk, "Better Call Saul"
As this riveting spinoff delves deeper into the thorny morality of ambition and survival, Odenkirk continues to show us streaks of the "Bad" habits that built his character's rascally reputation. Even with the knowledge of that final meth-charged outcome in the back of our minds, Odenkirk gives an increasingly refined performance, adding new layers to the dodgy lawyer's present tense.
Regé-Jean Page, "Bridgerton"
To call Shonda Rhimes' first Netflix series buzzy would be the understatement of the season; her tale of 19th-century high British society—"Downton Abbey" meets "Gossip Girl"—features the most charismatic of casts. Most dashing of all is leading man Page as Simon Basset, Duke of Hastings, who is uninterested in noble titles yet poised to give Regency London gossipers plenty to talk about.
Tom Pelphrey, "Ozark"
Pelphrey is proof that a great actor can be considered a scene stealer without diverting too much attention away from a story's main characters. Making the most memorable of debuts on "Ozark" Season 3 as Ben Davis, Wendy (Laura Linney)'s brother who is struggling with bipolar disorder, Pelphrey takes your breath away with his naked vulnerability and believable emotional extremes. It's a jaw-dropping performance in a series full of them.
Nicholas Pinnock, "For Life"
Pinnock brings his full humanity—his voice, his beating heart, his innermost thoughts—to this illustration of the deep flaws embedded in the American justice system. As Aaron Wallace, a wrongfully convicted prisoner-turned-lawyer, he keeps things on an even keel most of the time, only revealing the heartbreaking effects of his unjust imprisonment in stunning flashes. Pinnock's performance is hard to watch, yet he dares you not to look away.
Matthew Rhys, "Perry Mason"
If Rhys' work on "The Americans" posited that he's one of our best dramatic actors, "Perry Mason" cemented the theory. Rhys takes on the show's titular investigator with ease, creating his own gritty version of the TV icon while side-stepping any of the genre's cliches. The Emmy winner balances that grit with vulnerability and restrained emotion, effortlessly embodying a character who is thrilling to watch.
Michael Sheen, "Prodigal Son"
Amid a recent surge of interest in the psychology of murderous criminals, Sheen seems conscious of the need to offer a new perspective to an otherwise overplayed trope. He brings equal parts compassion and horror to the role of serial killer Dr. Martin Whitly, aka "The Surgeon," on this Fox hit. Sheen somehow personifies both deranged killer and repentant father.
Patrick Stewart, "Star Trek: Picard"
Are Captain Jean-Luc Picard's biggest adventures truly behind him? That's the question at the center of this CBS All Access hit, which restores a "Star Trek" icon to the small screen. Fitting right back into the role and continuing to play everything from drama to comedy to action, Stewart as Picard ably pulls together a new cast of adventurers despite their lack of history. It's exciting to see the actor take this iconic character where he hasn't gone before.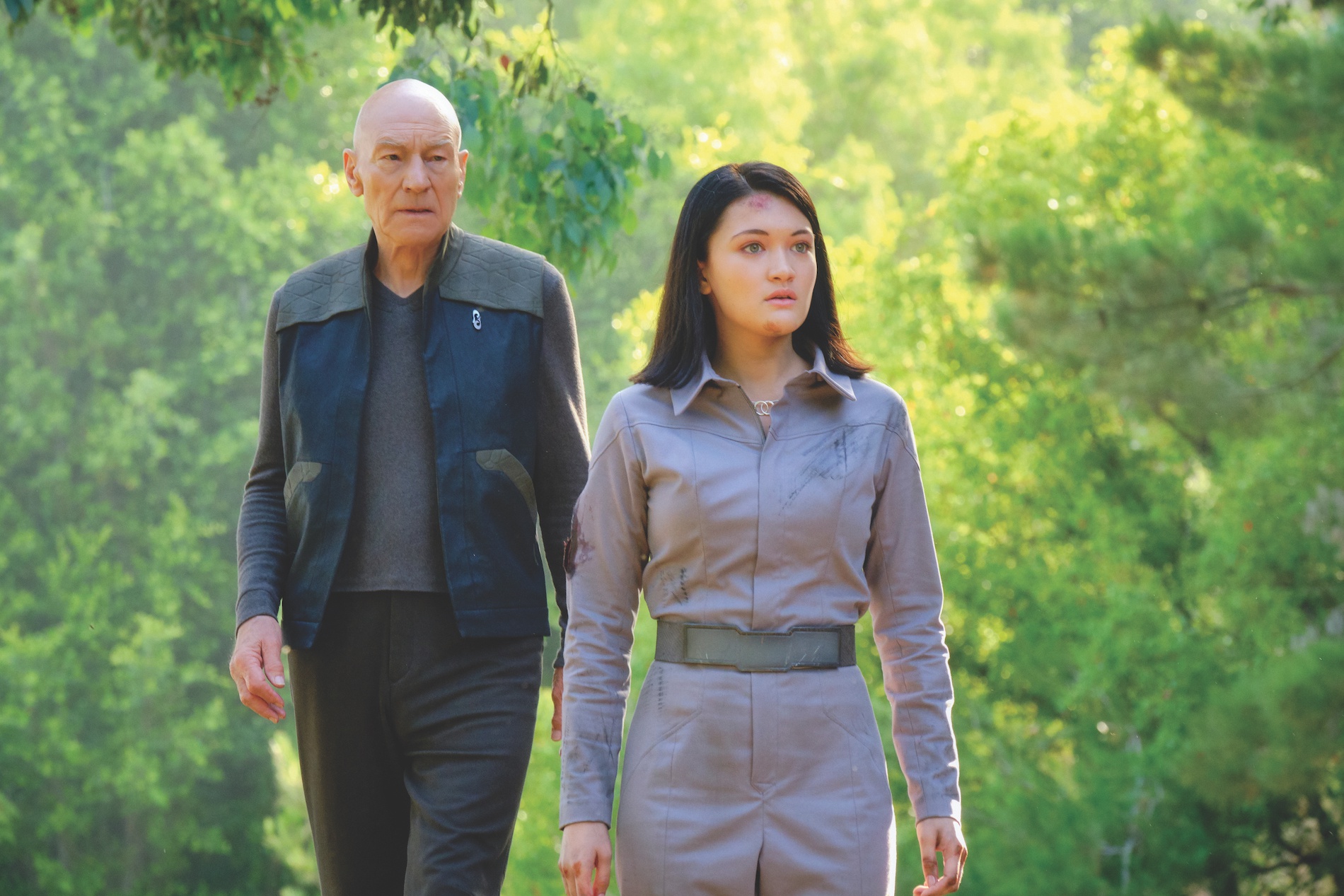 David Thewlis, "Barkskins"
Thewlis has been exploring his dark side lately, and audiences are all the richer for it. Having recently played repulsive on "Fargo" and unsettling in "I'm Thinking of Ending Things," he blends eccentricity and detachment in the role of New France colonist Claude Trepagny on Elwood Reid's National Geographic saga. Strange as his performance is, it's right at home in this dangerous, forested world of possibilities.
Want more? Stay in the loop with everything you need to know this awards season right here!