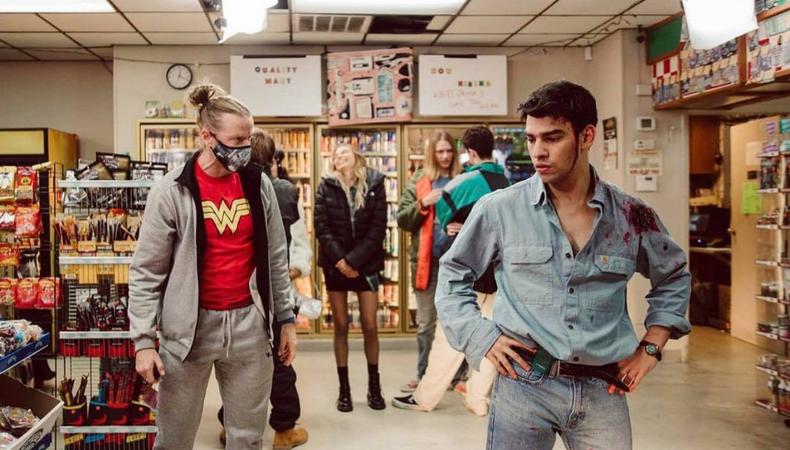 Director Luke Covert and producer Brandon Scott Keeton of Covert Films found that casting through Backstage made the process much smoother for their feature-length independent film, "Turbo Cola." The film is an adaptation of a coming-of-age play from Samantha Oty, which came across their radar through Keeton's interactions with the playwright. Keeton was preparing to open a second office location when the COVID-19 lockdowns started; instead, he decided to use those funds to make a film. "I had auditioned for a Zoom reading through Backstage for a play called 'New Year's Eve at the Stop N Go' by Samantha Oty," Keeton says. While reading it, he thought it would make a good movie, so he contacted Oty to see if she would be interested in turning it into a movie. Covert loved the script as well, but they agreed that adapting it into a movie would require changes; after receiving Oty's permission, they made some drastic changes, which ultimately resulted in "Turbo Cola."
Backstage is the place for undiscovered talent.
Covert's had used Backstage as part of his regular casting process for commercial and smaller films and music videos, and Keeton had used it as an actor to find work. As such, they agreed that Backstage was where they wanted to try to find their cast. "I have used other online platforms and casting offices, but have I found that to be costly….The project wasn't greenlit with a huge studio backing, which is why Backstage was perfect. It allowed us to gather a huge sample of talent who were ready and wanted to do something like this without spending half the budget on a casting director," Covert says.
Pay attention to role requirements.
Before you just apply to a role, Covert suggests actors make sure it's really what they want to do. "Otherwise sending a headshot without researching makes it look like the talent is sending in a blanket submission to everything and they're not serious about the role," Covert explains.
Complete your profile.
Keeton stresses the importance of talent having their profiles fully filled out. "Having an incomplete profile makes it look like you are a part-timer, a hobbyist. While there's nothing wrong with that and more power to you if you can do that, for producers like myself looking for professional actors for a feature film, I need to know that you're in this full time and that you're not going to be called away for something in the middle of production. Part-time effort will get part-time results, so even if you're not yet, at least look like you're full time! If you have a completed profile, we can have a clearer picture of who you are, what you're looking to accomplish, and where we can cast you," he says.
"We were looking for undiscovered actors who were on the cusp of being great, who have learned techniques, have been to acting school, and were ready to put the work in to create something amazing."
Efficiency matters.
Covert advises actors that "The faster you can get, create, and send a self-tape the better chance you have of being chosen. A headshot will only go so far; you want to see how an actor can act on camera." He also says it's fine to keep the self-tapes simple since all he cares about is the acting, not the props. While reels can be helpful, they aren't always reliable or don't necessarily show what the casting director needs to see, so Covert says for him the self-tape is what he can trust.
Actors should provide as much info as possible.
After taking the initial headshot and résumé submissions, Keeton says, "Our process was actually pretty simple. We first picked the actors that we thought looked like the characters in our mind." They then asked for self-tapes from the actors they'd selected.
"When we went to access their self-tapes, we also could see their bio, talent representation, reels, and headshots all in one place. It forced us to learn more about the actors than just seeing their self-tape audition. This sped the process up and it took only a matter of weeks to find the full cast," says Covert. The messaging system, self-tape tool, and filtering system also helped expedite the process. They ended up casting several actors through Backstage, including the lead.
Teamwork is important.
Keeton was impressed with the cast and crew they ended up with on their film. "I served in the Marine Corps for 21 years and I know the difference between a good unit and those just phoning it in. This group of people gelled together in such a short time like I haven't seen since I retired from the service." He compares it to summer camp and notes that there were tears when the actors had to say goodbye. "It was very cool to see a team come together like that. I have been on some other projects since then and while they have been professional, there's been nothing like the team we put together for this project. And that heart and chemistry definitely show up on film," Keeton says.
Show your passion for the work.
Since they didn't have a large budget to pay actors, Covert says they were trying to find newer actors with some acting background and craft who wanted to sink their teeth into the role. "I was looking for younger actors that had a lot of tenacity and drive, who weren't just looking for a job, but were passionate about being in an indie project, and who would put a lot of heart and soul into the work. We were looking for undiscovered actors who were on the cusp of being great, who have learned techniques, have been to acting school, and were ready to put the work in to create something amazing," Covert says. He says that's exactly what they found on Backstage.
Keeton echoes the need for passionate actors. "Personally, I was looking for someone who could pull off the role…While credentials were nice to have and we did have a few actors who had really good credentials and social media followings, I concentrated mostly on the audition. Because the characters were so well defined in the writing, I didn't have to make them up. Could they be the character? Could I see this person being that character? And when you see the film, you'll see that the answer is yes," Keeton says. He notes that the people who showed the screener all asked where they found the actors and expressed how impressive the acting skills of the indie film's cast were.
"Turbo Cola" will be released in winter 2021.