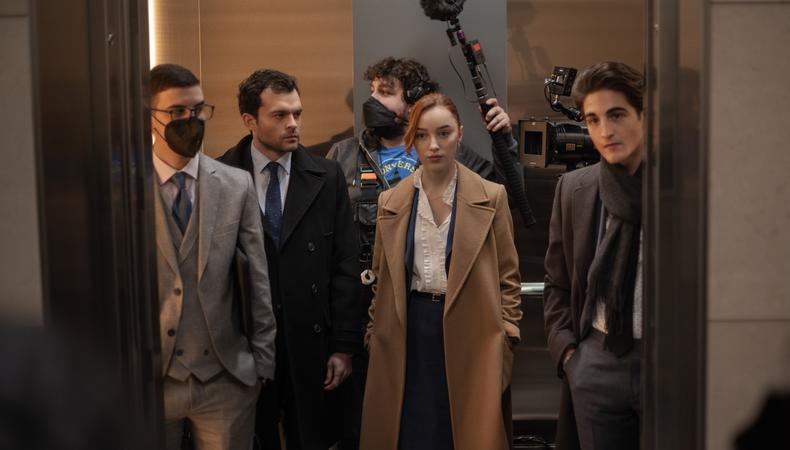 Becoming an actor can mean many different things in a wide variety of mediums. In order to land gigs and thrive on film, there are specific skills to learn and considerations to make. Read on to find out all you need to know about making it as a movie star.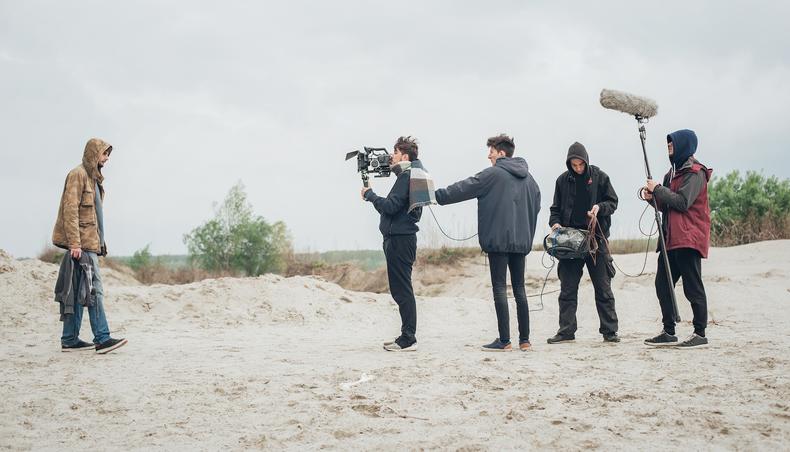 guruXOX/Shutterstock
If your goal is to act in movies, make sure you learn the proper skills for performing on camera and prepare the right materials. Here's what you'll need:
Camera training: "Many people forget the importance of on-camera classes," says actor Jennifer A. Goodman ("The Unseen," "Better Call Saul"). "I can't emphasize how much on-camera classes teach the basics, but also the etiquette and filming process versus theatrical."
Finding acting classes specifically geared toward being on camera can help you get you more comfortable in front of the lens, but it will also teach you aspects of that specific type of performance that are hard to comprehend until you experience it. This includes being aware of the camera without acknowledging it, finding your angles, and establishing eyelines.
"Being able to navigate where, exactly, to set your focus in relation to the camera lens is essential," says acting coach Mae Ross. "Though a camera is a piece of equipment, you should view it as your friend. Get used to interacting with the camera as though it is a living, breathing being!"
If you can't find or afford local on-camera classes, it's still important to record yourself and study how you look and move on camera—even if you use your phone.
A network: Getting to know like-minded performers and creatives is essential to a career in the movies. Film festivals are a great opportunity to network and make valuable contact. While the big names such as Cannes and Sundance have their benefits, try smaller, local festivals to meet creators at a similar career level when first starting out. (Services such as FilmFreeway make it easier to find festivals close to you, as well as sort by the size you want.)
"Be realistic and read up on the smaller independent films," says casting director Lana Veenker. "Chances are slim you'll be hanging with Tarantino or Clooney, but an up-and-coming director whose work intrigues you could turn into a good contact, so familiarize yourself ahead of time and purchase screening tickets."
Headshots: Keep in mind that there is a difference between theatrical and commercial headshots; as an aspiring movie star, you'll obviously want to lean toward the latter. "Casting directors and producers want to see your natural look. No glamour shots," says Goodman.
"Your headshot should reflect your personality," advises L.A.-based photographer Marc Cartwright. "Even a still stoic shot can (and should) have emotional depth. What is it that you want your theatrical headshot to say? What do you want the person looking at the shot to feel? Treat a headshot session like an acting exercise, and think of the camera as your scene partner."
Experience: "Online casting sites are the most reliable place to find auditions," says actor Anna Rezan ("Naptorun Pansiyon," "Ever Been to the Moon?"). "Websites like Backstage are a great resource. All you need to do is create a profile, upload your headshot, résumé, and footage, and then start self-submitting to the casting calls that show up in your inbox."
Look through our database of movie auditions and casting calls to get started. If you're early in your career, it can help to focus on independent films, student films, and shorts.
A portfolio: Once you've got your headshots and some on-camera credits, it's time to assemble your portfolio. Create a demo reel and acting résumé, focusing first on your work in films. "If you don't have [filmed] scenes, consider making them with a professional reel company," suggests Goodman. Create a personal website to host your reel and make sure you're utilizing social media wisely. Production companies and independent filmmakers occasionally make announcements on social media when searching for talent.
An agent: While landing an acting agent isn't required to get your first gigs, representation will certainly help advance your career. Search our customizable database of talent agents representing onscreen actors. If you're just starting out or have only a few clips to your name, these agencies are a good place to start:
The Osbrink Agency

: Booked film clients include Nicolas Cantu ("The Fabelmans") and Reid Scott ("Venom: Let There Be Carnage")

Bankston Talent Agency (BTA):

Booked film clients include Grayson Berry ("How to Blow Up a Pipeline")

Cunningham-Escott-Slevin-Doherty Talent Agency (CESD):

Booked film clients include Manny Magnus ("World's Best" on Disney+)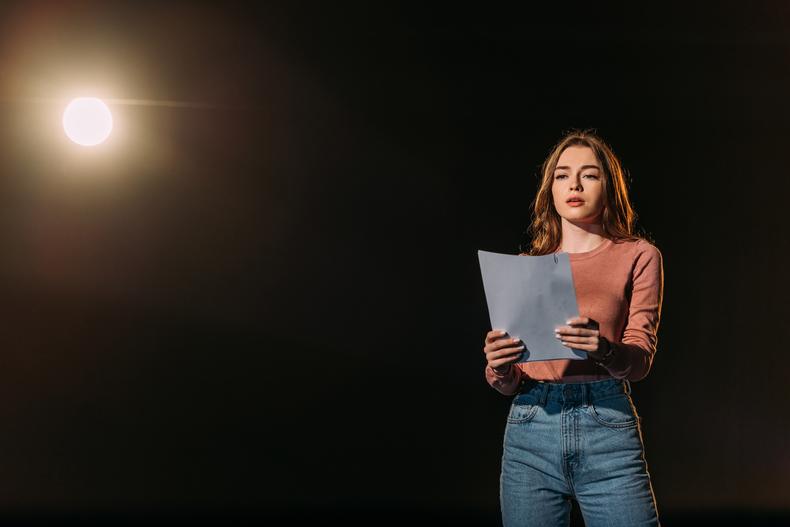 LightField Studios/Shutterstock
After you comb through casting calls for movies and indie films and finally land your first auditions, how can you secure the role? Here's some advice:
Be prepared for the camera. "Be sure what you think you're doing in front of the camera is actually reading on the monitor," says audition coach Philip Hernández. "Rehearse with a video camera and watch the playback. The camera often magnifies small physical movements you have naturally in everyday life. Unfortunately, arching eyebrows or a bobbing head draw attention to themselves on camera and distract us from watching what you're thinking and feeling."
Stay still, not stiff. "When auditioning in front of a camera, stillness is essential, but without proper consideration of the body, stillness can turn into stiffness and the actor can appear frozen," says audition teacher Craig Wallace. "Working actors have a look of energized stillness in their auditions. They have explored their choices for their physical as well as their emotional properties, and they know the associated physical sensation of every choice."
Master the self-tape. A large percentage of modern film auditions are held via self-taping. If you want to become a movie actor, you need to get comfortable with the basics of recording at home. Don't get bogged down in the setup; it's always about the performance.
"I've seen some incredibly good self-tapes, and it's when the person's alive on tape, so when they're not speaking, they're still in character," says casting director Luci Lenox. "You just believe them. You don't have to have too many props or too much costuming. Someone [gave me a] self-tape [of them] being shot, and they added in sound effects. It was surprising, it was fun. Directors get bored listening to and seeing the same thing over and over again, and sometimes somebody will do something so random, but it's charming, and you go, 'Oh, let's have him.' "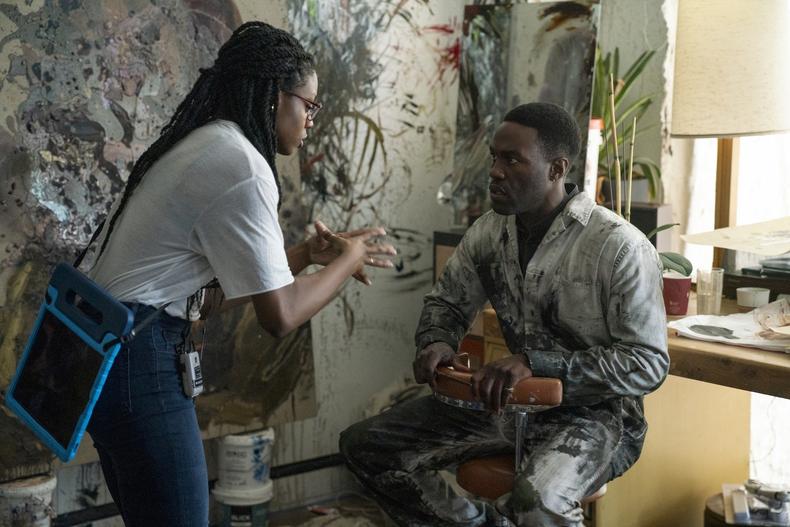 Nia DaCosta and Yahya Abdul-Mateen II on the set of "Candyman" Credit: Parrish Lewis/Universal Pictures and MGM Pictures
Acting in films involves specific skills and considerations. "The camera holds that immense power to capture every part of your essence," says Rezan. "In film, the acting is in your eyes. You need to be natural and realistic for the scene to work."
Know your angles: Determining your best angles can help you use the lens to your advantage.
"Get in front of a mirror or, better yet, a camera, and get a very close-up shot," says acting coach Cathryn Hartt. "You can even use your smartphone to record or take still photos. Slowly change directions and angles of your face to see how it reads on camera. Turn your head slowly from one side to another in each direction. Tilt it from side to side. Bring your chin slowly down and slowly up. Look at your face as if it were a painting to see what makes a more interesting picture."
Go smaller: Unlike theater, where you often have to broadcast your emotional state to the back row, film acting asks you to go internal. "The camera picks up every nuance of your performance," says actor Steve Stanulis ("Winds of Silence"). "There is no need to over-act in any scene, which is different from theater acting, where everything needs to be much bigger for the audience."
"The old adage 'less is more' applies to on-camera acting more than anything else," agrees acting coach Greg Braun. "This is achieved when an actor knows he can turn an exclamation point into a whisper and have just as strong of an impact. Understanding the power of intimacy can be the actor's biggest triumph in unlocking the mysteries of how to truly be the most effective on-camera."
Utilize the camera: Unless specifically instructed to by the director, never look directly into the camera; always aim to look slightly to the side, above or below the lens. When it comes to positioning your body and moving around, the ability to be aware of the camera—but not distracted by it—is vital to being a film actor. Eventually, you'll be able to use the scene's direction, lighting, and composition as part of your performance.
"You've got to know where the camera is, what your blocking is, and which is a wide or close-up shot, then forget it," says producer and casting director Marci Liroff. "Forget it and lose yourself in your character."
Study the greats. Lauren Bacall, Robert Redford, Denzel Washington, Meryl Streep—some names are synonymous with screen acting for a reason. Become a consistent consumer of great film acting and pay attention to the small things that make a movie star pop off the screen. For further research, scan through the 11 must-read books for the on-camera actor.
Practice, practice, practice. One of the best parts about working on camera is there's always footage to run back and learn from. Get comfortable watching your own work and soon you'll pinpoint all the aspects that make you a dynamic screen presence—and what you need to work on.