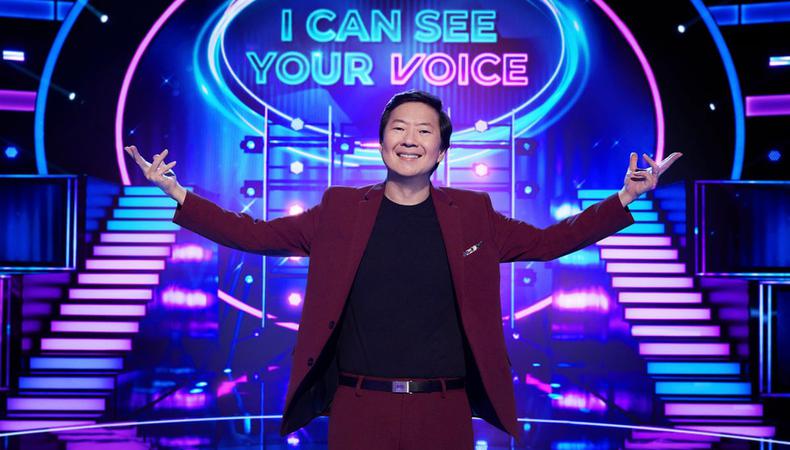 Unscripted television is full of singing shows. Most of them require good singers (and occasionally not so good ones who want to try their hand) to compete against each other for judges and audiences who vote until the "best" one prevails. But we're in a period of a new type of singing show. There's "The Masked Singer" which flipped the genre on its head, and now Fox's "I can see Your Voice." On its face, it's a singing show, but it's really about the people. Host Ken Jeong is joined by a rotating panel of celebrity guests who try to guess who has a great voice without even hearing people sing. The premise lets people from all walks of life and skill levels be candidates for the show, and casting director Logan Clark explains how it's about much more than if people can—or can't—sing.
Why was this project one you were interested in taking on?
I love telling people's stories. I love the opportunity to meet 100 different people and truly allow them to have their platform and their moment. For me, casting has been the way that we make our money and pay the bills, but it's also been something that's kind of unlocked a personal journey for me in a new direction, which I'm so thankful for.
You have a past in talent booking, and now you cast. What are the differences between the two in unscripted?
Casting is finding the real people of the world and bringing their stories to the masses. Talent booking is working with the show's producers on the creative and find out what celebrity presence they want.
What's your casting process for a show like "I Can See Your Voice"?
We post it online and look on Instagram and Facebook. A lot of it also comes from people I've worked with. I like to have people on the team who have done music-related things before. It really is word of mouth, and also just working networks and the circles we all run in. One of my favorite things to do is at the end of the night go on Instagram and go to every single one of those compilations. You get to find new talent and TikTok has been so great because so many people have gone to TikTok and want to perform. It's always with a grain of salt because just like a photo, there are filters for voices as well. So we have to make sure even though somebody sounds amazing, once they come into our universe, we have to do a little more digging and ask for a few more tapes just to make sure they are at the bar that we want them for the show.
What does your audition process look like?
For this season, we have asked people to submit clips of them singing. We asked for two tracks that people know and love and then we've also asked for people to send in a lip-sync video because that's a big part of the show. The team puts together their favorite people that they've been talking to. And they played me their lip sync videos and just like the game, I'm trying to guess if they are a good or bad singer. Then we watch their reveal tape. Even in the casting process, when we put tapes together to send to the network, we start the tape off with the talent lip-syncing, then they introduce themselves, and then they reveal if they're a good thing or a bad singer. And then they tell us more about themselves. We also have them tell us about their story. We try to get some information about what they do in life so we can try and figure out if they're going to represent as a painter or a football player, or whatever. Then once the network falls in love with them, we pitch them internally and externally to the network. Then we get them into our circuit, and we start talking to them about what songs they love and their story, digging in a little bit deeper.
If someone is a good candidate for the show but doesn't have a history in TV or performance, how do you make sure their talent will translate and they are ready to go on TV?
I grew up in an environment where, from a very young age, I was always around music. It kind of built this sensor in me where I can see the potential in people. Not every performance is like, Oh, I could put that on TV tomorrow. But what's exciting is when you see a performance, and think, That could be really great when they work with our vocal coach, and they work with our musical director, and they start to unlock their potential in themselves. That's something that for us on the show, we have found, we've unlocked so many things for people.
How is what you do similar and different from a scripted casting director?
I would say the biggest thing for me is working with real people, people who don't have managers, don't have agents, people who are truly amateurs is something that requires a different layer of patience almost or understanding. They're not polished when you get them, they're not perfect singers, they're not perfect talent. There is a layer of trying to find this unpolished, perfect little pearl and see through this experience, they're going to become incredible. For our show, we want to celebrate all walks of life. Scripted is a lot of working with a lot of people who are established, they're going to audition. They are the hustle. A lot of people we're talking to don't know we exist.
What is unique about casting "I Can See Your Voice"?
It's not just the stories we're telling. It's the people that are making it. It is having leadership from Ken Jeong, James McKinlay, and Craig Plestis. It's having network partners and studio partners. It's the heart, it's understanding that this show unlocked something really special for people. It's so cool that we spend our days and our nights and our weekends, time away from our families, to create this incredible show. And then to imagine what moments of breath, of ease, of laughter come from watching it. I think that is important to have those things. People have really gravitated towards that, they've really embraced our show, and they're excited about the guessing game part of it.
When looking for talent or auditioning, what makes someone memorable to you?
In a music show, it's obviously the singing of it all. Sometimes, if it's a competition show, like "American Idol" or "The Voice," it's about their story and how we can really leverage our airwaves to get their voices and the representation out there. I think the beauty of it is it's not a magic bullet for every show. It's really about where we're at in the process and how many people we're looking for. It's about the voice. It's about seeing if they can blow the roof off if they're an incredible singer. We have incredible performers, incredible singers, but we also have people who are stay-at-home moms, former models, actors, plumbers.
What can someone do if they have the talent and want to maximize their chances of being discovered or noticed by someone casting a show like "I Can See Your Voice"?
If people just put and number or email in their social media bios, you don't have to put your real phone number in there, or your real email address, you could put a Google Voice number or just a general Gmail account for requests and stuff like that. If you're not fully out in the marketplace, and you're not putting yourself out there fully, sometimes you get skipped over. My number one rule for talent is if you want to be on TV, put your contact info in all your bios.
If someone wants to try their hand at a show like this but doesn't have formal training, what advice would you give them?
Fire up a YouTube channel. Get yourself a TikTok, make an Instagram devoted to your music. If you're an artist, and you want to be discovered, put content out there and get feedback. Put it out there and people comment. We're in a world where we are not going to open mic nights, we're not going to large casting calls or showcases, so right now is a perfect time for people to embrace the social media presence and get themselves out there to be discovered.
What don't people know, or realize about what you do both in casting and producing in this space?
People probably don't realize how much of an effect they leave on the teams that they work with. What keeps me working and keeps me being asked to come back is my passion, my heart in this show, and in the shows that I work on. There's such a lasting effect that you can leave on people.