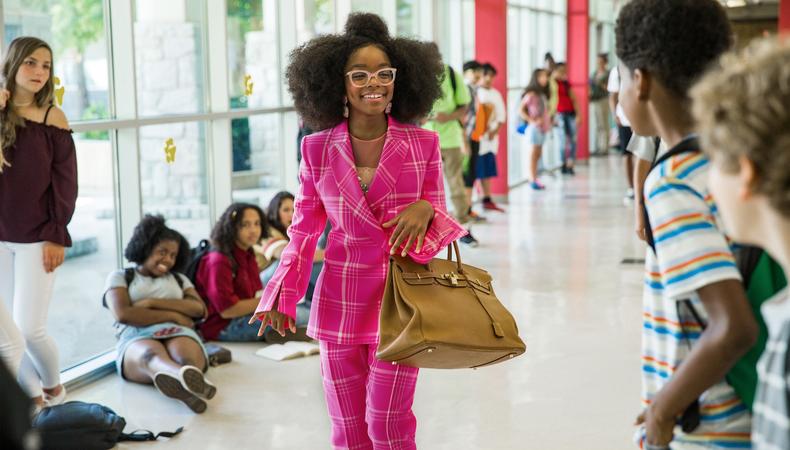 Considering the hundreds of scripts that make their way around Hollywood each day, Marsai Martin was tired of not seeing more roles fit for young black girls. So the 14-year-old star of "Black-ish" decided to do something about it. The actor-turned-producer will be making her big-screen debut April 12 with "Little." In addition to coming up with the idea for the script, she stars and serves as the film's executive producer—the youngest in Hollywood history. Now, her production company, Genius Productions, has signed a first-look deal with Universal.
Her journey to the creative side started when she was on hiatus from "Black-ish" Season 1 at the age of 10. Martin asked her agent what was next, and she was encouraged to take a break between seasons since there was no upcoming work available to her. When Martin and her parents proposed that they develop their own projects, "they basically just laughed at us—so we fired them," Martin recalls. "That's when we really started plotting our next goal. One of my mom's favorite movies growing up was 'Big' with Tom Hanks. I thought, Oh, OK, what if we do something like that but not like that. Something more modern, with a different perspective, and maybe with an all-black cast."
READ: How to Become a Producer
The result is "Little," a comedy that follows a merciless tech mogul whose personal life and career are upended when she is turned back into her 13-year-old self. "It's going to be a good movie, you know, but I'm not biased or anything!" says Martin, who plays the teen version of the protagonist, laughing. "I think this movie represents black girl magic in the best way."
The film's team of magic-makers is led by writer and director Tina Gordon, and the cast includes Regina Hall, who also serves as an executive producer, and Issa Rae. Martin credits her supportive costars and collaborators for guiding her through her roles both in front of and behind the camera, saying that the best lessons were learned by observation.
"It was cool wearing different hats," Martin says. "I've always been interested in directing, writing, and producing, so when I went behind the scenes, it was like a whole new world that I got to experience. I had such a big support system to help me out, so it was pretty easy."
READ: Regina Hall A Comedy Queen Gets a New Perspective
Genius Productions' first project will be "StepMonster," a comedy about a girl adjusting to life with a stepmother. "Comedy is one of my favorites, but I also want to get into drama and sci-fi," she says of future projects. "It's telling a different story, you know? There's a bunch of stuff I want to act in and also create. I want to be all of these things that you don't get to see on the big screen."
Martin predicts that she will sit in the director's chair next, and then wants to try her hand at writing. "I know I could be good at it if I just put my mind to it," she says. "I know that it takes practice and is a long process, but I actually want to get into it pretty soon."
Another one of Martin's long-term career goals is to host "Saturday Night Live." "I want to get to the point where I can retire at 21 and my whole family is proud of me—that's the goal in everything that I do."
She's built a supportive team to help her create her own magic, and her advice to aspiring creators is to "just go for it." She adds: "If it is something that you are interested in and it is your passion, then tell your friends, because help is the best thing. If you stay confident, it will happen."