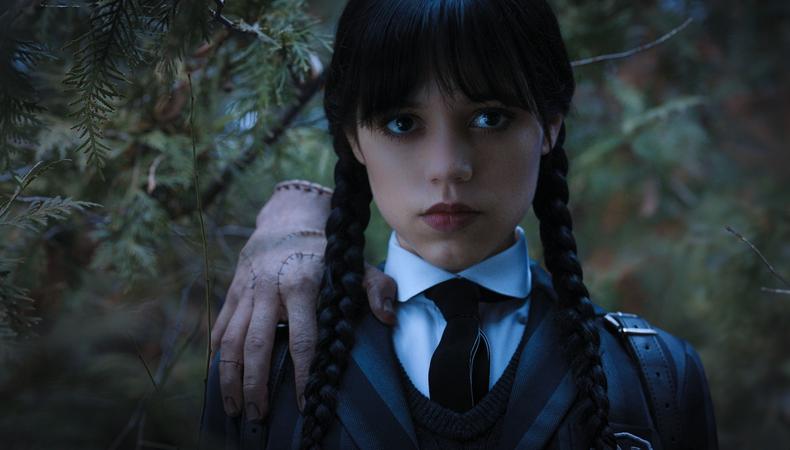 Greenlit means a project is officially a go, so all you have to do is follow these leads to stay up to date. You never know where you'll find an opportunity to land an audition!
Netflix is giving "Wednesday" fans something to dance about. The streamer officially renewed the gothic coming-of-age comedy and "Addams Family" spinoff for a second season. The news comes as no surprise to anyone paying attention to the series' success. The first season debuted on Nov. 23 and has since become Netflix's second most-watched/popular English language series. Starring Jenna Ortega in the titular role, we can expect Season 2 to also be a hit amongst fans and critics alike. Want to learn more about the upcoming season? Here's everything we know so far about "Wednesday" Season 2.
Netflix's 'Wednesday' Is Getting a Second Season
Netflix has officially ordered a second season of the Jenna Ortega-led "Addams Family" spinoff series. Showrunners Alfred Gough and Miles Millar said in a statement that they are "thrilled" about the renewal news. "[We're] thrilled to continue Wednesday's tortuous journey into season two. We can't wait to dive headfirst into another season and explore the kooky spooky world of Nevermore. Just need to make sure Wednesday hasn't emptied the pool first."
The hit series also has a star-studded cast. Along with Ortega, Catherine Zeta-Jones, Luis Guzmán, Fred Armisen, and Isaac Ordonez play Wednesday's iconic family. Christina Ricci, who played Wednesday in "The Addams Family" and "Addams Family Values," also plays an important character. Season 1's cast included Gwendoline Christie, Emma Myers, Riki Lindhome, Joy Sunday, Georgie Farmer, Victor Dorobantu, Jamie McShane, Hunter Doohan, Percy Hynes White, and more.
As for plans for the second season, not much is known about the plot or the cast right now. However, in an interview with Entertainment Tonight, Ortega shed some light on what she'd like to see in her character. "I kind of want her to be darker," she revealed. "I want her to get more in the nitty-gritty of things and not play things so safe, because there are a lot of lines about her saving the school and doing whatever, but for me, her main drive with the monster is of a competitiveness. Kind of, 'Man, how's this guy doing this?'" Adding, "I think I want it to continue down an antihero stream rather than a typical hero,"
Where can you find "Wednesday" casting calls?
As mentioned, the coming-of-age comedy comes from "Smallville" creators Alfred Gough and Miles Millar. Tim Burton is also involved as he serves as the show's executive producer. Florina Fernandes, Sophie Holland, and John Papsidera make up the casting team.
While the show isn't currently casting, you can always check out our roundup of similar gigs or our background casting roundup for current opportunities. Also, be sure to bookmark this go-to resource for getting cast in a Netflix project.