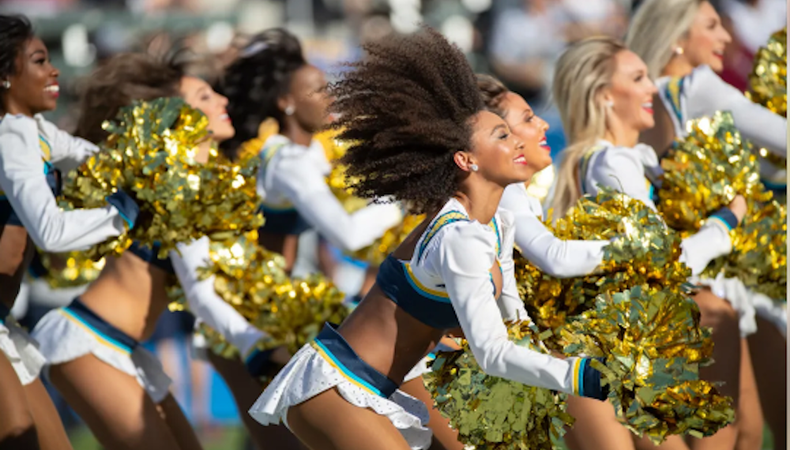 Show your team spirit and join the Los Angeles Chargers' Charger Girls this season. Plus, a commercial for a company that cleans oceans, a series based on therapy sessions, and more great gigs are casting in L.A.
LOS ANGELES CHARGER GIRLS: OPEN CALL AUDITIONS
The Los Angeles Chargers are holding an open call for the 2019–2020 season Charger Girls. Talent, aged 18 and older, are wanted for the cheer squad. The open call will be held on May 19 in L.A. Rehearsals will take place beginning in June through December. Charger Girls will perform at 10 Chargers home games and appear at various corporate, media, charity and non-profit, and community events. Pay is TBD. Apply here!
"GOODBYE SINGLE-USE PLASTIC"
Casting is underway for "Goodbye Single-Use Plastic," a commercial for a new company that helps clean the oceans. A strong, punchy female actor, aged 27–49, is wanted for the spokeswoman. Filming will take place over two days between June 1–4 in L.A. Pay is $1,000 per day with meals included. Apply here!
"THERAPY SESSIONS"
Join the cast of "Therapy Sessions," a five-part episodic series based on actual transcripts of therapy sessions using specific psychological protocol. Talent, aged 18–40, is wanted for several lead roles, including Luke a young man who struggles with his sexual identity. Filming will take place from July 22–26 in Ventura County, California. Pay is $400 per day with meals provided. Apply here!
"THE ADDAMS FAMILY"
Welk Resort Theatre is casting its adaptation of the Broadway musical "The Addams Family." Talent, aged 8–70, is wanted for most principal and ensemble roles in the production including Gomez, Wednesday, and Pugsley. There will be an open casting call in San Diego, California on June 13. Rehearsals will begin on Aug. 19 and the show runs from Sept. 6–Nov. 10 at the Welk Resort Theatre in Escondido, California. Pay is $11 per hour for rehearsals and $54 per show for nonunion actors and $432 per week for union actors. Apply here!
"VIVA DELICIOUS" (LATIN LIFESTYLE WEB SERIES)
"Viva Delicious," a new digital web series that delivers Latin lifestyle entertainment and engages with audiences across the nation, is seeking a talented and charismatic host. A friendly and engaging Latinx actor, aged 18–45, is wanted to host the web pilot that will feature some of Hollywood's best Latin restaurants, music, beverages, and dance. Fluency in Spanish and English is required. Filming will begin in mid-May in L.A. Pay is $175 per day. Apply here!