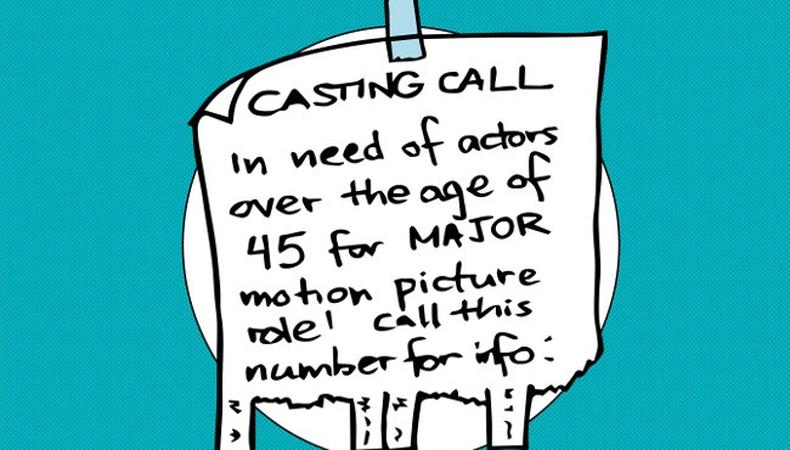 Going into an audition can be intimidating enough without having to worry about your age. Your sides, looking "the type," and worrying if you're underprepared cause enough anxiety without feeling like you're the oldest one in the room.
But remember: Age is just a number. In the acting world, it's easy to feel like everyone around you has been performing since they were 12 years old, because many of them have. But just because they might have a few years on you in terms of life experience, it doesn't mean you don't deserve to share the stage or screen.
Think about all the actors you know and love now who weren't household names back in their teens or twenties: Steve Carell, Jenna Fischer, Bryan Cranston, Kathy Bates, Jeremy Renner, Jon Hamm, Jane Lynch, Alan Rickman, Samuel L. Jackson, Morgan Freeman, Lucille Ball. They're among the elite who decided to defy the odds at their "older" age and become or keep striving for success as actors.
You didn't take lessons when you were 10? You weren't a drama major in school? You haven't appeared in dozens of plays at your local theater over the years? You're definitely not alone—we promise.
If you're going to become an actor later in life, you'll need both a touch of humility and a lot of confidence along with patience, hope, and persistence. You'll also need answers to a few questions, which we at Backstage are happy to provide.
Is there such a thing as being "too old" to start acting?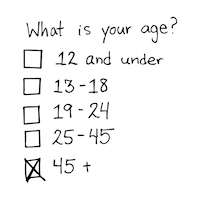 Spoiler alert: The answer is no. Plenty of actors and actresses have found success later in life. Just like everyone else in the entertainment industry eventually learns, you have to understand that while you might not become an overnight smash, that doesn't mean you can't book acting gigs.
In an email interview, Becca McCracken, managing director for Vagabond School for the Arts and former casting director, doesn't believe there is an age that's too old. In fact, she says, "Those that are able to work later into their lives find themselves in a much smaller pool of talent than when they were younger. With experience and acting chops, there are still plenty of opportunities in theater, TV, film, and commercials for the older actor."
In other words, there's no age limit. Acting coaches will gladly take you on as a client and help shape you into what it is you're hoping to become.
You might be asking yourself, "But isn't acting for the young and beautiful? Is ageism a thing?" We won't lie: The answer is often yes. But truth be told, this is a reality for many professions, not just acting.
"Actors I have worked with who are in their fifties and sixties do feel like ageism is a challenge they face," McCracken says, adding that as a result, many "are beginning to create work that have vigor to tell stories more interesting to them. I think this is very exciting."
Where do I start if I've never acted before?
Take a deep breath. We've got you covered. The key is not to go overboard from the get-go. Don't take out a second mortgage on your home or a small business loan. Start small with two simple things.
It's safe to say you'll need headshots and you'll want to sign up for a class or two. This should be a minimal investment to test the waters and make sure this is something you actually want to do. There's always a chance you'll try it out and decide acting isn't for you, so don't break the bank. There will be plenty of time for that later, so pace yourself, friend.
When it comes to your first headshot session, there are a few things you'll need to know. You can find the bulk of the information here in our Headshots: Everything You Need to Know guide, but you may still have questions like, "Should I Photoshop some of my wrinkles to try to make myself look a little younger?"
Most professional photographers will retouch your photos regardless of whether you're 23 or 63. But let's be clear about what this retouching business really means: It should include things like removing stray hairs and evening out your skin tone. Los Angeles-based headshot photographer and Backstage expert Marc Cartwright says that when retouching photos, actors need to keep their realistic age in mind. "Skin has texture, even the smoothest of skin," he says. "[And] skin gets more texture as we age."
Cartwright adds, "The first thought that pops up when I see a headshot with overly retouched, plastic-looking skin is, 'What are they hiding?' Something feels off. In overly retouched photos, casting can't trust what the actor will look like, and therefore won't waste time calling that actor in to audition."
A character's age is one of the most important factors in selecting actors for a project, so think about your age range and work with your photographer/retoucher to make sure your skin looks realistic and authentic to your age range.
Start with headshots but know down the road you'll eventually need to create a demo reel. Baby steps for now; don't panic or get ahead of yourself. Simply bookmark this link for safe keeping and remember you'll need this once you are taking classes and booking gigs.
RELATED:
Back to training. The other thing you're going to want to do in addition to headshots is select an acting class. Depending on where you live, there are likely a number of options. So how do you select from all the choices? Once you decide what kind of acting you want to pursue, you can choose if you want to take an improv class or perhaps take a stab at commercials. Whatever your passion is, pick a class based on what's going to get you ahead faster in that specific area.
RELATED:
General acting classes are an option, but you might want to consider which class is most likely to get you the furthest ahead in the shortest amount of time. This isn't a hard-and-fast rule, just a thought, so don't get carried away with spending too much too soon. At least to start, if you're going to invest $400 in a class, make sure it's something you might realistically see a return on and hopefully make at least that $400 back through booking a gig. (That isn't a foolproof plan by any stretch of the imagination, and you may never see that $400 again, so prepare for that, too.)
RELATED:
WATCH
How to Loosen Up Before a Headshot Session
Are there even opportunities for older actors? What type of auditions can I go out for where I can find roles?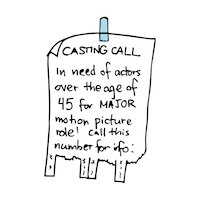 No one denies there will be challenges associated with starting to perform later in life. While there may be fewer roles available, the upside is that there will be fewer people looking to fill those jobs, so use that to your advantage. L.A.-based acting teacher and Backstage Expert Joanne Baron says, "When people start out acting later in life, they may actually have a lot of more opportunities than they would have had when they were 20! When you're young, you're competing with a large pool of 20-something actors, however, the older actors get, the smaller the pool gets. Actors either get discouraged or distracted and leave the industry or they become recognizable faces. A more mature 'fresh face' can be a welcome addition."
It can be intimidating for some, especially those in their second or third careers, but let's be honest: you'd likely be intimidated trying out acting no matter what your age.
McCracken says that theater can be especially tough for older actors for a variety of reasons. "Most actors in theater have spent a lifetime pursuing their craft so are going to have much stronger 'chops' and are better able to navigate the sometimes grueling process of rehearsal, tech, and run of a show. It is also usually a much longer commitment," she says. "In TV and film, we have seen a trend in actors who have retired and are now interested in making a go of on-camera acting and pour themselves into training on-camera and are able to more easily enter and begin to navigate the audition circuit for TV, film, and commercials."
Which brings us to our next point: Most actors who enter acting later in life have the financial resources to take the risk and invest in training with less stress about needing the outcome to result in bookings.
RELATED:
Do I have to move?
Don't book the U-Haul just yet. There are likely more opportunities in your neck of the woods than you think. If you're in one of the major theater cities, you shouldn't have a problem finding auditions. If you're in a smaller city, the audition scene might not be necessarily thriving but could be more fruitful for your personal journey.
If you're in a smaller city, explore opportunities in the community-theater scene. Try not to get too bummed if they don't hand over the starring role after your first audition. Even in a smaller town, you'll have to pay your dues and might start out playing Woman #2 in a play, but, hey, you have to start somewhere—and someone needs to play Woman #2! If there is a college or university nearby, they will likely have acting opportunities for student films. If Backstage doesn't have listings that apply to you or where you live, you can always search for creative gigs on Craigslist, Facebook, or other community boards.
You can also create opportunities by writing your own project or finding like-minded friends who want to write parts for each other. Don't be too good to work behind the scenes or as an extra, either. You can still network and learn a lot from your peers. Sometimes it's worth it to observe what others are doing—and take away a few pointers, (even if those tips include what not to do).
Once you've built up your repertoire and are feeling confident about that portfolio of yours, then you can consider the conversation about moving to another city. But don't feel like it's a must. Make sure you have some solid experience before making any rash decisions.
RELATED:
Do I need an agent?
This question has less to do with age than your level of experience and what you're trying to get out of your career.
Actor, web designer, and Backstage expert Amy Russ recommends that you view your job for the next year or two of your life as learning how to audition so you can learn how to book. As for whether an agent is necessary or even feasible to obtain, she says, "I'm not going to sugarcoat this for you: Why would an agent agree to rep an actor who has zero professional experience? They have plenty of proven actors on their roster who are known in the industry and already book work."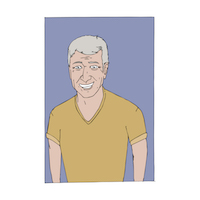 Hence, her advice is learning to audition before anything else. With that practice will come work. "Get cast in a stage play or student film," she says. "Then get cast in another and another. There is no education like the act of doing something. Make mistakes, make friends, keep up your training, and keep auditioning."
Russ also suggests looking for opportunities with an agent or casting director's office. "You'll gain invaluable insider knowledge of how the industry works," she says. "During this process, you'll discover where you fit in the industry, what your type really is, and how to be calm under pressure."
She notes, "You'll begin to build relationships with people in the business, develop an audition process that works for you and learn what it's like to work on a stage or a set. You'll also earn the trust of casting directors and other industry folk."
After you've gained experience, you need to convince an agent you're worth it. Here's a checklist of questions to prepare you:
Have you trained with qualified teachers? Are the people you've trained with names your potential agent is likely to recognize?
Are you ready to commit to acting? Can you focus on going out for auditions, and is your life in order?
Are your tools prepared? Do you already have headshots, a social media presence, a website, and a showreel?
Are you in the union? If you have your SAG-AFTRA card, your agent can submit you to far more roles than otherwise.
Do you have any industry connections? Do you know anyone who is already established who is willing to vouch for you?
If, after reading through this checklist, you decide you're ready to move forward with trying to find an agent, know that it's going to require some work.
"Agencies already have a full roster of clients from the moment they open their doors or soon thereafter," says acting coach and Backstage expert Gwyn Gilliss. "They aren't looking for new, young faces unless they're short of a particular type, age range, nationality, or other unique quality…. Otherwise you need to market yourself and get experience—showcases, Off-Off-Broadway plays, or indie/student films. Self-submit online to Backstage, N.Y. or L.A. Casting. It'll teach you how to audition, compete, and book. When you have some credits under your belt, then contact agents."
Patrick Ryan, founder of Aligned Stars Agency in Atlanta, recommends treating yourself like small business. "Know your industry. Understand the sales tools we use, and be ready to work. Training is a key factor. That shows people the kind of effort you're putting into your career," he says.
"If you're going to seriously compete for these roles, training is extremely important, and you should know your type and the kinds of roles you should be going up for. When it's time to come in and read for an agent, come in and show us what you can do. We want to see what makes you unique, what you can do right now."
RELATED:
WATCH
What's the Process for Getting Signed by an Agent?
What about technology?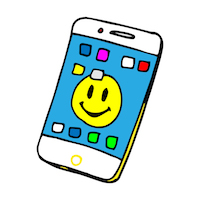 With everyone putting out webseries left and right and YouTube sensations becoming a dime a dozen, every actor is going to be faced with FOMO (fear of missing out) on the latest technological developments. You might be thinking, "I'm not really that comfortable with a computer. Will there be a technology learning curve? Am I going to be at yet another disadvantage?"
Depending on how much you need to keep up with technology, there are resources to help you. Local Apple stores offer help on how to use their products and places like the public library often offer free technology classes, whether it's familiarizing yourself with your smartphone or building a website through Wix or WordPress. If you really want to dive deep, try taking an online coding class and build your own actor website.
Seek help on this if you need to; as an actor, you want people to find you when they search your name, so you need to have an online presence.
RELATED:
WATCH
Do Actors Need Websites?
What's the difference between starting to act at a young age vs. now?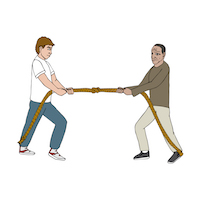 Sure, lack of experience and training could always hinder your chances of landing an acting role, but why not choose right now to turn that into a glass-half-full situation? You'll have life experience from whatever profession you have now, and that can help inform your acting choices.
There are some cons to becoming an actor later in life. Here are a few of the struggles you could very possibly encounter: You'll probably have less energy to run around auditioning. The "hot actors" market might not be the most lucrative avenue for your career at this point. You're less likely to become a Hollywood mega superstar and you can't use your young age as an excuse for lack of credits.
But there are some pros for sure. You'll have life experience, wisdom, certainty, maturity. You'll be equipped to make smarter decisions. You'll also have the ability to stay focused on your goals. Remember, there might be fewer roles for your age range, but you're going to be facing less competition. You'll be coming onto the scene with skills you've learned that you can apply to acting and put on your resume. And lastly, you will hopefully have more financial stability.
Focus on the pros, not the cons, and you'll be just fine.
As L.A-based acting coach Sara Mornell says, "Nothing is impossible." Actors need to believe that, she says, because she "would never want anyone to look back and regret not trying."
Back up. How do I do it?
Matt Newton, acting coach and Backstage expert, has five tips for actors starting later in life:
Explore non-union auditions.
Take a good acting class.
Consider commercials.
Self-produce.
Attend workshops.
"I believe there is a place for everyone in this business," he says. "Type and talent are obviously important but, more than anything, it's important to follow your dreams and do what makes you happy."
Newton advises that people treat acting as a fun hobby until it develops into something more.
"Learn the skills, educate yourself about the business, and surround yourself with people who will help you on that journey and support you," he says. "It can be a wonderful, rewarding career."
RELATED: