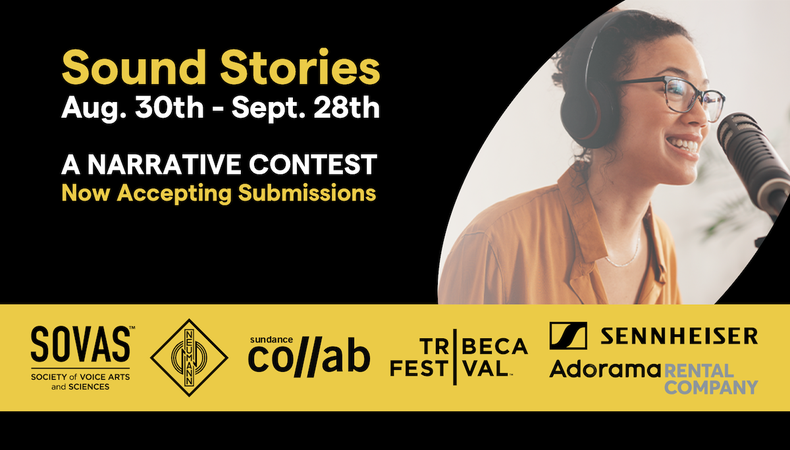 After having over 300 performers and creators participate in last year's competition creating over 1,800 performer auditions applications, Backstage is hosting its second-ever Sound Stories contest, and submissions are now open!
Our partners for the competition this year include the Tribeca Festival, Society of Voice Arts and Sciences, Adorama Rental Company, Sundance Co//ab, Neumann.Berlin, and Sennheiser.
We're challenging you, our creative community, to write, cast, produce, and edit a narrative story using only sound. This virtual competition is designed to help keep your imagination flowing and sharpen your storytelling skills from the safety and comfort of your own home or remote location.
The Competition
Participants will be asked to create an audio narrative that involves vocal performance or voice acting by a Backstage performer. There will be three narrative themes from which applicants can choose; all other elements of the story are entirely up to creators.
This year's themes are: "What comes next for us"; "Another new beginning"; and "Nothing ever stays the same but nothing changes much."
Submissions close Sept. 28.
Think big and be bold! Use the power of sound design to convey any and all elements of your unique and compelling story: environment, time period, season, the list goes on! Your only objective is to cultivate a new and immersive world for your listeners exclusively through sound. Remember, these narratives are not limited to conversational dialogue and traditional voiceover work. Unique elements—whether it be a song, spoken word poetry, anything you can come up with—are welcome in this competition.
The winning project and two runners-up will be announced on Backstage.com after being evaluated by top entertainment industry judges and a panel of Backstage's very own staff.
The Rules
You must be 18 years or older to participate. You must create a casting notice for the project and post it to Backstage's website. (You will be provided with a free casting code.) You must also provide proof that you casted your project using Backstage. All work must be original.
Creators must cast at least one actor in the project. Documentaries and other non-narrative stories will be rejected or docked significantly in points. Mockumentaries must clearly be presented as such. While the creator/director can also perform in their narrative, they cannot be the sole performer in the piece. There must be at least two people involved in each project. The narrative must run five minutes or less. There is no minimum time requirement.
Project file type must be .MP3 or .WAV. Submissions that do not follow the requirements listed above will not be reviewed.
Judging
Projects will be judged on the quality of voice acting and direction, clarity and professionalism of sound editing, clarity and intrigue of the narrative, and ability to conjure a vivid setting for the listener. Submissions that include an original song will also be judged on the quality of that song and its contribution to the overall story.
Submissions are open from Aug. 30 to Sept. 28 at 11:59 p.m. EST.
Follow the Competition
If you or a friend are interested in submitting a project or just hearing more about Sound Stories, follow the contest here! You will receive email updates, instructions, and tips for submitting your work.