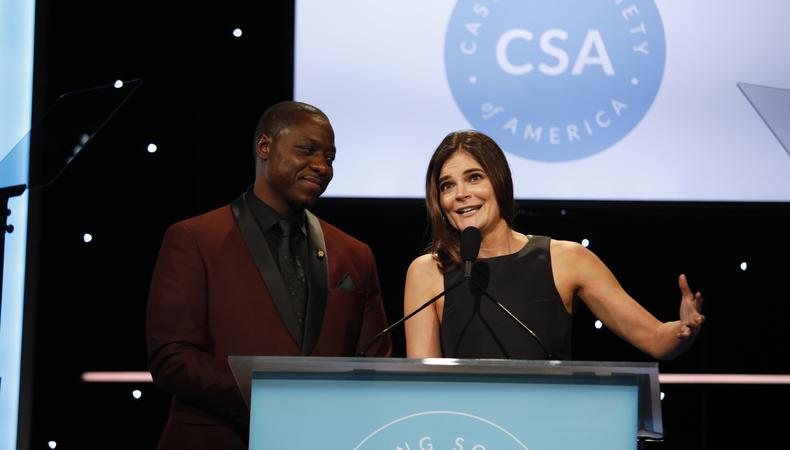 The following is a list of the top 25 Power Casting Directors in film and television. We began with more than 100 candidates. In some cases, collaborations were so closely tied that we considered multiple people as one entity. Several drafts later, all 25 spots were cast.

Notably omitted from the list are in-house casting executives at studios and networks, the inclusion of whom would have ballooned our list to 50 or more. Focusing on independent casting directors leveled the playing field and highlighted people whose puissance is not affected by one scale-tipping affiliation. Now, on to the top 25!
Kerry Barden
Can you imagine "Monster's Ball" starring Erykah Badu, or "American Psycho" starring Leonardo DiCaprio? Kerry Barden can, because he saw them read the parts. "There are so many great actors that sometimes it's a disappointment there's not more than one role in a film," he says.

The Atlanta native discovered his calling while producing plays, then formed a casting company with Billy Hopkins and Suzanne Smith. For 15 years, they handled such Miramax movies as "Good Will Hunting" and "Shakespeare in Love" and worked with directors from John Waters to Michael Bay. Barden eventually started a partnership with Paul Schnee and cast "The Visitor," which earned Richard Jenkins an Oscar nomination.
Victoria Burrows and Scot Boland
"I'm Disney, he's Tarantino," is how Victoria Burrows describes her odd pairing with Scot Boland. That pairing has worked magic for such repeat customers as Robert Zemeckis, Peter Jackson, and Albert Brooks. A three-decade veteran of the casting business, Burrows first worked with Boland on Zemeckis' Contact in 1996 and took him on as a full partner in 2000. Lately, they've specialized in motion-capture films, from 2004's "The Polar Express" to Steven Spielberg's "The Adventures of Tintin: Secret of the Unicorn." Burrows likes the visceral change of pace from live action. "A lot of film acting is internal; it's in the eyes, face, and subtleties," she says. "In motion capture, you're looking for a full-body performance."
Ellen Chenoweth
Ellen Chenoweth was first bitten by the casting bug in the mid-1970s when she took an office job at the Actors Studio. "I was a young girl exploring possibilities in New York," she says. "Lee Strasberg, Elia Kazan, and Arthur Penn were all there. I was putting together casts for Studio projects and people started calling me from outside for recommendations."

Having since served as casting consigliere to Clint Eastwood, Barry Levinson, and the Coen brothers, Chenoweth remarks that her New York residence keeps her in touch with many stage actors. For "Changeling," she auditioned several on tape and sent the footage to Eastwood.

In addition to casting, Chenoweth occasionally has a hand in selecting music for movies. "I have done it a few times, such as on 'Wag the Dog,' and I love it."
Sarah Finn
A Yale-trained actor, Sarah Finn was mentored by stage director-turned-casting heavyweight Risa Bramon Garcia, with whom she worked at New York's Ensemble Studio Theatre, where actors learn everything from producing to running the light board.

"She said, 'You should really try casting. It's a great combination of acting, producing and directing, all rolled into one.' "

After cutting her teeth with Garcia on films like 1997's "The Peacemaker," Finn partnered with Randi Hiller in 2000. The duo went on to cast a string of films from 2004's "Crash" to "Iron Man" (2008), the former winning a SAG Award for ensemble cast. She struck out on her own with Oliver Stone's "W." and Disney's "Tron 2.0."
Randi Hiller
When Randi Hiller was casting "Iron Man" with then-partner Sarah Finn, Robert Downey Jr. sang "I Hope I Get It" from "A Chorus Line" during his audition. "Even when you've done this a long time, you can never forget that somebody is always excited about certain roles," she says. Hiller shares the same enthusiasm about casting. She and Finn—who ended their eight-year partnership to form separate companies—have worked on "Crash" as well as several Marvel movies such as "Thor" and "Iron Man 2." "Actors stop by sometimes to tell us they got a job which has nothing to do with us, " Hiller says. "I love when somebody calls, because they know I'll be excited."
Kimberly Hope, Lynn Kressel, Suzanne Ryan, Jonathan Strauss
For New York actors, no casting quartet is more sought after than "Law & Order" gatekeepers Kimberly Hope, Lynn Kressel, Suzanne Ryan, and Jonathan Strauss. Ryan, who works on the original L&O series, says the show "strikes a balance between reality and entertainment," which is precisely the talent they have to mine from Gotham's gritty acting pool. Occasionally, that includes theatre notables like Christian Hoff, brought on board by "Criminal Intent" casting director Hope. But more often, as Strauss attests, it means having the gut instinct to cast young unknown actors in difficult roles. For "SVU," Strauss cast a transgender teenager, a genius 14-year-old accused of murder, and a child savant with a form of autism. "These aren't your ordinary, Hollywood, Shirley Temple -- style characters," he says.
Sheila Jaffe
Actors dropping by Manhattan's Cafe Central in the 1980s could have easily gotten an audience with Sheila Jaffe. As hostess / night manager, her main casting job was who would fit at what table, but the cafe was an actor hangout—so she got to know such regulars as Mickey Rourke and Sean Penn. When the restaurant closed, Jaffe got her start in casting after catching a break from Georgianne Walken. Such movies as "Slums of Beverly Hills" and "The Italian Job" led to television series "The Sopranos" (for which she won a 1999 Emmy with Walken) and "Entourage," which she co-casts with relative newcomer Susan Paley Abramson. Jaffe still enjoys her role in molding casts, though she acknowledges the process is more democracy than monarchy. "I like painting the canvas [of a show]," she says, "but then reality sets in and people have other opinions."
Allison Jones
When Jenna Fischer auditioned for the role of beleaguered receptionist Pam on NBC's "The Office," casting director Allison Jones gave her a priceless piece of advice: "Dare to bore me." Too many actors were trying to be funny in the mock-documentary auditions. Says Fischer, "She said to not look hot and to try not to be funny." Jones has discovered her share of effortless comics, among them an endless parade of improv comics on "Curb Your Enthusiasm."
Avy Kaufman
New York-based Avy Kaufman likens her work to a journalist who gets inside the heads of her subjects—in her case, filmmakers from Ang Lee to Steven Spielberg. Like a scribe, she revels in the research, whether it means scouring the theatre scene for "period" faces to cast upcoming Depression-era films Amelia and Public Enemies, or watching stacks of Russian DVDs to find actors for CIA thriller "Salt." She says the emotional payoffs are similar, too: "If people can laugh, cry, or learn something from [the films], that's just icing on what I do."
Ellen Lewis
Ellen Lewis isn't scared of the road less traveled. Rather, this favorite of Martin Scorsese, Jim Jarmusch, and Mike Nichols explores it with gusto, seeking out undiscovered actors of all stripes to populate her projects. While working on Scorsese's "The Departed," she didn't limit herself to New York and Los Angeles actors, teaming with local casting director Carolyn Pickman for a wide-open call in Boston, where much of the film was set and filmed. "We were looking for priests, cops, mob guys, interesting women, and character faces," she remembers. "People from that community came in, and the faces were like Walker Evans' photos walking in."
Junie Lowry-Johnson
After almost 30 years in the business, what Junie Lowry-Johnson loves most about her job is helping create new worlds and stories—as she's done in films from "Bruce Almighty" to "America's Sweethearts." But it's her small-screen work that truly makes her a leader in the field, having recently molded casts for David Milch ("Deadwood," "John From Cincinnati") and Alan Ball ("Six Feet Under," "True Blood").

"Watching actors, studying them, looking at their interpretations of a scene or an emotion always captivates and excites me," the six-time Emmy winner says. "Recognition is icing on the cake."
Amanda Mackey Johnson and Cathy Sandrich Gelfond
When Amanda Mackey Johnson and Cathy Sandrich Gelfond first partnered in the early 1990s, the joke was that when Johnson cried at an audition, the actor got the job. A few years later, Gelfond realized she had developed the same tic. But in many ways they remain as different as the cities they work: Los Angeles and New York. "I'm West Coast, she's East Coast," says Gelfond. When evaluating actors, Johnson admits to being "more critical. Cathy will think more 'yes' and I'll think more 'no.'" Nonetheless, Johnson insists, "Our heart, values, work ethic, and generally our tastes are the same." And, like any good partners, they "fill each other's gaps," Gelfond says. "If I can't find it here, Amanda can find it there."
Francine Maisler
Scour industry Web hubs and you'll find thousands of Maisler references, but hardly any photos or personal details. That anonymity allows Francine Maisler to scout talent unannounced, like when she spotted freshman actor Shannyn Sossamon spinning records at a bash for Gwyneth Paltrow in 1999. Maisler went on to help Sossamon land the part of Lady Jocelyn, opposite Heath Ledger, in "A Knight's Tale."

Not that Maisler shies from established talent—she cast "Milk" and "Tropic Thunder," which got Oscar attention for Sean Penn and Robert Downey Jr. She beams about the former in particular. "This is such an important story. It's all about authenticity. I wanted to make sure I did it justice."
Mindy Marin
Show business is in Mindy Marin's genes, but it skipped a generation. Her grandfather Ned Marin was an agent at Ashley-Famous, where he repped such megastars as John Wayne and Kirk Douglas. Her father didn't like what he saw of the business, Marin says, "so he went into publishing." But she keeps a foot in both worlds with her company Bluewater Ranch, through which she casts and produces films ("Thank You for Smoking," "The Family Stone") as well as publishes books, including the self-penned recipe text "The Secret to Tender Pie."
Jeanne McCarthy
As a girl, Jeanne McCarthy spent her baby-sitting money on Smothers Brothers albums and, later, tickets to the Improv in New York. The comedy aficionado calls herself "the luckiest girl in the world" to have worked with the likes of Tracey Ullman, Harold Ramis, Jack Black, and Jay Roach, whom she helped populate swinging England for the second and third Austin Powers films. In "Synecdoche, New York," McCarthy demonstrated a meta-comedic talent by casting actors who play one another's various selves, winning the Independent Spirit Awards' Robert Altman Award for Charlie Kaufman's film and herself. Yeah, baby, yeah!
John Papsidera
John Papsidera has one thing he would like actors auditioning for him to know: "I am there to create a space where they can do their best work under the hardest circumstances," the two-time Emmy winner says.

Papsidera enjoys making actors feel at home, so it's little surprise that he's co-owner of the Waffle, a modish restaurant on Sunset Boulevard known for its laid-back atmosphere and friendly wait staff.

That combination of the hip and mainstream can be seen in Papsidera's oeuvre, which ranges from such big-budget spectacles as "Independence Day" and "The Dark Knight" to such indies as "Memento" and "Prime."
Juliet Taylor
Juliet Taylor cast Meryl Streep in her first film, but you won't catch her taking credit for it. "As soon as Meryl graduated from Yale Drama School and started working in theatre, I don't think there was any doubt," Taylor says. "Everybody knew right away." A Connecticut native who made frequent trips to Broadway as a kid, Taylor worked for theatre producer David Merrick before transitioning to film through an entry-level job with casting director Marion Dougherty. Taylor went on to cast "Taxi Driver," "Network," "Sleepless in Seattle," "Schindler's List," and every Woody Allen film since "Bananas."
Bernard Telsey
"You get to fall in love every day," is how Bernard Telsey describes his job at its best. "When an actor comes in and just nails an audition, it's like falling in love." Telsey began his career as an actor but took a part-time job in a casting office and, well, fell in love. Today, he's one of the top casting directors on Broadway, having found talent for more than 50 shows on the Main Stem as well as television series, commercials, and films including "Sex and the City" and "Rachel Getting Married." He remains optimistic about the state of theatre and entertainment in general. "We're working as much as ever," he says.
Julie Tucker
To cast dynamic such television shows as "Rescue Me and Damages," Juliet Tucker surveys as broad a talent spectrum as the project requires. "I go to theatre, school showcases, the small- and big-screen to discover new talent and see the range of actors I already know," the two-time Emmy winner says. "But I also get inspiration from riding the subway, the streets, current events, and people-watching. The challenge is applying that. Each show has its own rhythms and tempos; our job is to discover and maintain them."
Robert J. Ulrich, Eric Dawson, and Carol Kritzer
It takes a person who really loves actors to spend his days casting them—and then go home to one at night. But Robert J. Ulrich, Eric Dawson, and Carol Kritzer are three such people, all married to thespians: Kim Ulrich, Roxanne Dawson, and Larry Poindexter. The trio, who currently oversee such shows as CBS's "CSI: Crime Scene Investigation" and TNT's "Saving Grace," hail from Ruben Cannon's workshop, with Ulrich and Dawson breaking away in 1989 and hiring former psychology student (and one-time ICM agent) Kritzer. "There's no book to read or school to attend to learn casting," Kritzer says of eventually finding her vocation. "A lot of it is instinct. Some just have it."
Nikki Valko and Ken Miller
Scribes penning a sitcom about wacky casting directors, take note: Nikki Valko and Ken Miller are perfect for the parts. During their 12 years of collaboration, the pair have developed a lively interplay that's nearly as funny as their shows, which include nearly all of Chuck Lorre's and David E. Kelley's canons. "We generally respect each others' opinions, but we bicker through it a lot," Valko says. The two met through mentor Judith Holstra and hit it off straight away; Valko landed "Dharma & Greg" in 1998 and they never looked back. On Sundays they go to movies together and even admit to buying the same brand of Mercedes-Benz. "Yes," says Miller, "that's as dorky as it sounds."
Mary Vernieu
Casting can be a long and brutal process, so Mary Vernieu likes to make her filmmakers as comfortable as possible. She goes out of her way to serve her directors' idiosyncratic talent cravings, whether it's David O. Russell's desire to find Shi'ite actors for "Three Kings" or Steven Soderbergh's need to hold auditions in Spanish for "Che." "I speak Spanish, but if people talk too fast, I can't understand them," Vernieu concedes. "Fortunately, my associate J.C. Cantu speaks it [fluently]."
April Webster
Casting ABC's "Lost" presented a unique challenge for April Webster, not least because the characters were still being developed when she began casting. "I got an email from [co-creator] Damon [Lindelof] that said, 'Well, here's the good news: We know what these six characters are going to be. Now here's the bad news: There are more characters, but we don't know what they do, their gender, or how old they are.'" Hailing from New York theatre, Webster moved to Los Angeles in the late 1970s and worked at the Mark Taper Forum. Having done every job from director to carpenter, casting appealed to her because it was a job in the theatre. "That was my love," she says, "so if there was anything I could do that was going to keep me around the Mark Taper Forum at that time, I was happy to do it."
Gary Zuckerbrod
In a quarter-century on the job, Gary Zuckerbrod has seen a lot of change in the casting world. Some of it, like the advantages offered by new technology, he embraces. "Nothing beats the immediacy of a live audition, but it's easier for me to ascertain from a piece of video what an actor is capable of doing." Or the increasing fluidity between television and film: "With TV having such wonderful characters and movies looking for people with recognition, people go back and forth." But not all change has been for the better, and as president of the Casting Society of America, Zuckerbrod hopes to level what he sees as an unfair playing field. "[Casting directors] have a highly specialized job, and we need studios to treat us equally to other crafts." His concern extends to the actors they cast, as well. "All the money goes to one or two stars and the rest dwindles down to scale plus 10."

Contributing writers: Laura A. Butler, Cassie Carpenter, Randee Dawn, Simi Horwitz, Sarah Kuhn, Todd Longwell, Cristy Lytal, Jenelle Riley, Andrew Salomon, David Sheward, Les Spindle, Jamie Painter Young
Check out these tips before auditioning for any of these busy CDs:
Inspired by this post? Check out our audition listings!