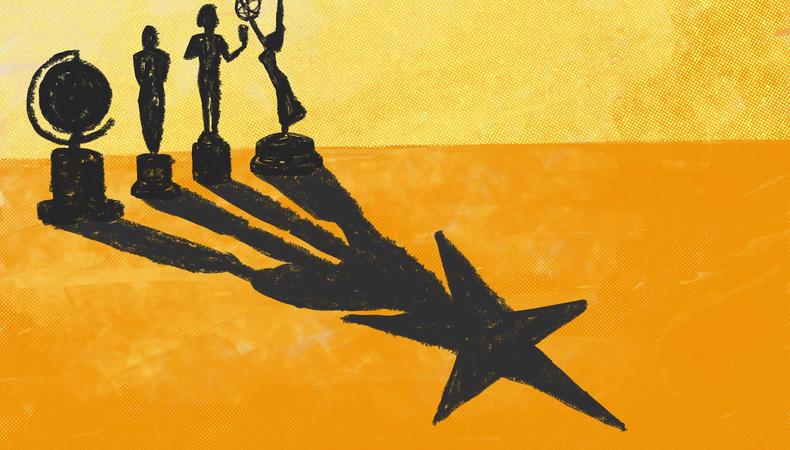 When you envision the highest possible pinnacle of your acting career, what do you imagine? Do you see yourself winning the biggest honors of stage and screen? If you've ever practiced your acceptance speech in the mirror, you know that it's about more than just a statue; awards signify that critics and your fellow artists respect and admire your work.
Many consider achieving EGOT (Emmy, Grammy, Oscar, and Tony) status to be the pinnacle of an actor's career. But while we acknowledge the hard work, dedication, and phenomenal performance skills that go into earning an EGOT, we contend that the ESOT (Emmy, SAG Award, Oscar, and Tony) is actually the highest honor an actor can achieve, because it more accurately awards, well, acting.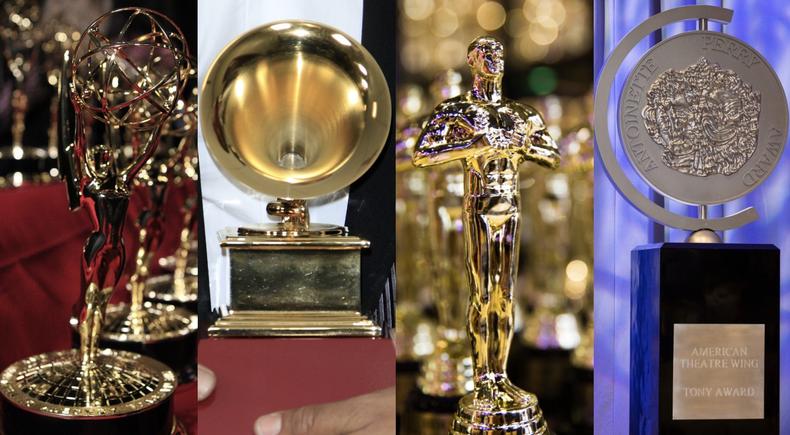 Joe Seer/Valeriya Zankovych/Kathy Hutchins/lev radin/Shutterstock
EGOT is a title bestowed on individuals who have won an Emmy, a Grammy, an Oscar, and a Tony Award. For years, it has been hailed as the most coveted honor in show business. After all, it's not enough to conquer just one aspect of the biz. To be considered a true legend, one has to be accepted and championed by those working in television, music, film, and theater.
Most people would feel like Sally Field during her famed (and oft-misquoted) "You like me!" Oscar speech if they won even a single one of these exclusive awards—or even if they were nominated. Becoming a member of the exclusive 16-person EGOT club means not only having top-of-the-line talent across these mediums, but also having the performing acumen to choose the right roles and release content at the right time.
Among the 40+ actors only one award away from EGOT status are the likes of Julie Andrews, Cher, Kate Winslet, and Jennifer Hudson. All only need a Tony statue to complete the acronym. (Hudson may EGOT at the 2022 Tony ceremony after her nomination for producing Broadway's "A Strange Loop.") Others on the almost-EGOT list include James Earl Jones, who needs an Oscar, and Ellen Burstyn, who needs a Grammy.
The "Grand Slam" of American entertainment, the EGOT is as impressive as it is rare. The acronym was coined by "Miami Vice" actor Philip Michael Thomas, who so desired the four trophies that he went as far as engraving "EGOT" on a gold pendant he wore on a necklace. (Thomas has yet to be nominated for an Emmy, Grammy, Oscar, or Tony.)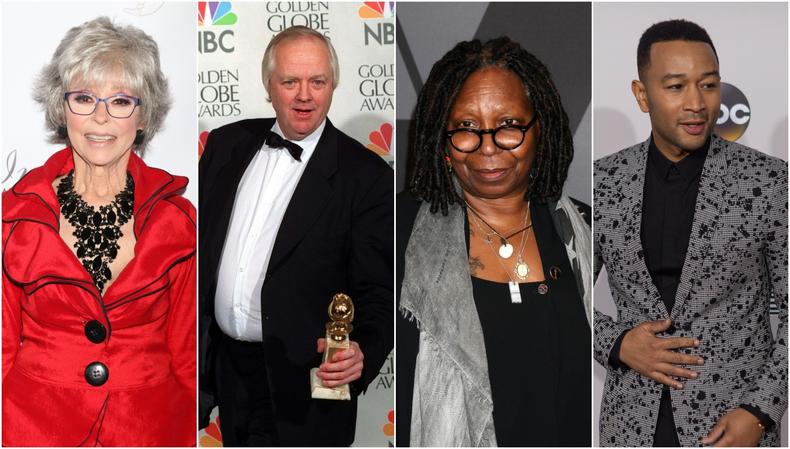 Kathy Hutchins/Featureflash Photo Agency/Jamie Lamor Thompson/Shutterstock
There are 16 incredibly talented members of the exclusive EGOT club, five of whom earned their accolades for performance. Winners for writing, composing, directing, or producing include Richard Rodgers, Marvin Hamlisch, Jonathan Tunick, Mel Brooks, Mike Nichols, Scott Rudin, Robert Lopez, John Legend, Andrew Lloyd Webber, Tim Rice, and Alan Menkin.
Here's a rundown of actors who have EGOTed, which projects they won for, and when they achieved the coveted status. (Note that we only included the qualifying project—some of these stars won the same awards multiple times over.)
Helen Hayes

Emmy: "Schlitz Playhouse of Stars: Not a Chance"
Grammy: "Great American Documents"
Oscar: "The Sin of Madelon Claudet"
Tony: "Happy Birthday"
EGOT completed: 1977
Rita Moreno

Emmy: "The Muppet Show"
Grammy: "The Electric Company"
Oscar: "West Side Story"
Tony: "The Ritz"
EGOT completed: 1977
John Gielgud

Emmy: "Summer's Lease"
Grammy: "Ages of Man"
Oscar: "Arthur"
Tony: "The Importance of Being Earnest"
EGOT completed: 1991
Audrey Hepburn
Emmy: "Gardens of the World With Audrey Hepburn"
Grammy: "Audrey Hepburn's Enchanted Tales"
Oscar: "Roman Holiday"
Tony: "Ondine"
EGOT completed: 1994
Whoopi Goldberg
Emmy: "Beyond Tara: The Extraordinary Life of Hattie McDaniel"
Grammy: "Whoopi Goldberg: Direct From Broadway"
Oscar: "Ghost"
Tony: "Thoroughly Modern Millie"
EGOT completed: 2002
Although these EGOT winners are an extremely talented group, the inclusion of the Grammy Awards seems incongruous with the other accolades. With all due respect to the Grammys, they have very little to do with the career of an actor. Many stage and screen stars in contention for the EGOT hold a Grammy for a cast recording, comedy album, or audiobook narration—acting feats, to an extent, but not true markers of talent as determined by their peers.
In our mission to champion actors and acting, we propose subbing in a different ingredient to the pinnacle of a performer's career: the Screen Actors Guild Award. Instead of an EGOT, the honor that actors should aspire to achieve is the ESOT.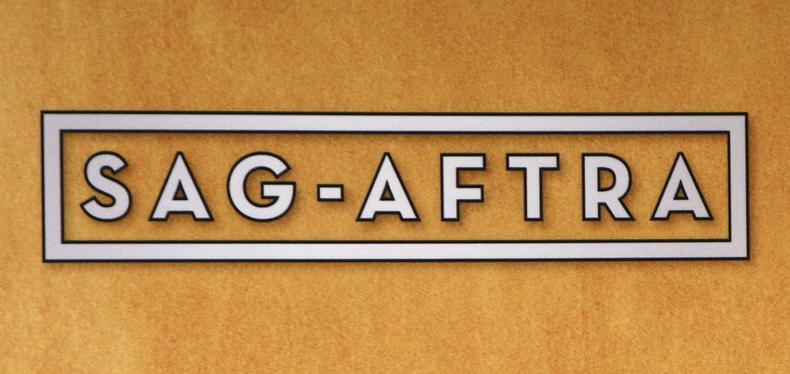 Kathy Hutchins/Shutterstock
ESOT is an exclusive title that more accurately reflects performers who have achieved great success in their acting careers: those who have won an Emmy, a Screen Actors Guild Award, an Oscar, and a Tony.
Another term that gets tossed around by awards pundits and fans is the "Triple Crown of Acting," which applies to people who have won an Emmy, Oscar, and Tony for acting in particular. (EGOTer Whoopi Goldberg, for example, earned only her Oscar for acting, making her ineligible for the Triple Crown as of yet.) What we're proposing with the addition of a SAG Award is a sort of quadruple crown.
Decided upon entirely by members of SAG-AFTRA, the SAG Award is one of the industry's only accolades that honors both film and TV, as well as both ensemble and individual performances. Amid the frenzy of awards celebrations at the beginning of the calendar year, the SAG ceremony is the biggest night of the season that's solely for actors. What's more, it's a solid predictor of Oscar results to come.
Compared with the many categories that mark the Golden Globes, Critics' Choice Awards, Oscars, Daytime Emmys, and Primetime Emmys, the SAG Awards present only 15 trophies per year, making them difficult to win. More than just turning in a terrific performance, SAG winners must be beloved by their fellow actors, who prize them for their talent and perseverance. What performer wouldn't want that honor?
(Note: We briefly considered coining, instead of ESOT, the term "TOES." Use whichever title you wish in your quest for the industry's top prizes.)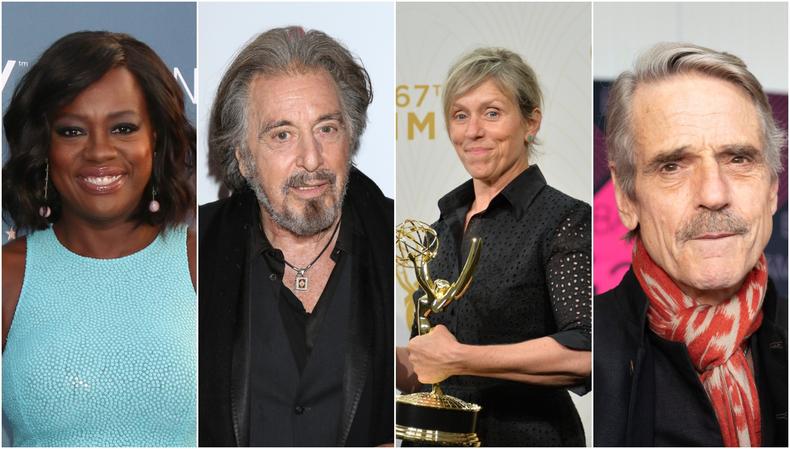 Kathy Hutchins/Jaguar PS/lev radin/Shutterstock
The exclusive ESOT club only has 10 members. Technically, Rita Moreno and Audrey Hepburn also have all four statues to their name, which would bring the ESOT club membership to 12; however, both stars won a SAG Life Achievement Award rather than a competitive one. So in the spirit of making this group as elite as possible, we shall consider the legendary Moreno and Hepburn as only honorary members.
Here are the stars who have achieved ESOT status, including their qualifying projects and the year they completed the quadruple crown:
Maggie Smith
Emmy: "My House in Umbria"
SAG Award: "Gosford Park"
Oscar: "The Prime of Miss Jean Brodie"
Tony: "Lettice and Lovage"
ESOT completed: 2003
Vanessa Redgrave
Emmy: "Playing for Time"
SAG Award: "If These Walls Could Talk 2"
Oscar: "Julia"
Tony: "Long Day's Journey Into Night"
ESOT completed: 2003
Al Pacino
Emmy: "Angels in America"
SAG Award: "Angels in America"
Oscar: "Scent of a Woman"
Tony: "Does a Tiger Wear a Necktie?"
ESOT completed: 2004
Jeremy Irons
Emmy: "Elizabeth I"
SAG Award: "Elizabeth I"
Oscar: "Reversal of Fortune"
Tony: "The Real Thing"
ESOT completed: 2007
Geoffrey Rush
Emmy: "The Life and Death of Peter Sellers"
SAG Award: "Shine"
Oscar: "Shine"
Tony: "Exit the King"
ESOT completed: 2009
Christopher Plummer
Emmy: "Arthur Hailey's the Moneychangers"
SAG Award: "Beginners"
Oscar: "Beginners"
Tony: "Cyrano"
ESOT completed: 2012
Frances McDormand
Emmy: "Olive Kitteridge"
SAG Award: "Fargo"
Oscar: "Fargo"
Tony: "Good People"
ESOT completed: 2015
Helen Mirren
Emmy: "Prime Suspect: The Scent of Darkness"
SAG Award: "Gosford Park"
Oscar: "The Queen"
Tony: "The Audience"
ESOT completed: 2015
Jessica Lange
Emmy: "Grey Gardens"
SAG Award: "American Horror Story: Murder House"
Oscar: "Tootsie"
Tony: "Long Day's Journey Into Night"
ESOT completed: 2016
Viola Davis
Emmy: "How to Get Away With Murder"
SAG Award: "The Help"
Oscar: "Fences"
Tony: "King Hedley II"
ESOT completed: 2017
Of this elite group, the winner of the most acting awards—and therefore the champion of acting champions—is Maggie Smith, with an impressive 12 awards (four Emmys, five SAG Awards, two Oscars, and one Tony) to her name.
There are plenty of other possible permutations of acting award lists. If we take the Golden Globes and the major U.K. awards into consideration, for example, the term could be EGOBOTS (Emmy, Golden Globe, Oscar, BAFTA, Olivier, Tony, and SAG Award). If we wanted to look at only big-screen awards, and—more importantly—come up with another fun acronym, a BOGGSS (BAFTA Film Award, Oscar, Golden Globe film award, Gotham Award, Spirit Award, and SAG film award) could be bestowed upon anyone who qualifies.
The combination of hard work, passion, craft, industry savvy, and luck required to win any major accolade is four times as difficult for aspiring ESOTers. Remember, to be inducted into the above list, you have to earn awards on both stage and screen that are specifically for acting. As for whether you conquer the New York theater scene before becoming a movie star or work your way from background actor to TV lead, that's up to you—and fate. Focus on your craft, put in the work, and let your potentially award-winning career take you where it may.
Here is a rough outline of the steps necessary to claim ESOT status:
Study

your craft; learn from

the greats

; and practice, practice, practice.

Audition

relentlessly, constantly, and endlessly.

Build a community of fellow actors and artists, and network with casting directors and

producers

.

Earn great roles with the help of those

casting directors

.

Keep working.
Get cast in a hit TV show, a critically acclaimed movie, and a Broadway show—then practice all those acceptance speeches!