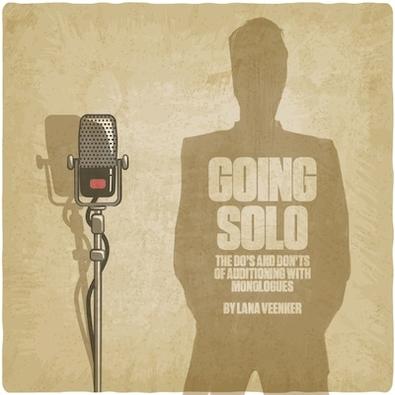 Fretting over a monologue audition? Fear not. A monologue can be your moment to shine. Grab the bull by the horns with these great tips.
1. Keep it short. Just because you've been allotted two or three minutes doesn't mean you have to choose a monologue that runs the full length of your time slot. A minute is usually enough for us to get a good idea of your type and skill level, so why not focus on nailing a shorter piece rather than memorizing more lines? Or choose two short, contrasting pieces (i.e., modern-classical or serious-comedic) to demonstrate your range.
2. Don't go with the trendiest, coolest monologue. It's probably being done a lot. At our last round of auditions, we saw a handful of actors performing the same scenes from recent films and plays. Likewise, if you are planning to use a monologue that your acting coach assigned you to learn for class, find out if other actors under their tutelage are also learning it. You may end up in the same audition room with three other Blanches or Desdemonas.
3. If in doubt, choose your funny, light piece. One tearful or angry audition after another can be draining to watch during a long day of casting. A humorous monologue well delivered, especially in the afternoon when energies are starting to flag, is most welcome.
4. Don't slate like a robot; be yourself! If asked to slate your name or any other information, infuse it with your friendly, personable self. Some acting teachers grill their students (often kids and beginners) to slate the same way every time. Unfortunately, their slates end up devoid of personality—even becoming cringe-worthy—if all the actors from the same coach perform them like clones. We want to know that you're fun, competent, self-assured, and easy to work with. Just make sure to demonstrate these qualities in your slate.
5. Don't play the problem in the scene; overcome the problem. We tend to see a lot of Sturm und Drang in the audition room. Actors love to shout to the heavens and produce tears, but intense emotional pieces only work when their characters rise above their problems to pursue the outcome they are hoping for, despite the obstacles facing them. Wallowing in self-pity or projecting nothing but anger never works.
6. Choose a point of focus… Since you don't have a reader or a real-life scene partner to play off of during a monologue, it can be confusing to know where in the room to plant your eyeballs. Rather than letting them float around aimlessly, choose a point of focus where you can anchor your gaze and direct your lines, whether it be the back wall, a seat in the auditorium at eye level, a lighting instrument, or just to the side of camera; whatever is appropriate to the situation.
7. …And don't make it the casting director. Whatever you do, don't force the person auditioning you to be your scene partner, unless specifically requested. It makes it extremely uncomfortable for them to look away or to jot down notes. It could even draw focus from your performance; at a recent audition, an actor decided to deliver her entire piece from "The Vagina Monologues" straight into the casting director's eyes. One word: awkward.
8. Revel in it. Remember why you got into acting in the first place? To become another character, to move people, to entertain, to tell stories, to express yourself in ways you may not always get to in real life. Do that in your audition. It is a performance, no matter how short it is. Entertain, engage, soak it in, and make it yours.
Lana Veenker is a casting director and Backstage Expert. Visit her website www.castironstudios.com.
Ready to try out these tips? Check out our audition listings! And find great monologues: Visit The Monologuer, Backstage's monologue database.