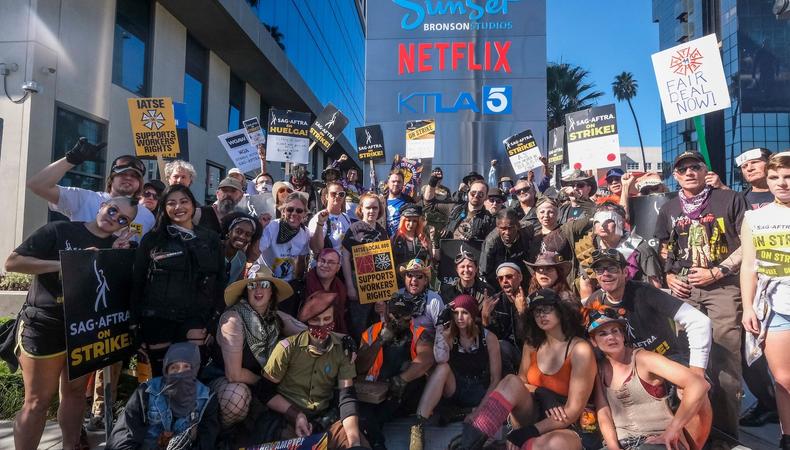 The SAG-AFTRA strike against the AMPTP has ended after 118 days of picketing, paused productions, and ultimately, progress. On Nov. 8, the union and studio system reached a tentative agreement over the lingering issues affecting negotiations. The strike was formally suspended at 12:01 a.m. PT on Nov. 19.
The agreement must be reviewed by the SAG National Board before full details are released to the public; however, both SAG and the AMPTP indicate that the contract—valued at over $1 billion—is groundbreaking for the industry.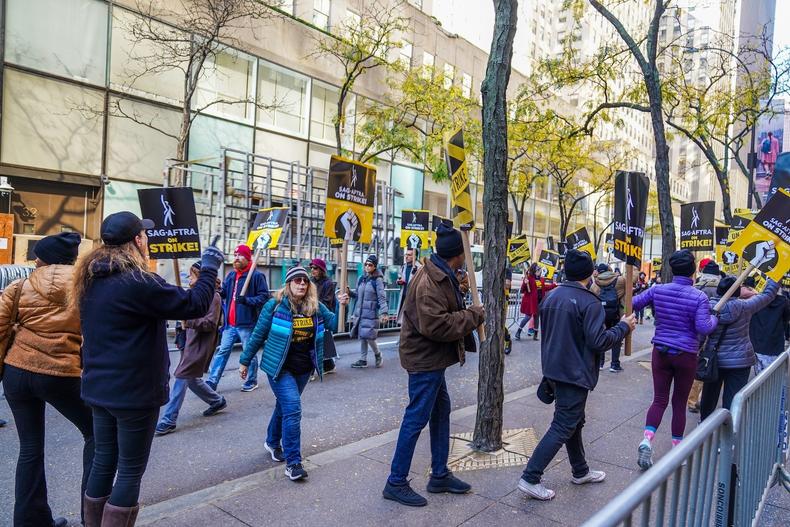 Leonard Zhukovsky/Shutterstock
The agreement entails several victories for actors, including a major increase in minimum compensation, protections against AI's use of performers' likenesses, and a streaming participation bonus that will better compensate actors. The SAG-AFTRA National Board will vote to approve the deal on Friday, Nov. 10, at which time it will be sent to the union's membership for ratification. If membership votes to ratify, productions can officially resume.
In a statement, the AMPTP said that the agreement "represents a new paradigm," while the union's Negotiating Committee assured actors that the deal would "enable SAG-AFTRA members from every category to build sustainable careers."
"We believe that the agreement—both in the existing structure and also in new structures that are coming as part of this agreement—will make a real difference [for] our members who are trying to make a career out of their work in streaming and receive the kind of compensation that allows them to do that, and just to be able to pay their bills and [have] a middle-class living," SAG chief negotiator Duncan Crabtree-Ireland told the Washington Post.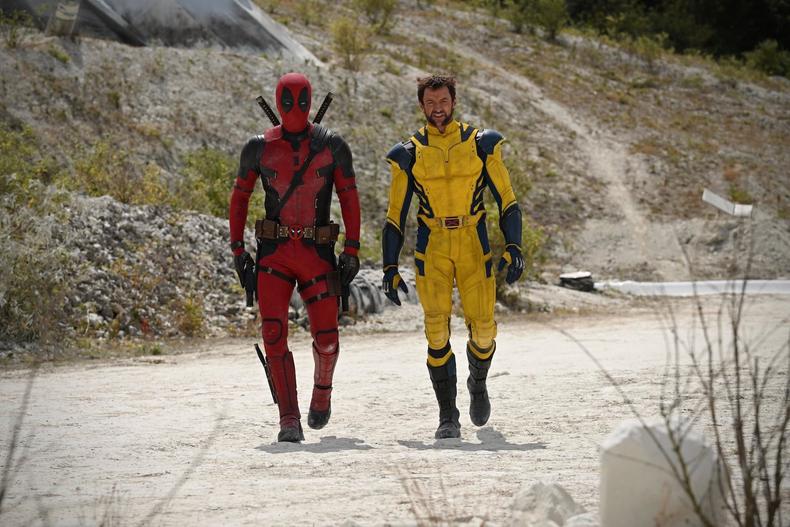 "Deadpool 3" Courtesy @deadpoolmovie Twitter/Marvel Studios
The strike ending means that actors can return to creating TV and movie magic. However, scheduling conflicts and shifting timelines due to the delay means that there won't be an instant restart for Hollywood.
"It's a bit like all those ships that were stuck in the harbor during COVID because they couldn't offload them fast enough. They are just going to have to go through the canal one by one, and then it will catch up and resume again," producer Todd Garner told the New York Times. Two executives agreed that the process of restarting production could add between $500,000 and $4 million to projects' expenses.
Which films are resuming production?
Major movies that have been stuck in preproduction purgatory during the strike and are now set to start filming again include:
"Deadpool 3" (Marvel Studios and Walt Disney Studios Motion Pictures)

"Gladiator 2" (Paramount Pictures)

"Beetlejuice 2" (Warner Bros. Pictures)

Untitled "Venom" sequel (Sony Pictures Releasing)

"It Ends With Us" (Sony Pictures Releasing)
Which TV shows are resuming production?
Since TV shows take less time in postproduction, viewers can anticipate seeing their favorite small-screen stars sooner rather than later. Here are a few series that are restarting filming:
"Abbott Elementary" Season 3 (ABC)

"Young Sheldon" season 7 (CBS)

"Severance" Season 2 (Apple TV+)

"Euphoria" Season 3 (HBO)

"The Last of Us" Season 2 (HBO)

"The White Lotus" Season 3 (HBO)

"Hacks" Season 3 (Max)

"Stranger Things" Season 5 (Netflix)

"Wednesday" Season 2 (Netflix)

"Yellowjackets" Season 3 (Showtime)
That said, release dates will likely continue to be delayed due to the lingering effects of the strike.
What impact will the strike's end have on other aspects of the industry?
Promotional activities: Actors can return to promoting films, conduct interviews, and posting about projects on social media.
Awards season: With stars returning to industry events, we're in for a robust awards season. The Emmys, which were pushed back by four months, will now take place in early 2024 along with the SAG Awards, Grammys, and Oscars. Preliminary voting for the Academy Awards takes place from Dec. 14–18; nominations voting from Jan. 11–16; and final voting from Feb. 22–27. The 96th ceremony will be held on March 10.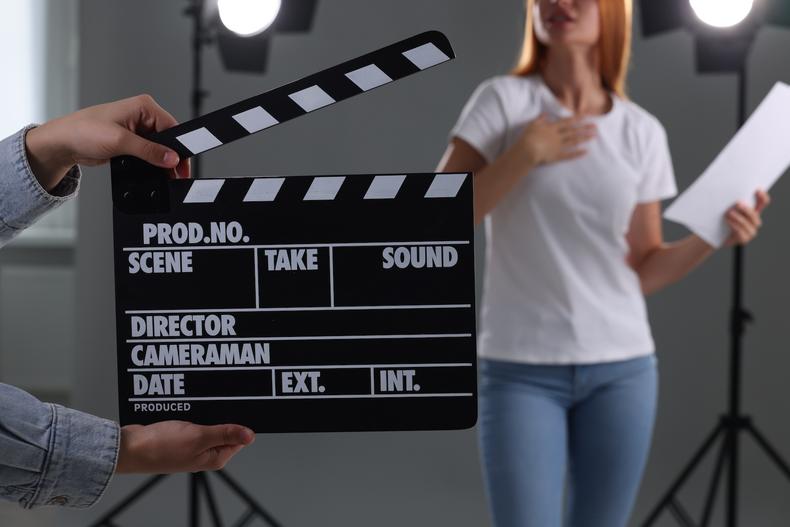 New Africa/Shutterstock
On Nov. 9, SAG advised that members should immediately "fulfill their contractual obligations and return to work...without consequence or conflict with the union." Though nonunion actors and influencers were technically allowed to work during the strike, SAG said it would brand anyone working for struck companies as scabs and disallow them future admission. The strike's end means that both union and nonunion actors may return to work—including auditioning for, performing in, and promoting film and TV projects—without fear of crossing the picket line.
Here's how to get started:
1. Prepare your materials. Ensure that your acting résumé, headshots, demo reel, and website are up to date and reflect your authentic self.
2. Apply to casting notices. The end of the strike means that opportunities abound for actors at any level. Check out our casting roundups to see if there's anything that meshes with your type and career goals:
3. Audition. One of SAG's demands during the strike was better regulations for self-taped auditions, but you'll still need to be able to make a killer self-tape so you can land a role. Since expectations vary depending on the production company, use these guides to help you bring your best into the room:
4. Keep honing your craft. Although the strike has ended, the industry is in a constant state of flux, so it's vital that you keep up with trends and look out for new opportunities. Take acting classes, land an agent, and continue to build your personal brand to stay informed, proactive, and able to make the best of this post-strike moment.