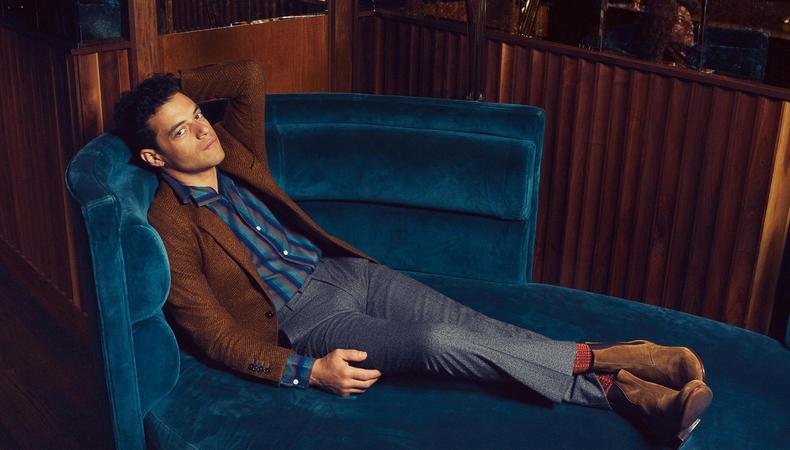 Are you looking for a bit of inspiration to carry you through to next year? We rounded up the best bits from our chats with some of the industry's brightest stars. From Netflix and networks to Broadway and Hollywood blockbusters, these actors have so much wisdom to impart. And it's all here in one place!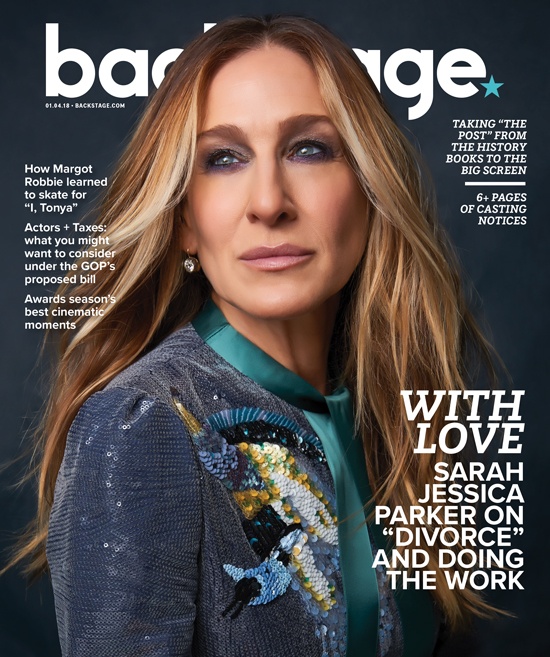 Sarah Jessica Parker
SJP was the first to grace a Backstage 2018 cover when she met over coffee to chat about her experience with her new role as new divorcée Frances DuFresne alongside co-star Church on the HBO series "Divorce." She has Emmy, SAG, and Golden Globe Award nominations and wins to speak of, but Parker maintained that what kept her coming back to film and TV is that moment "when the camera's rolling and everything's quiet, and you're just an actor, and all that's happening, finally, is just the work." Read the full story here.
Darren Criss
Criss discussed the emotional demands of his role as Andrew Cunanan in FX's pilot "The Assassination of Gianni Versace: American Crime Story." While reflecting on his experience on the dichotomy of right and wrong required for a character like Cunanan, Criss said, "That's probably why I like acting so much: It bends people's sense of empathy for the human experience." Read the full story here.
Manish Dayal
In his new role as an idealistic Harvard Med graduate, Dayal chatted about his experience playing Doctor Devon Pravesh on "The Resident." Being of South Asian descent, it would be his first time playing a major role among the world of doctors in reality. "In order for me to accurately portray him honestly, I really needed to strip away all those front-loaded default settings of what it means to play an underrepresented character, because I wasn't doing that this time," he said. Read the full story here.
Daniela Vega
While acting was not her first pursuit, transgender actor Vega's journey to landing her role in "A Fantastic Woman" is an inspiring one. In speaking about taking acting as a profession seriously, she said, "A lot of people think they need some sort of validation from others to do this. That they need someone to say to them, 'Yes, sure, come in.' That's not how this works. If they close the door on you, just break in through the window." Read the full story here.
Laura Benanti
Just days before the conclusion of Steve Martin's "Meteor Shower," Benanti, an acting enigma with a résumé that spans Broadway, comedy, and "Saturday Night Live," spoke with us about being an inter-medium performer: "A theatrical energy is you sort of leaning in, and what I've learned doing camera work is the audience needs to lean in to you. The camera is like a lie detector test; if you are not meaning what you're saying, it'll know." Read the full story here.
Retta
Jenna Bans, creator of the new crime-comedy drama "Good Girls" wrote the role of Ruby with Retta in mind. Little did she know nabbing her own show was Retta's plan all along. What's the actor's advice for making it? "My big thing about Hollywood in general is: Believe it. Believe it's going to happen, because then you're moving in belief as opposed to moving in anxiety. My anxiety was [about] when, when, when—it wasn't if. I knew it was going to happen, so I was like, come on!" Read the full story here.
Michael Stuhlbarg
Having co-starred in three best picture Oscar nominees—"Call Me By Your Name", "The Shape of Water," and "The Post," Juilliard alum Stuhlbarg recounted his character-building process with us. In speaking about the demands of a life in acting he explained: "It's so much harder than I ever imagined it to be…. In one sense, you're building up a shell to be toughened up out in the world, but in another sense, you have to be open and available and vulnerable to offer as much as you can in the telling of a story." While his process has become more refined, he insisted that the craft and the pursuit of growth in each role continued to challenge him. Read the full story here.
Brian Tyree Henry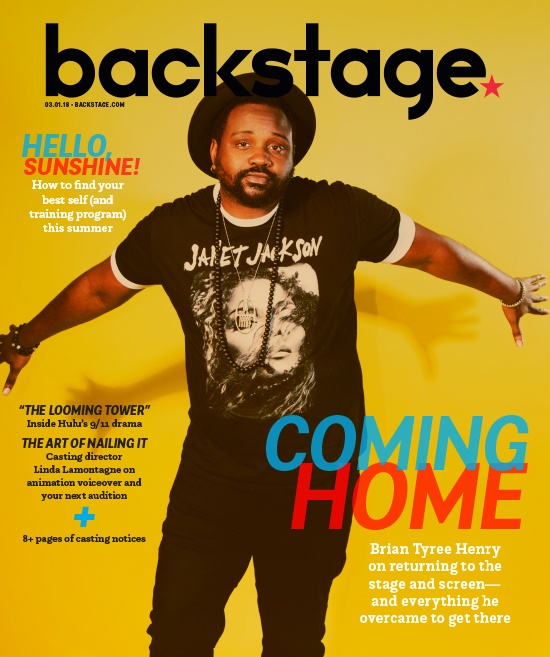 In February, Henry discussed his experience in comedy-drama "Atlanta" and his excitement in returning to Broadway for his role as William in "Lobby Hero." Of his evolved perspective of the craft he said, "These characters are reflecting me back to me, and that's terrifying. I used to say I was being paid to lie. Then a friend said, 'No, you're actually being paid to tell the truth.' Mind. Shattered." Read the full story here.
Olivia Cooke
Cooke took time from her busy schedule of promoting three projects in March—Sundance hit "Thoroughbreds," Steven Spielberg's "Ready Player One," and the ITV's adaptation of "Vanity Fair"—to chat with us about her experiences on set. Lacking formal training, Cooke joked about having imposter syndrome. "People just trusted me to do these jobs," she said with a laugh, "and I didn't know anything! People were talking about all these cult classic films or staples of cinema history, and I was lying through my teeth that I'd seen all of them, because for all my life I'd grown up with 'The Sound of Music' and 'The Lizzie McGuire Movie.' " Read the full story here.
Ricky Gervais
Having toured nearly 30 cities in 10 countries, over 10 months for his Netflix special "Humanity," Gervais had long ago earned his title of master standup comedian. In speaking on tackling taboo topics and making people laugh in the era of political correctness he said, "Comedy is an intellectual pursuit, not an emotional one. As soon as you deal with emotional subjects, you're rallying." Read the full story here.
Patti Murin
Murin took a break from her rehearsals for "Frozen" to discuss her acting credits on Broadway and television with us. For audition room preparedness, her biggest piece of advice? Memorize your lines. "It's not about not using your pages, it's just about not having to look at them every two seconds. That's not acting; that's reading. I always have my papers with me, even if I'm off-book. I like the reminder that this is an audition, this is not my final product." Read the full story here.
Jodie Comer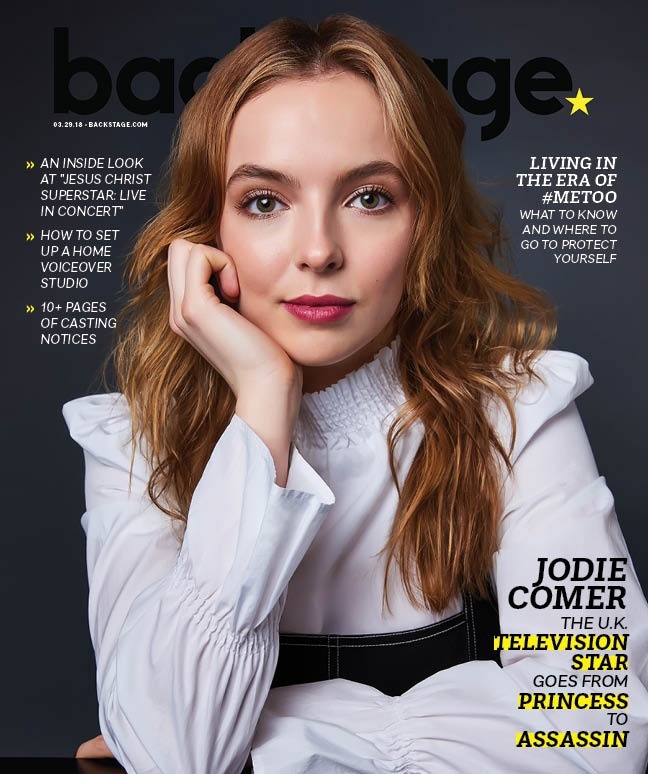 For this rising star out of BBC America's smash hit "Killing Eve," formal acting training was not a requirement but accepting rejection was. "You have to be confident enough to pick yourself up and go to 30 meetings and be told no every time and not take that to heart," she said. "That was something I really wasn't aware of, being told no." As on-screen assassin Villanelle, we can't wait to see what Comer does opposite Sandra Oh on Season 2. Read the full story here.
John Krasinski
He'd already won our hearts on "The Office"; then he married Emily Blunt and cast her as the lead in his directorial debut. Lo and behold, "A Quiet Place" was the runaway horror hit of the year. Of achieving a certain level in his craft Krasinski said, "This [industry] can't be a world of 'I wish I had, I wish I had.' You've got to look to yourself every day and say, 'I'm so glad I get to be doing what I'm doing. I wonder what comes my way today,' " Read the full story here.
Norbert Leo Butz
A seasoned stage (Alfred P. Doolittle in this year's "My Fair Lady") and screen actor ("Bloodline"), Butz had wise words to share with young actors who felt they needed to take straight to a film or television series: "I don't know any really successful stage actors who started as film actors. But I know some really successful film actors who started as stage actors. It doesn't work the opposite way." Theater training, he noted, is part of what it takes to keep the critic's from putting an actor in a box, and encouraged those pursuing the craft to explore it as he has. Read the full story here.
Jeffrey Wright
Wright chatted with us about working on "Westworld," the HBO series centered on a theme park populated by sentient AI beings, called hosts, and the corporations who control them. In finding the humanity of his character Bernard, Wright deduced, "As we tried to mimic human behavior through these hosts, we were having to make these considerations about what 'human' is, what consciousness is, what emotions are, where they come from, your thoughts, how they're generated—all these things that make up the self, we would have to play with." Read the full story here.
Yvonne Strahovski
Playing a villain always offers a singular set of challenges. But to play a woman instrumental in the sexual enslavement and oppression of her own gender on the TV adaptation Margaret Atwood's novel "The Handmaid's Tale," it took real conviction. Strahovski as Serena Joy Waterford more than delivers. She was nominated for an Emmy and a Golden Globe for her portrayal. Of playing such a despicable woman she said, "I find that to be the most challenging but also the most exciting part of my job. She's so evil but she has humanity. She's so scarred and she's so sad and bitter and she has so many real human emotions that follow her around, that haunt her." Read the full story here.
Noma Dumezweni
This past fall, British actor Dumezweni made her Broadway debut as the adult Hermione Granger in "Harry Potter and the Cursed Child." With such varied experiences (gracing the stages of the National Theatre, the Royal Shakespeare Company and now the Lyric Theatre), of "Harry Potter," she offered, "We are all storytellers. The majority of us are all character actors who have just walked into and landed this amazing gig that has changed our storytelling lives. Knowing that [now], I go, 'Wow, this is a thing, isn't it? This show really is a thing.' " Read the full story here.
Mishel Prada
Prada chatted with us about her excitement around starring on "Vida," a drama series centered on two Mexican-American sisters reunited in the wake of their mother's death. The Starz series explored queer and Latinx identity in East L.A. "I want this to inspire other networks to take chances on stuff like this," said Prada. "What Starz has done is given us this openness that doesn't come along often enough. I would feel so happy if this was the door that got cracked open so that other networks and other production companies started putting their money on other types of shows, other types of movies." Read the full story here.
Nathan Lane
The legendary Lane sat down to chat with us about his role in "Angels in America," Tony Kushner's brilliantly sprawling Pulitzer Prize–winning play. Of his experiences as a theater actor, he said, "Theater is a goal in and of itself—certainly as you get older, it's still where all the great parts are.... I suppose if I really wanted more of a film career I would have done something about it, moved to L.A." Read the full story here.
Nell Benjamin, LaChanze, and Leigh Silverman
As women working in theater, Benjamin, LaChanze, and Silverman shed light on the strides women on stage and behind the scenes have made up to now. Read the full story here.
Jessica Biel
After years in the industry, you bet Biel had advice to share with Backstage readers. When she met with us to chat about her role on USA's "The Sinner," she had this to say to aspiring actors: "You have to do it. You just have to take it into your own hands." Read the full story here.
Mandy Moore
The pop-star-turned "This Is Us" star spoke with us in early April as she reflected on taking on the most challenging role of her career in Rebecca. "All it takes is that one job. It takes one person's belief in you to say, 'Yeah, I think I can do that thing,' whether or not it's something you've ever done before." Read the full story here.
Kyle MacLachlan
This year saw the return of one of TV's most iconic cult classics—with much of the original cast to boot. MacLachlan chatted with us about David Lynch's "Twin Peaks: The Return" saying of the auditioning process, "You have to believe that you are the person for the role, that what you're doing is your interpretation of what's happening, right or wrong. Have a strong point of view. If they don't get you, well, that's their problem. Really strongly believe in yourself as much as you can." Read the full story here.
Ben Foster
We spoke with Foster about his Film Independent Spirit Award–nominated turn as Will in "Leave No Trace" in which he plays a veteran living off the grid with his teenage daughter. Speaking about collaborating with others who aren't supporting your best work, he said, "You've got to keep creating. You've just gotta keep showing up. And keep asking questions. That's about open-mindedness and humility," he said. "Just because I have a different opinion doesn't mean I'm right. But it's the conversation that's essential." Read the full story here.
Lakeith Stanfield
Stanfield's roles in "Sorry to Bother You" and FX's "Atlanta" proved his ability to deliver a compelling character while maintaining his own identity. He spoke at length about his approach to character and being unwilling to cut corners. "That's part of the guillotine of Hollywood, is the sacrificial integrity—nothing is about [integrity] here. And I'm just kinda big on that. I don't want to sacrifice what I feel and who I am and what I represent." Read the full story here.
Zachary Quinto
We met with Quinto to discuss his roles in his projects "Aardvark," "Hotel Artemis," the History Channel's "In Search Of…" reboot, and of course, Joe Mantello's revival of "The Boys in the Band." In speaking of his role and his own coming out, Quinto commented on the effect his ability to love himself has had on his acting and his life. "I feel like once I dropped into myself and cultivated this sense of what it means to love myself, things just changed. And that's been a pursuit that's lasted all the years since." Read the full story here.
Daveed Diggs and Rafael Casal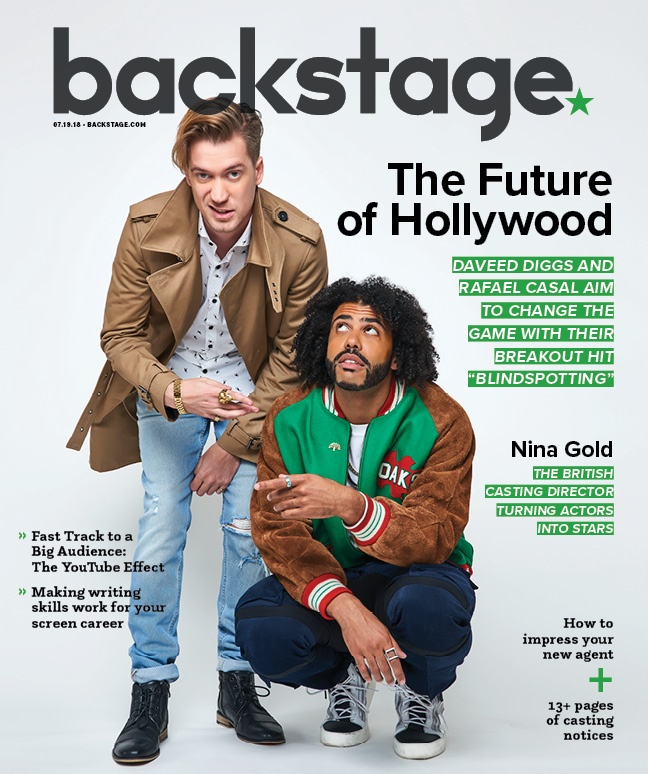 Creative duo Diggs ("Hamilton") and Casal ("Def Poetry Jam") managed to deliver one of the year's most powerful films with "Blindspotting." Offering both searing and tender commentary on friendship, race, and power dynamics, the two spoke with us about their first film and the controversy of covering police brutality brought with it. But make no mistake: it was always a labor of love. "The goal has always been to make a living making the shit you love to do—whatever that meant," said Diggs. Read the full story here.
Gloria Calderón Kellett and Justina Machado
We sat down with the showrunner and star, Kellett and Machado, respectively of "One Day at a Time" to talk about what we can expect for the comedy focused on the dynamics of a Cuban family run by a single mother in its third season and Latinx representation on television. Read the full story here.
John David Washington

We had the honor of chatting with Washington about his career-making turn in Spike Lee's "BlacKkKlansman" as the real-life police officer who infiltrated the Ku Klux Klan in 1970s Colorado Springs. His biggest take-away: "Don't let anybody rush your process. That's what I value the most. To me, that's when the best stuff comes out. That's what I would tell any young actor trying to go out there: Appreciate and respect. You have to adapt and adjust—you can't take your sweet time all the time, but cherish your process." Read the full story here.
Debra Messing
A decade after retired her titular role on "Will and Grace," Messing spoke with us about how she kept her character fresh and the comedic tricks she's learned along the way. Read the full story here.
Laura Linney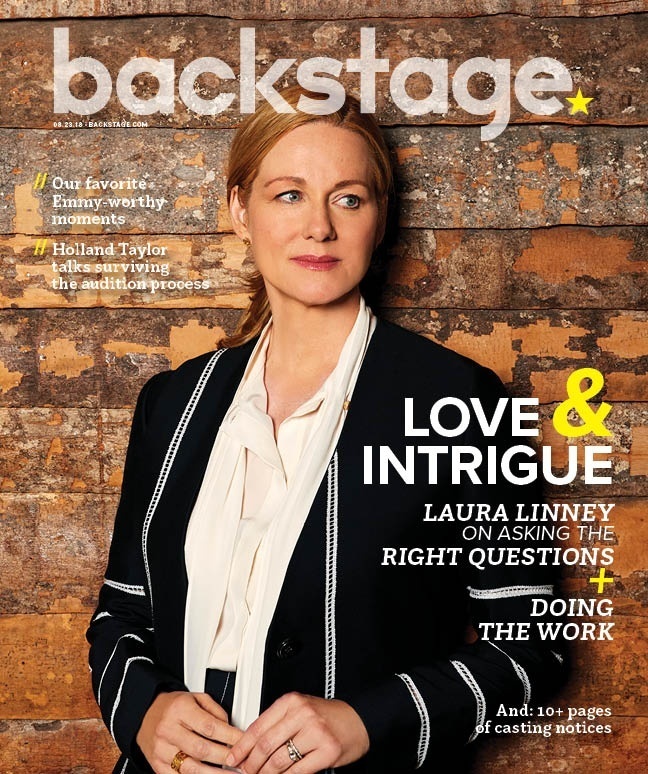 Daughter of late playwright Romulus Linney, acting is in Linney's blood. She spoke with us about her story-oriented approach to script analysis and performance in her SAG Award-nominated role as Wendy on Netflix's "Ozark." Read the full story here.
Regina Hall
Fans know her best as Brenda from "Scary Movie" or more recently from "Girls Trip," but Hall has quietly been carving out a larger place for herself in the film world. As Lisa in "Support the Girls"—a role for which she earned a Film Independent Spirit Award nomination—Hall spoke with us about going after parts that surprise her and what it took for her to consider acting as a full-time career. Read the full story here.
Ethan Hawke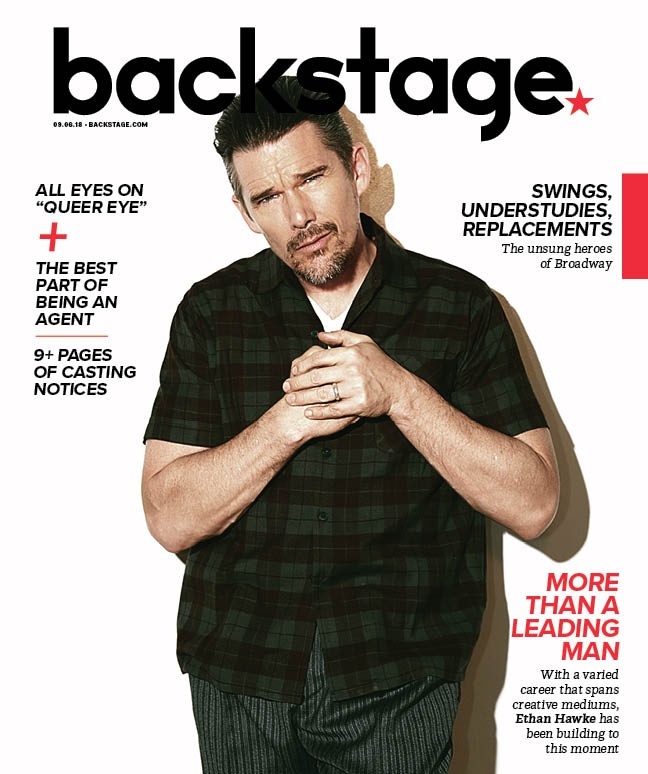 After a few years, Hawke is once again in the awards conversation for his stunning portrayal as a priest in "First Reformed." But that's not all he did this year. The actor, writer, and director wrote, directed, and cast "Blaze," about unsung country music star Blaze Foley. He talked his history in the industry and his career at 47. Read the full story here.
Nia Long
The Brooklyn-born Long shared her experience on the Netflix film "Roxanne Roxanne" and owning her look in the audition room filled with light-eyed women with long curly hair: "I would walk in and be like, 'Sorry, I'm none of those things. I'm a brown-skinned Caribbean girl from Brooklyn. And you're either going to like what I do or not.' " Read the full story here.
Peter Krause
For his Backstage cover, Krause talked bringing the drama for his role as Capt. Bobby Nash on Fox's "9-1-1," and offered a nugget of advice from acting teacher Ron Van Lieu: "Ron said, 'Your job is to illuminate the human condition,' and 'Anyone is a character you might play,' which really opens your mind to the fact that we're just human beings behaving in different ways." Read the full story here.
Cherry Jones
2018 was the year gave us permission to welcome Jones back to Broadway. After a brief stint on Season 2 of "The Handmaid's Tale," she chatted with us about her experience as one of three stars in the play "Lifespan of a Fact." Forty years into her career, she realized: "The common denominator is that I don't play women who are married!" Read the full story here.
Jenny Slate
Her roots in comedy might seem far from her scientist character in Marvel's recent "Venom," but the luxury of a change of pace was always the goal for Slate, known for indie films like "Landline" and the YouTube series turned children's book "Marcel the Shell." "My identity as a performer has always been there, before I ever had a job; it was there since I was a child. The reason I try to do as many things as I want and do new things is because I'm often new to myself," Slate said. Read the full story here.
Mira Sorvino
As one of the first actors to go public with her accusations against Harvey Weinstein, Sorvino spoke on what it means to be an actor in the era of #MeToo and how she approaches her character Rebecca Stroud on Season 3 of drama web television series "StartUp." Read the full story here.
Carrie Mulligan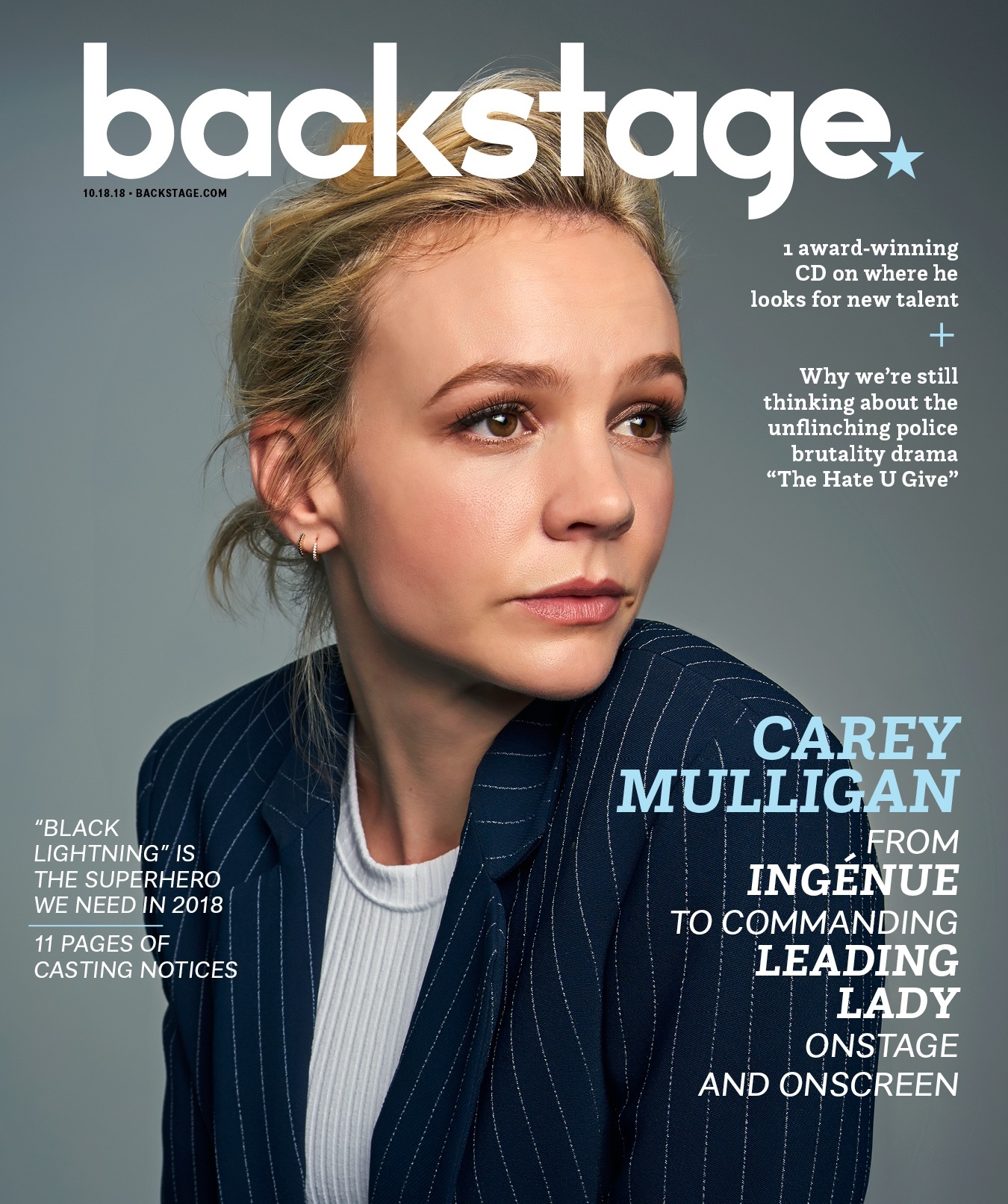 Just days away from closing Dennis Kelly's one-woman play "Girls and Boys," Mulligan discussed with Backstage the importance of maintaining challenges. She also thanked Emmy winner Ann Dowd for imparting some of the best advice on acting she's ever received via the book "Wild Geese" by Mary Oliver. "It was basically saying calm down," Mulligan said. "Just tell the story, and don't put these massive expectations on yourself." Read the full story here.
Lucas Hedges
With three major films in 2018 including "Boy Erased," "Ben Is Back," and "Mid90s," as well as a Broadway debut in the revival of Kenneth Lonergan's "Waverly Gallery," the 22-year-old Hedges was keeping busy, but he found time to sit and speak with us about the overlap between his many roles and his life: "While we [actors] are incredibly self-obsessed and want to be seen as amazing, I also just want to have a good life and go from a job that I like to another one, [and] for there to not be any large statements about me made because of it." Read the full story here.
Hugh Grant
After years playing the British playboy, this was the year that forever changed our image of Grant. Between his delicious devil in "Paddington 2," to his weighty politician in the SAG Award nominee "A Very English Scandal," he offered the advice he would give his own children should they look to follow in his stead: " 'Brilliant, but, give yourself a cutoff period. If you're 20 now, say, 'By the time I'm 30, if I haven't made it, I'm definitely going to stop and do something else.' " Read the full story here.
Cynthia Erivo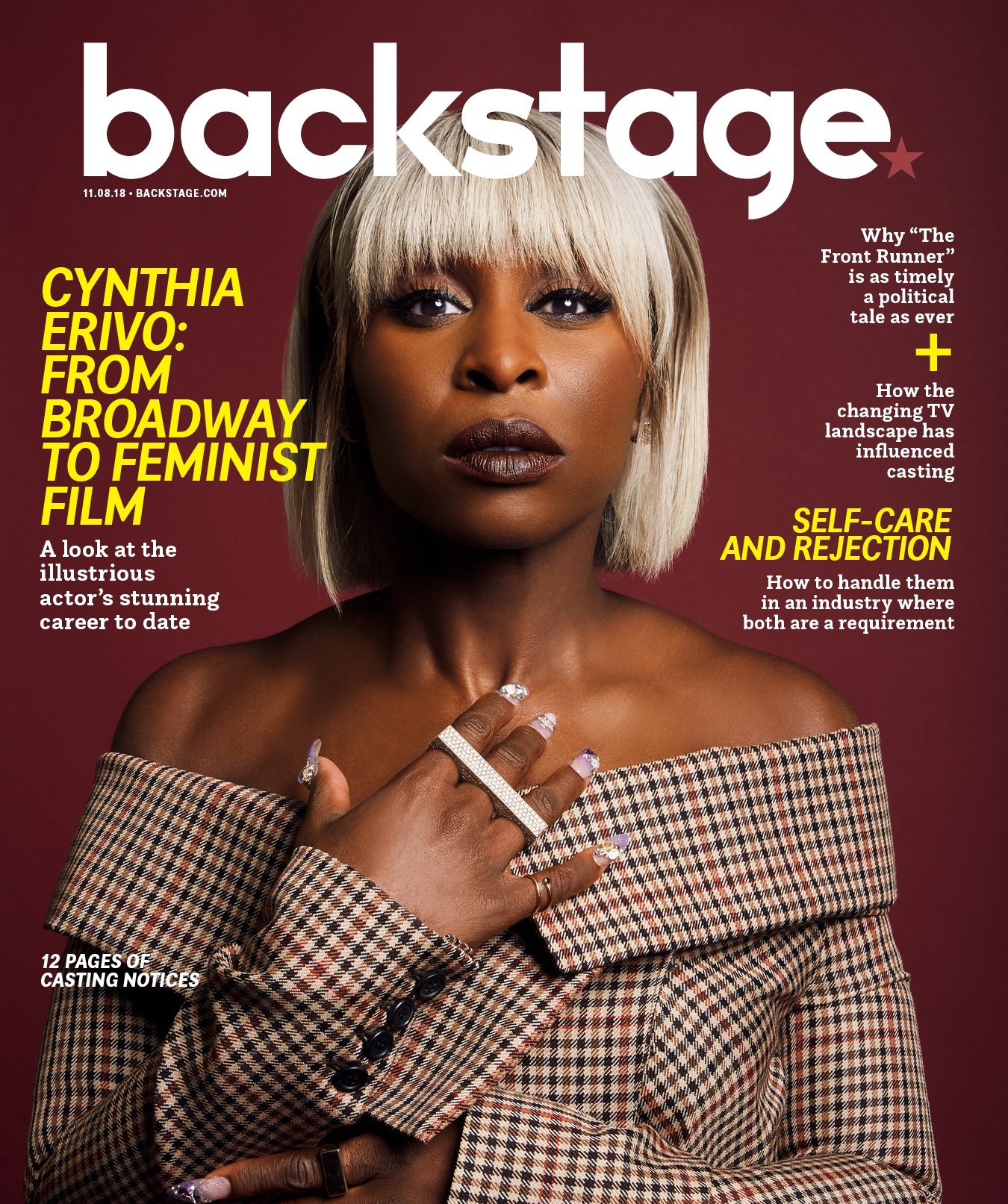 She floored us in Broadway's "The Color Purple," but that was only the beginning for this British talent. This year we caught her film debut in "Widows," a heist flick about a group of women bound by the shared debt their murdered husbands left behind, and "Bad Times at the El Royale." Erivo said of switching mediums, "You have that intimate conversation with the audience when you're onstage because they tell you what they need.... With film, you don't have any of that. You rely on your gut instinct, your director, and the actors around you." Read the full story here.
Barry Jenkins, Kiki Layne, and Stephan James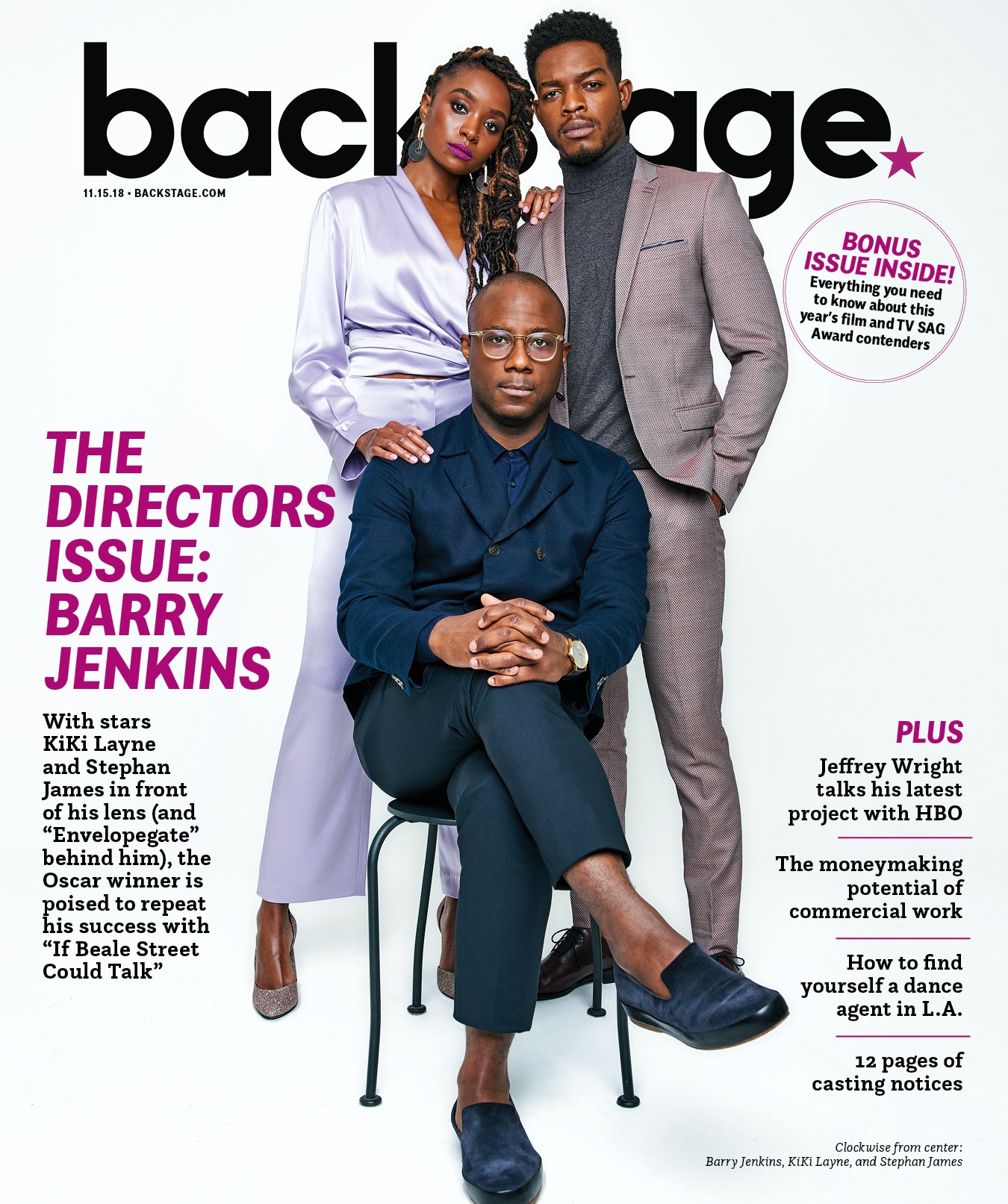 As a follow up to his Oscar winner "Moonlight," writer-director Jenkins decided to tackle one of America's most beloved authors and one of his best-known works: James Baldwin's "If Beale Street Could Talk." Joined by his two stars, newcomer Layne and James, the three spoke about the drives behind the film's aesthetic and how it felt to act straight to camera for all those gorgeous close-ups. Read the full story here.
Rami Malek
It's been a breakthrough year for Malek. After bit parts in films like "Night at the Museum" and "The Twilight Saga: Breaking Dawn - Part 2," he showed us what he was capable of on "Mr. Robot." Now he's ascended to a whole new level with his buzzy take on Freddie Mercury in "Bohemian Rhapsody." About playing the music legend who struggled to find and express his sexual identity, Malek said, "I don't think you could set out to do anything more challenging, not only because of who he was but because of what he means to so many." Read the full story here.
Rachel Weisz
Weisz's part in "The Favorite" puts her in a role unlike any other we've seen her in before. As right hand to the queen of England, Weisz is sharp, witty, and delightfully ruthless in this period drama from director Yorgos Lanthimos ("The Lobster"). In our interview, she offered her take on what it means to perform: "It's about releasing your imagination so it can play with the words. The main thing is that you'll be unconscious: that you're not in charge, letting the line speak you rather than the other way." Read the full story here.
Amy Adams
This year, Adams is sure to be one of a handful of actors with work worthy of recognition in multiple awards categories. First, her turn on HBO's "Sharp Objects" left us speechless; then she followed it up with Adam McKay's hotly anticipated Dick Cheney biopic "Vice," as Lynne Cheney. Recalling the more vulnerable phases of her prep process, Adams said, "I'm weird, and I'm going to be walking around, saying lines, talking to myself, and whatever the quirk is that my character has. I'm going to be doing that, and you all will think I'm nuts—and I might be." Read the full story here.
Kimiko Glenn
Glenn quickly became a stand out amongst the next generation of actors, and 2018 only saw her star rise higher. She kicked off her career on one of Netflix's first major hits "Orange Is the New Black," but now she's starring opposite one of YouTube's top names Liza Koshy and stepping into the Marvel space with the Golden Globe–nominated "Spider-Man: Into the Spider-Verse." At this rate, it'll be another banner year for the young talent come December 2019. Read the full story here.
Willem Dafoe
We ended the year on a high note with the chance to sit with this brilliant actor. Dafoe, speaking of his Golden Globe–nominated take on the famous painter Vincent Van Gogh, revealed his fondness for immersing himself in the world he's portraying by relocating and learning new skills. "You do something to make the experience special and to get away from yourself and create a new way of being," he explains, "to try to get away from your impulses and your habits." Read the full story here.
Ready to get started with Backstage? Become a subscriber here!